By Steve Starr
The luminous star, one of the most famous people in the world, entered the beautiful room and stepped onto the Rumba stage as adoring friends, press, and affiliates went wild with thunderous applause while screaming their admiration for the international icon.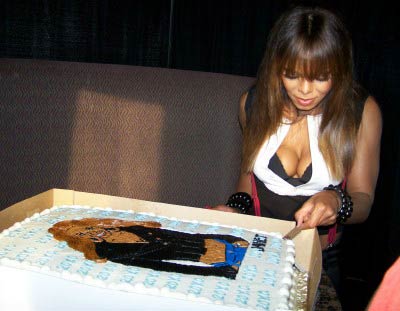 (Photo: left) Janet Jackson and her confection by Crazy Cakes of Chicago. Photo by Steve Starr
It was Thursday, September 7, 2006. Radiant and magnetic, with very long, straight, streaked hair, fitted black satin sheen pants with red suspenders, a low-cut black and white midriff top, a diamond in her navel, wide black metal bracelets on each wrist, and a gleaming smile, Janet Jackson sat demurely on a maroon velvet chair as she was interviewed by WGCI Radio host Tony Sculfield who expertly conducted a very amusing conversation as it was simultaneously broadcast.
In the rear center of the dance floor stood an NBC cameraman to record this exclusive, private event that promoted her new recording "20 Y.O." for the evening news. Artist Samuel Canales presented Janet with a stylized black and white image he painted of her.
Guests were seated at spacious tables adorned with candles and white linen napkins, and in huge round tufted maroon velvet booths as they were treated to wonderful hors d'oeuvres served by the gracious Rumba waiters.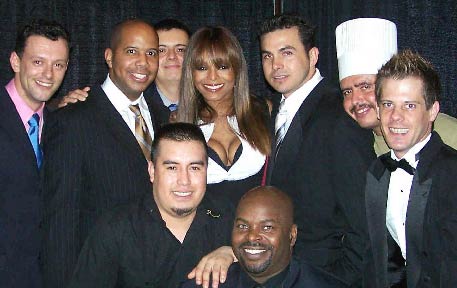 Every person was gifted with a sample CD and a questionnaire sheet featuring Jackson's wonderful new publicity photo, which was also featured on posters at the club, one of which was prominently displayed center stage behind Jackson and flanked by displays of red roses.
(Photo: left) Janet and members of the fine Rumba staff. Photo by Steve Starr
A long line of specially invited guests and fans formed to each ask her a single question, some of which were slightly simplistic, such as, "How do you feel about your success?"
Janet, who earlier had been taped on the Oprah Winfrey show, was captivating to everyone, and answered each and every awestruck, devoted, often dewy-eyed person's query with charm and integrity.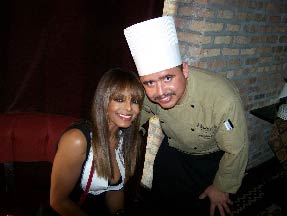 (left) Janet and Rumba chef Benjamin Soto. Photo by Steve Starr
At the end of the interview, only a number of us were invited to the gorgeous Rumba dining room where an enormous cake, created by Crazy Cakes of Chicago and decorated with Jackson's image in multi-colored frosting, was presented, along with a special dinner for Janet, and a luxurious buffet for everyone else. Jackson beamed and posed with the wonderful Rumba chef Benjamin Soto, owners Edwin and Vivian Rios and their beautiful family, and the handsome, elegant staff.
I handed my camera to Alexandre Brum who shot a great photo of Jackson and me. Janet was having a very good time posing with everyone for my camera. The evening continued as we were entertained by the fantastic sound of the band, Macucho & His Tumbao.
Janet Jackson is a talented star and a sweet person who sincerely wants to make her fans and friends feel welcome and at ease. Known throughout the world, wherever she goes, the ethereal quality and charm she radiates is a grand and marvelous thing.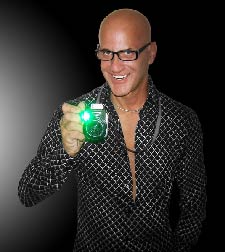 Steve Starr is the author of Picture Perfect-Deco Photo Frames 1926-1946, published by Rizzoli International Publications. A photographer, writer, designer, and artist, he is the owner of Steve Starr Studios, specializing in original Art Deco photo frames, jewelry and artifacts. His personal collection of over 950 magnificent frames is filled with images of Hollywood's most elegant stars. Starr's column, STARRLIGHT, about movie stars of the 1920's, 1930's, and 1940's, appears in various publications including Entertainment Magazine Online, The Windy City Times, and The Chicago Art Deco Society Magazine.
Visit SteveStarrStudios.com where you can enter THE STARRLIGHT ROOM and view a portion of his collection, read Starrlight Stories, and view photos, autographs, and letters he has received from some of his favorite luminaries.
STARRGAZERS-Radiant Photography by Steve Starr is available for private portraits, for events, and at particular locations in Chicago that include the beautiful Rumba Restaurant and Nightclub, the Seneca Hotel's Chestnut Grill and Wine Bar, Katerina's Nightclub, The Cabaret Cocktail Boutique, the Club "3160", the Baton Show Lounge, Cornelia's Restaurant, the Kit Kat Lounge and Supper Club, and the Whitehall Hotel's Fornetto Mei where Starr will photograph you and your friends, print, frame, sign and deliver your photo to you immediately on the premises for just $10. For further information and current schedule phone 773-463-8017.
Photo of Steve Starr in Chicago, September 2, 2006, taken by Patrick Hipskind.
2006-2008 EMOL.org. Music Entertainment Magazine. All rights reserved.