Music: Ron Kaplan
Ron Kaplan's "New York" Album contains classics about the Big Apple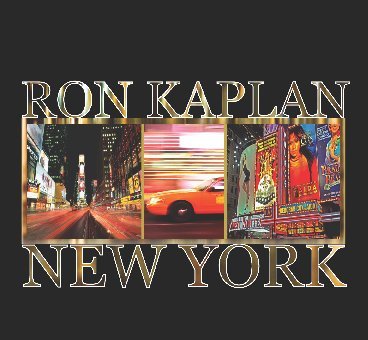 One of our finest contemporary singers of jazz standards, Ron Kaplan has spent his entire career championing the Great American Songbook, with much of that classic material written in or about New York City. So it makes perfect sense that this tradition-oriented vocalist dedicates his latest album, New York, to that remarkable metropolis.
"Although I am from California," explains Kaplan, "every time I go to New York City I am always struck by the energy, excitement and exuberance of the place. Everything about it is exciting – the history, the architecture, the people, the culture, the arts.
It's the jazz capitol of the world. It's the home of Broadway theatre, Tin Pan Alley, the Brill Building and countless legendary songwriters over the past century. There is so much to do and the atmosphere is so intense. It's the city that never sleeps. It is one of the few cities in the world that has had many, many songs written about it. The difficulty wasn't finding New York-themed songs for this recording, but deciding which ones to sing."
Ron Kaplan's New York and his other CDs are available at online sites (such as cdbaby.com and amazon.com), digital download locations (including iTunes.com, rhapsody.com) and Kaplan's own ronkaplan.com.
In addition to his career as a concert performer and recording artist, Kaplan also is the founder and executive director of American Songbook Preservation Society, a non-profit organization whose mission statement is: "To preserve our cultural treasure known as the Great American Songbook by performing this music at home and abroad as Ambassadors of Song."
For more information, go to greatamericansongbook.org. "The Great American Songbook is full of what is known as popular standards -- great songs written generally between 1920 and 1960, most often for Broadway shows or Hollywood musical films, but sometimes simply in the Tin Pan Alley tradition of pianists and lyricists working together to create quality material for the big bands or the pop singers of the day."
Kaplan has carved out an exemplary singing career by following in the footsteps left by legends such as Frank Sinatra, Mel Torme, Nat King Cole and Tony Bennett. Ron has superb command of his flexible baritone that literally cocoons the listener within the cozy atmosphere of the images and feelings that he sings about. His trademarks are his sophisticated phrasing, the mature tonal qualities of his vocals, and his relaxed style.
On the New York CD, Kaplan uses a hot jazz quintet. He co-produced with arranger and pianist Larry Dunlap, who has worked with Cleo Laine, Mark Murphy, The Swing Fever Big Band, Jules Broussard, Bobbe Norris and Jeremy Cohen, among others. The rhythm section is comprised of bassist Seward McCain (Vince Guaraldi Trio, Richie Cole, Kitty Margolis, Jeff Linsky, Dave Eshelman) and drummer Akira Tana (Lena Horne, Pat Metheny, Art Farmer, Zoot Sims, James Moody, Ruth Brown, Lee Konitz, Kenny Burrell). They are augmented by a horn section – Erik Jekabson on trumpet (Illinois Jacquet, John Mayer, Kermit Ruffins, Howard Fishman) and Noel Jewkes on saxophone and clarinet (Jon Hendricks, Michael Bloomfield, Mary Stallings, Lavay Smith & Her Red Hot Skillet Lickers).
Kaplan selected a dozen classic compositions that reflect a myriad of different aspects of New York City. "The chronology of the songs is like taking a trip to New York City, seeing the different parts of the island, experiencing the nightlife, riding the subway or the buses, walking around or going uptown." A couple of the tunes are better known as jazz instrumentals than vocalized compositions, but Kaplan did extensive research to track down the lyrics, often going back to the earliest versions or sheet music, and sometimes singing verses seldom heard today.
While most of the CD's tunes are from the first half of the Twentieth Century, the stage is set with a song from the Seventies, Billy Joel's "New York State of Mind" ("He's saying that once you've been a New Yorker, you always feel the pull to go back to that city."). Lester Young's "Jumpin' With Symphony Sid" is about a famous New York disc-jockey playing the swing, R&B and jazz of the Forties over the air. No trip to NYC would be complete without a stop on Broadway, represented by both "Lullaby of Broadway" and a medley, "New York New York/Broadway," where, as the lyrics say, "the night is brighter than day."
Then it's off on a historical ride around the city with Billy Strayhorn's classic "Take the 'A' Train" which became one of Duke Ellington's signature themes. Appropriately, next comes the Ellington-penned "Drop Me Off in Harlem" and a Cotton Club standard, "Harlem Nocturne," which Kaplan first heard as an instrumental on a noir-ish private eye television show years ago.
The journey around the big city continues with "Forty Second Street." Kaplan says he loves the historical content ("it talks about everything from dancing girls and chorus lines to Times Square and Wall Street"). Another side of the city is presented in "Sunday in New York" ("it reminds me of strolling along the streets and people watching").
For many years striving, struggling artists have flocked to this important entertainment capital determined "to make it" and this drama is described in the Sixties Brill Building hit "On Broadway." Kaplan injects a little humor with the cynical tongue-in-cheek "Give It Back to the Indians," written by tunesmiths Rogers and Hart. The recording closes with another song by the same team, "Manhattan" ("perhaps the quintessential song about New York").
Kaplan's other albums are High Standards, Dedicated, Jazz Ambassadors, Lounging Around, Saloon and a special-edition fund-raising live recording American Songbook Preservation Society Singing the Great American Songbook. In the past few years Kaplan has performed in Las Vegas, London, Los Angeles, New York, San Francisco and Washington DC.
He has made television appearances on "Musician's Weekly" and "BETonJazz." He has played with musicians such as pianists Shelly Berg, Smith Dobson, Geoff Eales, Tom Garvin, Weber Iago, Mark Levine, Dick Whittington and Jessica Williams; guitarist Larry Scala; bassists Art Davis, Stan Poplin, Perry Thoorsell and Tom Warrington; horn-players Paul Contos, Ted Curson, Dmitri Matheny, Donny McCaslin Jr. and Kenny Stahl; and drummers Dan Brubeck, Donald Dean, Tootie Heath, Guiseppe Merolla, and Matt Wilson.
Kaplan was born in Hollywood and was immediately surrounded by music. His father played trumpet in jazz-bands in the Fifties and his mother had the radio or record player on constantly. From his toddler-days onward, Kaplan's parents indoctrinated him with the great singers of 1950s. His earliest influences were Frank Sinatra, Ella Fitzgerald, Nat King Cole, Mel Torme, Dean Martin, Sarah Vaughn, Sammy Davis Jr., and Louis Armstrong among others. Ron played drums and percussion at school.
In junior and senior high schools he sang in musical stage productions, did standup comedy at talent shows and his uncle's bar, and competed in speech tournaments ("sometimes it was extemporaneous speaking which is sort of like jazz soloing"). Ron studied in an actor's workshop in Hollywood, and then went to Los Angeles' Valley College where he got his Associate in Arts degree. He taught himself to play guitar and piano, and started writing songs influenced by Bob Dylan, The Beatles and Cat Stevens.
Ron also performed original material professionally accompanied by a viola player. In addition, Kaplan learned to play congas at Venice Beach and later played in drum circles every Sunday for a number of years in Griffith Park. Kaplan moved north to attend the University of California at Santa Cruz where he majored in psychology and received his Bachelor of Arts degree.
From 1985 to 1995, Kaplan decided to immerse himself in instrumental jazz and began listening to classic material from 1950 to 1964 – Miles Davis, John Coltrane, Lee Morgan, Hank Mobley, Wayne Shorter and countless others. About a dozen years ago Kaplan turned to his first love, those songbook standards, and began his recording career with a style reminiscent of those great jazz vocalists he first heard as a child.
"All of my albums are an acknowledgment and tip-of-the-hat to those who came before us and paved the way for us to have a truly American soundtrack of music for our lives," explains Kaplan. "My greatest desire is to keep this wonderful music before the public for the next hundred years and beyond. This music needs to be elevated and cared for, which is why I started the not-for-profit American Songbook Preservation Society."
2007 EMOL.org Music Entertainment Magazine. All rights reserved.
Music Entertainment Magazine