Van Morrison's new DVD Astral Weeks Live at the Hollywood Bowl
AMAZON EXCLUSIVE WORLDWIDE RELEASE On Heels of Critical Acclaim at London's Royal Albert Hall
Following Van Morrison's two critically-acclaimed sold out nights bringing his groundbreaking, signature new CD album, Astral Weeks to brilliant life at London's Royal Albert Hall, the anticipation builds for the May 19, 2009 Amazon exclusive new DVD release, Astral Weeks: Live at The Hollywood Bowl.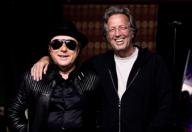 (Photo left) IRE LISTEN TO THE LION FILMS MORRISON AND CLAPTON LISTEN TO THE LION FILMS MORRISON AND CLAPTONMeeting longtime friend Van Morrison backstage, even Eric Clapton was eager to relive the experience. The upcoming DVD release of Astral Weeks: Live at the Hollywood Bowl is exclusively available on Amazon.com. Photo Credit: Listen To The Lion Films. (PRNewsFoto/Listen To The Lion Films) LONDON ENGLAND 04/22/2009.
Five-star reviews heralded Mr. Morrison's revisiting of his 1968 studio masterpiece, performed on stage for the first time in its entirety outside of the U.S.
And soon multitudes of fans around the world will be able to invite multi-award-winning soul singer Van Morrison into their living rooms through the DVD release of Astral Weeks: Live at the Hollywood Bowl, an in-concert reworking of the musical legend's historic 1968 gold-certified solo album. Astral Weeks: Live at the Hollywood Bowl was recorded live over two nights at the Hollywood Bowl in Los Angeles in November 2008 and is available as a concert film for purchase exclusively on Amazon.com beginning May 19 for an SRP of $29.99.
Van Morrison first released Astral Weeks when he was only 22. The recording immediately became a critically-acclaimed classic and is still considered one of the greatest albums of the rock era. The fall 2008 shows captured for the DVD marked the first time Mr. Morrison ever performed Astral Weeks in one complete concert set.
Joining him was an orchestral string section and a band composed of world-class musicians, some of whom played with Van on the original Astral Weeks sessions 40 years ago. During the first half, the artist performed a number of the timeless classics he is famous for while the second half was an awe-inspiring performance of the Astral Weeks album.
Among the songs included on the concert DVD are: "Astral Weeks/I Believe I've Transcended," "Beside You," "Slim Slow Slider/I Start Breaking Down," "Sweet Thing," "The Way Young Lovers Do," "Cyprus Avenue/You Came Walking Down," "Ballerina," and "Madame George."
The Astral Weeks DVD also features special bonus songs, including a live version of "Gloria," and unprecedented behind-the-scenes footage as well as a candid conversation with the artist himself talking about the meaning behind Astral Weeks, his decision to revisit the pivotal project, and his impressions of the music business. To rework Astral Weeks, Mr. Morrison added his signature stretching of songs in a manner unlike any before by creating new sections of songs live on stage. As producer of the record, Mr. Morrison insisted there be no post-production engineering. It is straight up raw from the Hollywood Bowl stage - pure resonant sound.
"I'm not just a singer. I am a soul singer. The Hollywood Bowl concerts gave me a welcome opportunity to perform these songs the way I originally intended them to be", says Mr. Morrison, who amazingly held only one rehearsal prior to the concerts.
His Astral Weeks: Live at the Hollywood Bowl proves exactly that, over and over again.
The UK London papers exclaimed about the music legend's pivotal performances: --

"Encircled by his own musicians, in thrall to the jazz-folk sub-genre single-handedly invented and, many would say, never bettered by these songs, two eyebrows rose plaintively above Morrison's shades. "I believe I've transcended," he averred. If the five-minute ovation encompassing all of a seismic, valedictory Gloria was anything to go by, he wasn't the only one who thought so. FIVE STARS!" The London Times.

-- And from London's Daily Express, "What we saw this weekend was dynamic creation...this was no evening of nostalgia. This was music making on the hoof-improvised, intense. FIVE STARS!"

-- The U.K.'s Telegraph remarked, "Morrison showed off by playing piano, harmonica, saxophone, organ and guitar. I also noticed the vocal tic of repeating words and syllables which often has the exultant effect of making him sound (as Lester Bangs once said) like a man running downhill into a lover's arms...FIVE STARS!"
Source: Listen To The Lion Films
LONDON, April 23, 2009 /PRNewswire/ --
2006-2009 EMOL.org Music Entertainment Magazine. All rights reserved.