Music: Roy Orbison
ROCK AND ROLL LEGEND ROY ORBISON RECEIVES STAR ON HOLLYWOOD'S WALK OF FAME
On January 29, 2010 Rock and Roll legend Roy Orbison received his Star on the Walk Of Fame.

Roy Orbison was one of the very first rock and roll stars, and was an international household name by the time he was 21. Loved the world over for a soaring 5 octave voice, and his incredible and innovative way of writing songs, Orbison was an artist without limits. Orbison is one of the very few artists to have been accepted by the world in all forms of popular music, and Roy is one of the exceptional artists to have won Grammys in pop, rock and roll and country categories.


Roy's career tells the story of rock and roll, having pioneered rock-a-billy, rock and roll, pop and country. Roy's music not only crossed all barriers, it broke them down.
Orbison brought rock and roll to Nashville, and these sounds were captured on vinyl and taken to England where they in turn inspired the British Invasion.
Then, as the British bands took hold of the US charts, Roy was the only single artist to withstand it, ranking alongside the Beatles and the Stones, all artists who had opened for him as he toured internationally and all artists who remained friends.

Throughout Roy's career he would again and again top the charts, and continue to inspire the new artists alongside the charts with him. The last decade of his life was no exception: The 80's saw Roy inducted into the Rock and Roll Hall of Fame by Bruce Springsteen, who subsequently joined an all star ensemble for Roy and friends 's Black & White Night (featuring Jackson Browne, T Bone Burnett, Elvis Costello, K.D. Lang, Bonnie Raitt, JD Souther, Tom Waits, Jennifer Warnes). On December 6, 1988 the world lost Roy Orbison, but the celebration of his music lives on. That year alone he topped the charts both as a Traveling Wilbury (including bandmates Bob Dylan, George Harrison, Jeff Lynne and Tom Petty) and as a solo artist, with his mega hit "You Got It," off his posthumously released Mystery Girl, (that also included a collaboration with Bono). Both of these releases won him two Grammys that year, and then he won another the following year – for Best Male Vocalist. He attained the rare acclaim of being the only artist (other than Elvis) to have two simultaneous posthumously-charting Top 5 albums with Mystery Girl and The Traveling Wilburys.

This totally unique artist enjoyed an unrivaled career, that 22 years since his passing, is still flourishing. "And now the journey continues," said Barbara Orbison "with Roy Orbison's star on the Hollywood Walk of Fame."
That weekend was a very exciting weekend for the Orbison family, starting with the Walk of Fame ceremony for Roy Orbison, and capping the weekend with a night at the Grammy's where nominee, Taylor Swift's album, Fearless which features multiple songs from Barbara Orbison Music Company's catalog, was awarded Grammys for Best Country Album and Album of the Year. In addition, the song, "You Belong With Me," co-written by Swift and Liz Rose, was one of the biggest songs of 2009, and was also nominated for Song of the Year.

Roy Orbison, one of the very few artists to have been accepted by the world in all forms of popular music, and to have won Grammys in pop, rock and roll and country categories, was honored with a star on the Hollywood Walk Of Fame. The ceremony took place in front of Capitol Records, where Roy's star is next to those of his dear friend John Lennon and fellow Traveling Wilbury George Harrison. Saluting Roy's passion for riding Harley's, his dear friends Dan Aykroyd and Dwight Yoakam launched the event by leading a motorcycle brigade and riding right up to Roy's wife, Barbara Orbison, and their sons Wesley, Roy Jr and Alex.

Under the warm Hollywood sun, Leron Gubler, President and CEO Hollywood Chamber of Commerce, welcomed the throngs of fans, friends and media, and declared January 29 to be forever known as "Roy Orbison Day" in Hollywood. The next speaker, Dan Aykroyd, eloquently summed up the emotion of the day, "as Barbara would say, everybody loved Roy."

T-Bone Burnett, long time friend and producer, added "With the 20th century now book ended, I can confidently say that Roy was the greatest singer of the 20th century."

Barbara Orbison, the last to speak, spoke lovingly of her husband and the unparalleled legacy he left with the world through his music and his renown warmth of personality and spirit. With eyes soft with gratitude Barbara thanked the Hollywood Chamber of Commerce and then turned her attention to the throngs of friends standing behind her, including Jeff Ayeroff, Dan Aykroyd & Donna Dixon, T-Bone Burnett, Phil Everly, Sean Garrett, Olivia Harrison, Eric and Tania Idle, Chris Isaak, Jim Keltner, David Lynch, Jeff & Camilia Lynne, Jason Mraz, Barbara Bach Starkey, Joe & Marjorie Walsh, and Dwight Yoakam saying "these are the friends who loved Roy and have continued to love us these 21 years". Barbara then went on to say that the only thing that would make the moment better would be to have Roy standing there next to her. "But I see Roy through my friends, who all have a little piece of Roy in their hearts. Thank you for remembering Roy and for loving Roy. This is a wonderful way to celebrate his life, and this little stone star will probably be there much longer than any of us."

For More Information Please Visit: www.royorbison.com
Roy Orbison, Rock Icon Remembered on his Birthday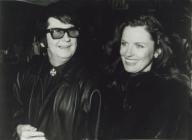 Roy and Barbara Orbison.
(PRNewsFoto) NASHVILLE, TN USA 04/22/2005
Out of the tiny oil town of Wink, in West Texas, he became a worldwide superstar, topping the charts around the planet for four decades. He toured with The Beatles, The Rolling Stones, The Beach Boys, Johnny Cash, Jerry Lee Lewis, The Eagles and Patsy Cline, and made a tremendous impact on every single soul that heard his sound. Elvis Presley called Roy "The Greatest singer in the world."
Roy Orbison was born in Vernon, Texas on April 23rd, 1936. He got his first guitar for his 6th birthday, had his own radio show at the age of 8. At the age of 13 he formed his first band, the Wink Westerners, and they became local heroes. By 18 he had his own television show and one of his guests was Johnny Cash, who pointed him to Sun Records, the home to Elvis Presley, Jerry Lee Lewis, Carl Perkins and Johnny Cash.

From there he went to Monument Records in Nashville and a tremendous string of hits followed. First came "Uptown," followed by "Only The Lonely," "Blue Angel," "Running Scared," "Crying," "Dream Baby," "In Dreams," "It's Over," and one of the most popular songs of all time, "Oh, Pretty Woman."

In January of 1987, he was inducted into the Rock and Roll Hall of Fame. Later that year, he recorded the archetypal Black & White Night, the Coconut Grove performance featuring artists Bruce Springsteen, Elvis Costello, James Burton, and Bonnie Raitt, to name a few. During that year, Roy was recording two albums at the same time, one with the Traveling Wilburys, Vol. 1, and his solo effort, Mystery girl. In December of 1988 Roy passed away and he had two # 1 songs on the charts at that time, "Handle With Care" with the Wilburys and his own, "You Got It."

Roy Orbison received multiple Grammy awards and was inducted into the Songwriters Hall of Fame in 1989.

In one of his last interviews he was asked how he wanted to be remembered, and he just replied: "I would just like to be remembered."
NASHVILLE, Tenn., April 22 /PRNewswire/ --
Source: Orbison Records
© 2005-2010 EMOL.org Entertainment Magazine