Music: The Shirelles
'Soldier Boy' Turns 50: The Shirelles Celebrate 50th Anniversary in Music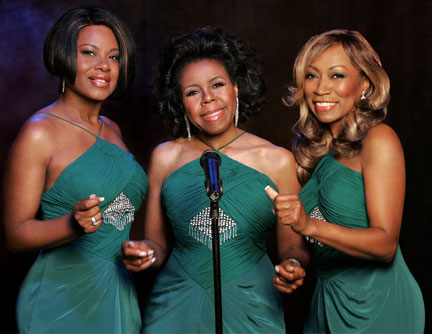 Mama said there'd be days like this, but for the super group The Shirelles, they could never have imagined it would last for 50 years.
During 2008, the Rock & Roll Hall of Fame group is celebrating a half century of recording and sold-out performances. The Shirelles 50th Anniversary Tour - "50 Years & Still Fabulous" - is now performing across the U.S., including stops in Atlantic City, Chicago, New York, Los Angeles.
The group is known for its hits "Soldier Boy," "Will You Love Me Tomorrow," "Dedicated To The One I Love," "Mama Said," and "Baby, It's You." Their songs have been recorded by hundreds of artists, including The Beatles, Dionne Warwick, Aretha Franklin, Eric Clapton & The Yardbirds, The Mamas & the Papas, Smokey Robinson and more.
"As school girls in Passaic, New Jersey, we never dreamed our songs would touch the hearts of millions," said Beverly Lee, one of two living original Shirelles, and keeper of The Shirelles trademark. "We have been blessed to perform for presidents, kings and prime ministers, and most importantly, for millions of fans around the world. Fifty is indeed fabulous!"
The Shirelles were named Billboard Magazine's Best Female Vocal Group for 5 consecutive years, and more recently have received the Soul of America Music Award and the Pioneer Award from the Rhythm and Blues Foundation, in addition to their 1996 induction into the Rock & Roll Hall of Fame.
Some of the many Shirelles achievements include:
• Four Gold Records & Dozens of Top 40 Hits
• Best Female Vocal Group in Billboard & Cashbox for 5 Consecutive Years
• Playboy Music Poll Top Female Group for 7 Years
• Vocal Group Hall of Fame
• Pioneer Award from the Rhythm & Blues Foundation
• Command performances for Presidents, Kings & Prime Ministers Around The World
It's no wonder that The Shirelles were inducted into The Rock & Roll Hall of Fame in 1996.
The Shirelles were one of the earliest and most memorable girl groups from the late Fifties and early Sixties. John Lennon proclaimed The Shirelles as his favorite group in the early days of Beatlemania.
With their innocent, unblemished vocal style, The Shirelles project a "girl next door" image, and their songs about young love and its travails appeal to all generations of fans. Moreover, The Shirelles' material and production are uniformly excellent, and transcend the glory years of the early Sixties.
The Bazel Group, Inc. is proud to be the exclusive booking agency for The Shirelles 50th Anniversary Tour. Photo couresty of The Bazel Group, Inc.
NASHVILLE, Tenn., Feb. 15, 2008 /PRNewswire/ --
© 2008 EMOL.org Music Entertainment Magazine. All rights reserved.
Music Entertainment Magazine
The Shirelles Music CDs
Listen to music samples
• Audio CD (July 27, 1999)
• Original Release Date: July 27, 1999
• Number of Discs: 1
• Format: Extra tracks
• Label: Varese Sarabande
Shirelles MP3 Music Downloads
Napster
Free trial period. Napster Subscription ($9.95/month) offers access to over 5 million songs with unlimited downloads, and Napster To Go ($14.95/month) let's Napster Subscribers transfer unlimited songs to their compatible MP3 player.
Napster.de: Music-Flatrate 7 Tage kostenlos testen!