Interview with SuperJoint Ritual
Part 2
Story and photos by Tracie Reed
Entertainment Magazine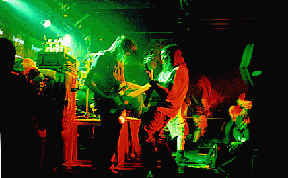 TR- Can you tell us a little about your new album, new CD?
JB- Yeah! We started working on it in January. Like the first record we had it all written. Between 1993 and the year 2,000 when we recorded it. And this record we had the advantage of having about 30% of it written. And then we had to write like about 70%. So it worked out good. We got to get like new SuperJoint kind of style blended in with some old songs that we redid and stuff like that. I think the true test is going to be the next record which we don't have anything for. So it's going to be cool!
TR- Who's the big lyric writer?
JB- Philup writes all the lyrics. All the lyrics!
TR- You guys just collaberate? Put it all together?
JB- Yeah! I as the guitar player. Me and Philup write riffs. Joe the drummer plays. He even plays guitar to. He comes up with riffs. Riffs aren't really that. It's not that they're really that hard. It's just trying to get something that. It's always trying to find something that somebody's going to remember. Like get a hook or whatever you want to call it. They're just kind of bad. It's kind of hard to have hooks, but we do. Philups that kind of singer.
TR- That's cool!
JB- I think he is! Yeah! Yeah! Totally! We auditioned singers for this band. Philup did not want to sing at all. He wanted to play guitar. We were like (dude your the best singer in the world man! You might as well just do it!) Kevin the other guitar player in the band has been there since the beginning and has always had either played bass or played guitar. When we had three guitars. So Kevin knows Phils style. Perfect to have Kevin to do Philups guitar. But in the beginning we did look for a singer. Couldn't find one. We had a couple of people come try out and it was just like. You just know that it's not going to happen.
TR- Are you guys already started on your new next CD?
JB- We are going to take some time off after the first of the year and start working on that. At least start working on it. We just put our last one out. Just came out in July 22nd. So it really hasn't been out that long. But us musicians we just like to stay productive constantly.
TR- That's good!
JB- Yeah! A person that walks around and tells everyone that he's in a band and doesn't practise is an idiot. It's true! We call them bar stars. You can see them. They stand at the bar every night. You know ( that dude sucks). They're just jealous and pissed. Cause they won't take the initiative to go and do what they have to do. Anybody can get their band and go on tour. I don't care who you are. You could do it! (Jimmy points to others in the bus) He's done it! And he's done it! I've done it! It's not hard. You just have to have the drive to do it.
TR- You've sung to or you've just always played guitar?
JB- I've never sung. I'd like to sing. But I'm to embarresed. It's like you singing in front of all your friends.
TR- What's the craziest thing that's happened to you guys so far?
JB- We've had fans like try to hit our boss. We've had to go outside and put them on the ground. We've had people draw weird pictures of us. All kinds of weird sh-t! Nothing like damn! (Laughs) Nothing like that!
TR- Not yet anyway! right?
JB- Not yet! We're waiting for that. We're hoping that when it does come it isn't where we go damn! We had one show where we played with Dansik. It was last year and it was in Pheonix. It was in Mesa. We had like 800 kids break the barricade and come on stage and then Phil was just like "Stop! Stop! Stop!"
TR- Was it scary?
JB- It was kind of scary. I didn't know what they were going to do. They just came up and was just like Yeah! And just pat us on the back.
TR- That's cool!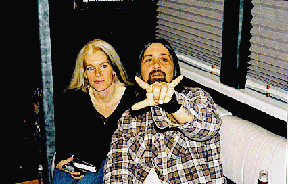 JB- Yeah! But still I mean. It was still a little scary. But after we got everybody off. We had a security gaurd have a heart attack cause he was trying to hold the row. An older guy. He was big too! Body builder looking dude.
TR-Your CD that's out now "A Lethal Dose Of American Hatred." Is it all about the music or is there a message behind it?
JB-Uhm! The time we were writting was right after 911 and Philups vocals. Philup like I said he writes all the lyrics. He sums it up as just. I don't know. It's hard for me to answer that question. Because I don't really. He knows what the title means. He knows more of the lyrical content. A lot of it had to do with the war. The 911 conflict and dealing with that. As being pissed off people as we are. We of course added our 2 cents into it. Seemed like an appropiate title for the record. That's about all I know.
TR- How many bands have you had to play in before you got to SuperJoint?
JB- I've played in I Hate God. I've played with Philup in Down. Played drums in that. I played with a band called Clear Light. Played drums for COC for awhile. For a couple of years. A band Crow Bar for a long time.
TR- Who are your influences?
JB- Like old seventies style music. Old Sabath, Melvins. Their not seventies. Captain beyond. I like a lot of old country. I think the good country. We like to bend the strings.
TR- Do you guys think you'll ever return to Tucson on your next tour?
JB- Oh totally! Yeah! Basically me and Philup were doing Down and SuperJoint at the same time and last year we would do a Down tour and then a SuperJoint tour. Then a Down tour and then a SuperJoint tour. And the SuperJoint tour weren't really you know. Down did Ozzfest and stuff like that so we just made a decision that SuperJoint is the band that is more needed right now to me. And I've heard Philup say that as well. And to me I agree with him. It's more of a needed band in the metal scene right now then Down. Down's more of a rock band that to me is timeless. But SuperJoint is yeah! We're here to push all the new metal fags out. Fight um or whatever! We've been sitten on this bus for a long time. It wasn't on purpose or anything like that. It was just a matter of Philup. Philup was busy with Pantara. Joe was busy doing whatever he was busy doing. I was busy doing whatever I was busy doing. Just the time didn't allow. And now we put our foot down and made the time for it. It's a fun band. We have a great crew we've got. It's just like a family. We've been doing a lot of touring though. So we're taking two months off after this tour which ends Monday I think. We've literally have been out since like around May. About 8 months straight.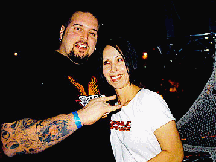 TR- It went by quick?
JB- Yeah! It was kind of quick and slow to at the same time.
TR- So what do you guys normaly eat? Whatever is available?
JB- Yeah! They feed us pretty good. We eigther get a buy out. Like there's restaraunts around you can just walk to get a bite to eat. Like this place has in house food. They feed us. We eat alright. You can deffinitly tell we eat good!
TR- What kind of message would you like to give to your fans? If you have any messages?
JB- www.SuperJointRitual.com Check it out! Buy the CD if you like it. Cool! If you don't give it to somebody that might.