The Unforgettable Story Of One Of Motown's Hottest Acts Sings On DVD January 11, 2011
In time with their golden anniversary, the perennial fan favorite biopic of the famed vocal group The Temptations, arrives on DVD January 11, 2011 from RHI Entertainment and Vivendi Entertainment.
This true story of the 1960s soul vocal group, The Temptations, as seen from the viewpoint of Otis Williams, the last surviving member, begins from their humble origins in the late 50s and continues through the 1990s and the deaths of the other four members.
With a cameo appearance by legendary musical icon Smokey Robinson, the critically acclaimed miniseries event follows the band from their humble beginnings to their sensational climb to the top of the charts.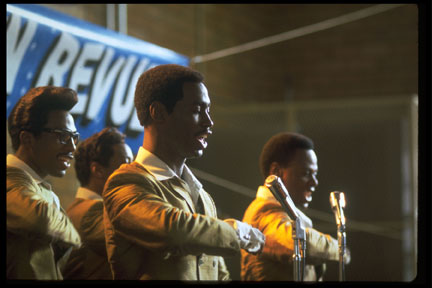 Told from the perspective of Otis Williams, the last surviving member of the group, The Temptations traces the band's journey through five decades of successes and heartbreaks, triumphs and tragedies, to become the inspirational pioneers of music that continue to influence artists today.
Nominated for a Golden Globe® for Best Miniseries Or Motion Picture Made For TV and six Emmy® Awards, including a win for Outstanding Directing For A Miniseries Or A Movie (1999), The Temptations stars Charles Malik Whitfield (Notorious),
D.B. Woodside ("24"), Leon (Waiting to Exhale) Obba Babatundé (Black Dynamite), Jenifer Lewis ("Meet The Browns"), Vanessa Bell Calloway ("Hawthorne") and is directed by Allan Arkush ("Hellcats," Rock 'n' Roll High School). The Temptations DVD also includes five free music downloads from a catalog of Temptations hits and other Motown favorites, and will be available for the suggested retail price of $14.93.
About Vivendi Entertainment
Vivendi Entertainment is a full service independent film, television, DVD and digital distribution company operating in the United States and Canada.
About RHI Entertainment
RHI Entertainment (NASDAQ: RHIE) develops, produces and distributes new made-for-television movies, miniseries and other television programming worldwide, and is the leading provider of new long-form television content in the United States.
"The Temptations" Review
From Amazon.com: The soap-opera career of Motown's most successful group, the Temptations, lends credence to the old belief that great art comes from troubled lives.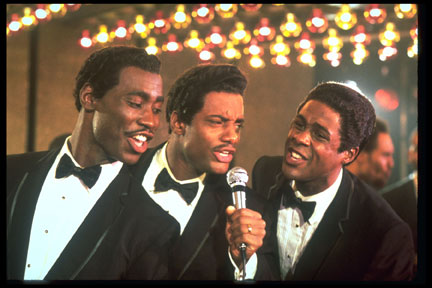 Over three decades, the band struggled through numerous ego trips, countless members, broken relationships, coke addiction, alcoholism, suicide, cancer, deadly arthritis--in short, all the melodramatic devices necessary for a TV miniseries.
This two-and-a-half-hour docudrama touches on all of these personal tragedies, but unfortunately forgets the real reason for the strength of the story: the music.
Sure, there's wonderful reenactments of the quintet's finest material, such as "My Girl," "Just My Imagination," "Papa Was a Rolling Stone" and "The Way You Do the Things You Do," all performed with the slick choreography and shimmering vocal harmonies that made the band legendary. But, unfortunately, director Allan Arkush (Rock and Roll High School) and writers Kevin Arkadie and Robert Johnson forget to put the music into any historical perspective.
Why were the Temptations so important? What was their contribution to pop music? By watching this saccharine, manipulative exposé, you'd never know. The performances are nonetheless terrific, especially Charles Malik Whitfield as leader (and narrator) Otis Williams, D.B. Woodside as his partner, Melvin Franklin, and Leon as the group's talented livewire, David Ruffin.
The DVD edition offers several fine features including 2.0 Dolby Surround Sound, a discography, cast and crew profiles, extensive production notes, and most important, the ability to jump to any of the seven songs performed... basically the main reason to watch this epic. --Dave McCoy
---
---
© 2010 EMOL.org Music Entertainment Magazine. All rights reserved.
Includes 5 Free Music Downloads from a catalog of Temptations hits and other Motown favorites! DVD features Charles Malik Whitfield, D.B. Woodside, Leon, Obba Babatund Jenifer Lewis. Directors: Allan Arkush. Format: Color, Dolby, DVD, Full Screen, NTSC. Release date January 11, 2011. Run time: 150 minutes.
iTunes

Napster
Free trial period. Napster Subscription ($9.95/month) offers access to over 5 million songs with unlimited downloads, and Napster To Go ($14.95/month) let's Napster Subscribers transfer unlimited songs to their compatible MP3 player.
Napster.de: Music-Flatrate 7 Tage kostenlos testen!