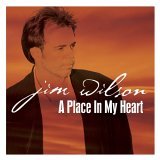 One of the most popular new contemporary instrumental pianists to emerge in the past few years, Jim Wilson returns with his fifth album, A PLACE IN MY HEART (on Artemis Nashville/Compendia), a tribute to the people and places that have made a deep impact on his life, especially his adopted state, California.

Jim grew up in Texas, but left there when he was 19-years-old with all of his possessions in a van and headed to California to pursue his dreams of a career in the music business.
"For many people California has represented the Promised Land, the Land of Dreams. I love the energy of the people and the encouragement of the arts. But I also fell in love with the varied and unsurpassed beauty of the scenery, from the astoundingly-gorgeous coastline to the peacefulness of the desert to the wide range of mountain vistas. It's one of the few places in the world where you can surf in the morning and snow-ski in the afternoon."

But A PLACE IN MY HEART also is about people – past loves, friends and family.
According to Jim, "The album is dedicated to my father, whose name also was Jim Wilson and who passed away just before the release of the album. He helped shape me into who I am. I want to honor his life by always working to be the best man I possibly can, but also making sure I take the time every day to appreciate the beauty in life."

Wilson's music, sometimes described as "melodic tone poems," can be purchased at stores nationwide and at all major on-line music outlets. For more info go to www.compendiamusic.com or www.jimwilson.net.

Jim Wilson has had previous recordings hit the Top 10 on BILLBOARD magazine's "Top New Age Albums" chart, has taught MIDI-piano techniques to many of the biggest pop stars in the business, has composed music for television shows, has had his own nationally-televised PBS-TV special, and has many top pop and jazz artists appear as guests on his CDs (from Dan Fogelberg and Stephen Bishop to David Sanborn, Rick Braun and Dave Koz).

A PLACE IN MY HEART continues this tradition of working with renowned musicians – best-selling trumpeter Chris Botti, South American acoustic guitarist Ricardo Silveira, acclaimed folk-singer Dillon O'Brian, singer Marilyn Martin (who previously had a #1 hit dueting on "Separate Lives" with Phil Collins), Irish flutist and Uilleann pipes player Eric Rigler (the "Titanic" soundtrack), guitarist Davey Johnstone (Elton John), and a rhythm section that has played with thousands of the best pop and jazz artists (bassist Neil Stubenhaus, drummer Vinnie Caliouta and percussionist Alex Acuna).
Another highlight of the new recording is the presence of real string players on nearly every track – the violin-viola-cello trio known as Bella Musica on eight tunes and the 50-piece Prague Orchestra on another. Although primarily known as an instrumentalist, Wilson's recordings include some vocals. Several of the new tunes have soft choirlike background vocals, but Jim sings solo lead vocals on one song and duets with Marilyn Martin on another.

"This is a music soundtrack for the perfect California day," explains Wilson. "Imagine jumping into a convertable with some friends for a leisurely drive along the coast with the breeze in your hair and the sun on your face. The music begins and ends on the coast, starting with 'Morning on Cannery Row.' The north-central part of the state in the Monterey-Carmel area is one of my favorite places in the world with its rugged coastline and varieties of enchanting trees. The last full tune on the CD is 'Luna de La Jolla.' This coastal community in the south part of the state is a great place for nighttime walks on the beach with the sandstone bluffs behind you and the moonlight sparkling and shimmering on the water."

In between are other original compositions by Wilson inspired by places in California. "Eagle's Flight" captures the nobility and grandeur of seeing a lone eagle soaring at Yosemite National Park near the majestic El Capitan rock landmark. Feeling melancholy following the funeral of Davey Johnstone's nine-year-old son, Oliver, Wilson went walking through the rolling green hills of Calabasas blanketed with grey mist which led to writing the piece "California."
A couple of dozen miles from the Los Angeles coast is the island of Catalina where the beautiful art deco Avalon Ballroom was built in the 1930s. In 1934 CBS Radio made their first nationwide live broadcast from that site where men in tuxedos and women in long gowns were dancing next to the Pacific Ocean. The waltz "Avalon Ballroom 1934," featuring violinist and recording artist Lili Haydn, was inspired by the mood of that era.

Regarding the title track, Jim says, "There is a place in my heart for people and places that have moved me deeply." "Sanctuary" was born out of a time when Jim was going through a breakup of a romantic relationship and realized that true happiness comes from within.
"I hope this music takes you to a spiritual refuge, the place inside us all where we're fullfilled and sustained." "Foolish Me" is a heartbreak tune with a twist ("The final chorus reinterprets the title, ending with a hopeful, though bittersweet sentiment"). Wilson explains that "If The Morning Never Comes" is "a message of gratitude for any time love has come my way. In these uncertain times, even if everything ended tomorrow, life is worth it if you have loved and have been loved." With "Hunter's Moon," Jim includes a tribute to his grandfather (also named Jim Wilson), who passed down a small percentage of Native American ancestry. The CD ends with "Sanctuary (Reprise)" which Jim says "is like a sentimental recalling of a beautiful place you've been."

A PLACE IN MY HEART follows Wilson's first four albums which were all strong sellers -- NORTHERN SEASCAPE, CAPE OF GOOD HOPE, MY FIRST CHRISTMAS WITH YOU, and QUIET SHADOWS (his versions of pop standards). The release of his second album was highlighted by the airing of an hour-long national PBS television special, "Jim Wilson & Friends: Cape of Good Hope (and Other Musical Portraits)" and a live national concert appearance on QVC television.
Wilson proved to be one of the few new instrumentalists who can bridge the gap between new age, smooth jazz and Celtic-flavored pop. Other musicians who guested on these recordings include Richard Elliot, Everette Harp, Peter White, Lisa Lynne, Chris Standring, Nathan East, Steve Lukather, Lee Sklar, Steve Porcaro and Lenny Castro.


Although the public thinks of Jim Wilson as a rapidly-emerging pianist and composer, the music industry knows he has even more talents. He helped develop a revolutionary MIDI-adaptor for the acoustic piano which, for the first time, allows this age-old instrument to interact with computers and synthesizers.
He developed a top-flight reputation, teaching uses of MIDI-piano to the upper echelon of pop musicians such as Paul McCartney, Elton John, Bruce Springsteen, Billy Joel, Jackson Browne, Burt Bacharach, Carole King and many, many more. Whenever Jim played his own music for them while sitting at their pianos, they encouraged him to pursue his own musical dreams.

This led to an official endorsement by Yamaha Pianos, with the company providing instruments for his performances across the country both as a solo artist and with his six-piece band (more than a thousand shows so far and counting). Jim transports his concert audiences on a "cinematic melodic journey" enhanced by his compelling performance videos -- evocative multimedia montages coordinated with the music and projected behind him as he plays. Additionally, Wilson composed music for the CBS-TV series "Frank's Place." CNN's "Showbiz Today" television show also devoted a segment to Jim's music.

Jim started learning music when he was seven. He picked up a guitar at the house of a family friend who then decided to give the instrument to Jim. "From then on I had this incredible passion for music and learning to play it. Around nine or ten I started composing songs. About that time my charismatic cousin from California came to visit. He breezed into town with his long hair, guitar, songs and stories, and that really ignited the musical fire in my life. I couldn't wait to be a musician. I started playing in professional bands when I was 14. I switched to playing piano when I was 19."

Jim began his recording career in 1997 when his best friend died suddenly. "That was a life-changing event that made me realize that you never know when you're going to be called, so you better be proud of what you've done and the legacy you're leaving behind." Now that musical legacy is enriched even further with A PLACE IN MY HEART.