Country Music's legendary duo The Judds will kick off 2010 CMA Music Festival and Fan Fair® with the opening daily concert on the Riverfront Park Stage on Thursday, June 10 (10:00 AM/CT).
"The Judds performing on the Riverfront Park Stage - THAT is something worth waking up for!"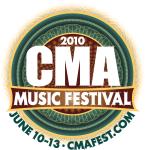 said Steve Moore, CMA Chairman of the Board. "We are so excited to have Naomi and Wynonna reunite at CMA Music Festival and kick off all the festivities. We know this will be a one-of-a-kind performance as only The Judds can do."
"We are totally psyched to get to kick off CMA Music Fest this year on the Riverfront Park Stage," said Naomi and Wynonna Judd. "We can't wait to be live with fans and music lovers from across the country. It's such a privilege to partner with CMA to spread the word about our final tour. Plan your life around it...The Judds are coming back."
This will be The Judds' sixth time to perform together at CMA Music Festival. They previously performed together at the event in 1984, 1985, 1990, 2003 and 2009. Wynonna has also performed solo at the Festival seven times in the past (1992, 1995, 1999, 2004-2006, and 2009). The Judds won a total of nine CMA Awards, including four consecutive wins as Vocal Duo of the Year (1988-1991), three consecutive wins as Vocal Group of the Year (1985-1987), Single of the Year (1985 for "Why Not Me"), and the Horizon Award (1984).
In preparation for The Judds' highly anticipated 2010 final tour later this year, the legendary Country Music duo invited fans to submit names for the "Name That Tour" contest. The winning name will be selected by The Judds and awarded credit in the 2010 Commemorative Judds Tour Book, a thank you video from The Judds, and $500 in tour merchandise. Contest ends 4/23/10. For details, visit http://www.wynonna.com/.
2010 CMA Music Festival is Thursday-Sunday, June 10-13 in downtown Nashville. Admittance to the Riverfront Park Stage is free, but four-day ticket holders have an exclusive 45-minute, early-entrance window before the gates open to the general public. The Riverfront concerts are a popular destination for families who want to enjoy great musical performances while relaxing on the sloping bank of the Cumberland River. The concerts are fun in the sun within easy walking distance of all the Festival event sites, with food vendors, activities, and more. Artist lineups for the Riverfront Park Stage will be announced soon.
Source: Country Music Association
NASHVILLE, Tenn., April 15, 2010 /PRNewswire/ --