Reba McEntire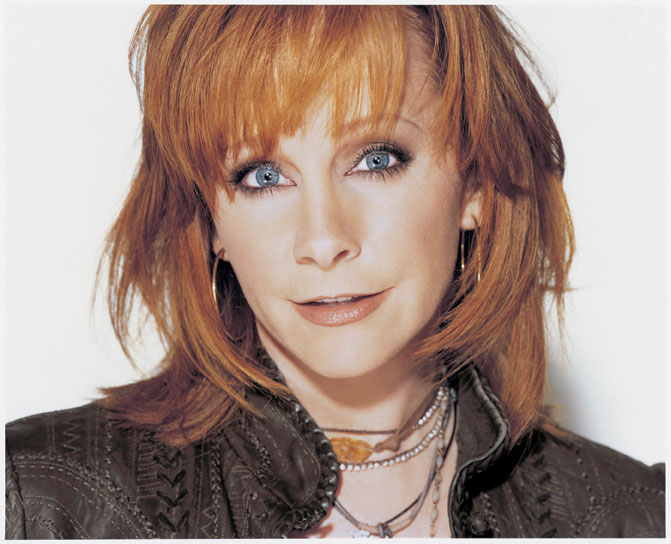 From the moment you hear the voice, you know it: fierce and powerful, clear and passionate, a voice that has sold 49 million records, a voice that could belong to no one else but the woman millions of fans the world over know only as Reba. So what do you do when you're the owner of that iconic voice -- and the embodiment of a genre-bending artistic presence that spans the worlds of music, screen and stage? If you're Reba McEntire, you find creative soul mates in 11 other amazing voices and produce a groundbreaking collection of music simply titled Reba Duets.
Or, as McEntire herself might describe it, you gather up some friends old and new, and have a party – oh, and make an amazing new album at the same time. "It was like a family reunion. It was just so much fun!" says the easygoing superstar. And the results? "Well, I'm just so tickled!" she says with her trademark Southern charm. "I can't wait for everyone to hear it."
Duets was a long time coming, says McEntire. "You have to keep creating things, thinking about what's next and how to keep it fresh for your fans," she says. "I've always thought a duets album would be a great thing to get to do, and the timing was finally right to make it happen."
From the beginning of the project, McEntire was determined to land her dream list of duet partners. So in the summer of 2006, she started working the phones. "I started calling my buddies and figuring out if they could do it," she says. And the list of singers who showed up to match their voices to Reba's signature sound – from Don Henley to Faith Hill and nine more superstars in between -- reads like a Who's Who of popular music. "I'm thrilled to death with the folks that came and did the project with me," she says. "It's a great eclectic group, and it was great to work with them and spend time with them, because they're my friends."
In true Reba style, she made sure she'd get a chance to host each and every artist on the album – primarily in her own Starstruck Studios in Nashville – when it came time to perform. "I've been a part of duet projects before where I'd never see the other artist," she says. "This album, I wanted everyone there, live and in person, number one because they're my friends and I got to hang out with them more, and number two I just think you get a better feel when you're playing off of each other, singing. And it's just more fun to me."
The hard work of arranging a face-to-face recording schedule paid off, as Reba found herself heading to the studio with close pals like Kelly Clarkson. Reba, singer of 33 #1 hits, met the American Idol winner during her AI days, and the chemistry was instant. "She's half my age but we have a blast together," says Reba. So, as recording for Duets got underway, it was only natural to turn to Clarkson as a partner in song.
The two had already cut a song for the album when they showed up to work on another collaboration: an episode of CMT's Crossroads series. "I love her music," says McEntire, "it was so much fun to sing, and she loves to sing mine." Each singer performed four of the other's songs, including "Because of You," which was written by Clarkson at age 16. As the magic of that emotional performance unfolded, Reba's husband and manager, Narvel Blackstock, saw a showstopper that could not be denied.
"Narvel came up to me and said, 'Reba, 'Because of You' has got to be on this album!'" McEntire recalls. McEntire and Clarkson's diva-worthy turn on "Because of You" is the album's first single, which since its debut has received overwhelming response from fans who've heard it at radio. After a mere three weeks it secured a Top 25 chart position – and has become McEntire's fastest climbing song since the summer of 1998 ("Forever Love").
Of course, the McEntire/Clarkson collaboration was only the beginning: there was Justin Timberlake, who stepped up with a song he and Matt Morris co-wrote expressly for McEntire. But the winner of 12 Academy of Country Music Awards and 7 Country Music Association Awards confesses she wasn't sure how Timberlake's pop leanings would suit her style. "I told Justin I was very nervous about hearing the song," she says. "I didn't know if it was going to be 'Sexy Back II' or what!"
No worries, Reba: Timberlake offered up his vocal harmonies on "The Only Promise That Remains," a simple, beautiful Celtic love song. And along the way, became the newest name on McEntire's list of incredibly talented pals and a recipient of the down home hospitality this true Southern lady dished up at every recording session. "After recording with Justin," she says, "we all went out to dinner and had a great time. For Don Henley, we had Texas barbecue there for him when we were recording. You have to be the hostess. You want them to be comfortable and you want it to be a great moment for everybody. If you feed 'em and keep 'em full, they'll be happy! Or at least I was."
With that sense of fun firmly in place, McEntire shared a laugh or two with old pal Trisha Yearwood, ("She has the cutest sense of humor, and she just cracks me up. I love to be around her.") and had a ball with longtime friends Ronnie Dunn of Brooks & Dunn, Vince Gill and Faith Hill ("She's like my little sister!"). LeAnn Rimes was a musical inspiration ("I'm a huge fan -- she's a great singer with a lot of soul.") and Carole King's excitement was contagious ("Carole was so enthusiastic. She was like, 'Let's do this!'").
When it came time to record the music, all that fun and friendship translated into the perfect atmosphere to spark musical magic. "I wanted every song on the album to be wonderful," says McEntire. "It just can't be sterile, it's got to have heart and soul and emotion. If the song doesn't move me, you will not be moved when you listen to it. So that magic has to happen."
As McEntire sees it, amazing songs have little to do with genre, and everything to do with emotion and nuance. "I've been a fan of different kinds of music all my life," she says. "I really don't like to categorize music. To me, there's only two categories: good and bad. And I try to sing the good songs, and listen to good music. When it touches my heart, and I can deliver it with all my heart and soul, then it's a good Reba McEntire song. In the end, I want all the songs to touch my listener's hearts."
It's that devotion to making quality music that brings her audience back to Reba again and again. "The great thing about it is, my fans have always continued to go along with me on these journeys I take, whether it's television, music, Broadway or movies. They really hang in there with me, and I sure do appreciate that. It's been a good journey."
The next chapter on that journey is about to begin, with Duets – and the amazing music created when Reba's signature voice finds new harmony with a few stellar friends. "I hope people are going to be caught up in the moment of listening to this music," says McEntire. "There's a lot of love in this record, because I love these people that I get to sing with. And I think people are going to love it, too. I honestly do."
2007 EMOL.org Entertainment Magazine