Entertainment Magazine
Bonnaroo Music Festival
Plans for Bonnaroo 2006 Being Planned
By David Krell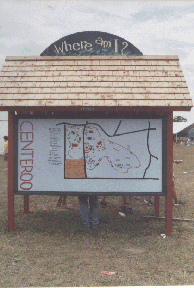 Unless a confederate flag is located on your front lawn and you have a wife named, "Sue Ann," you probably have never heard of Manchester, TN; or at least not until June of 2002.
At that time, the Bonnaroo Music Festival plowed down everything from summer harvests to the southern enjoyment of isolation. It created capit
al, but destroyed land. It helped to boost the local economy, but also caused major traffic.
Bonnaroo was an all-around risk for record companies, artists, promoters, advertisers, as well as the town itself.But as the over-clichéd saying goes, "the show must go on," and it did.
Last year, almost 90,000 people showed up to the beautiful 500-acre farm in Manchester, TN (which is about 60 miles or so southeast of Nashville). The festival was voted best festival of the year by countless magazines, websites, and newspapers.
It received glowing recommendations from artists, fans, and music critics alike.Thus, a second festival was put in place.
What was different this year was the music.
Artists such as the Flaming Lips, the Roots, Lucinda Williams, and the Polyphonic Spree were added to an already diverse list of bands such as, Widespread Panic, Ben Harper, and Robert Randolph & the Family Band.
On Friday, My Morning Jacket began the festivities with some warm folk-rock. Very intimate, soulful, and genuine.
If Ben Folds and Sonic Youth found a happy medium it would sound very much like Ben Kweller, who followed My Morning Jacket. It's not grunge. It's an indie-rocker's attempt at achieving it. Unfortunately, he didn't at Bonnaroo. Although watching him try was truthfully entertaining.
The multi-instrumental Tortoise has feedback, but don,t know how to use it. Sounds fade in and out, but never penetrate. Egotistical head-nods and generous smiles cue the transitions, yet no one (including the artists) seems aware of it.
Lucinda Williams was a little too country, and not enough rock and roll, while Sonic Youth, who are the jam band of irreplaceable feedback, catchy pop, and an unfortunate grungy voice, fared much better. This was most likely due to the large number of Sonic Youth fans in attendance.
Neil Young & Crazy Horse finished the day with a three hour set on the main stage. Including hits such as, "Cinnamon Girl" and "Rockin' in the Free World,"
Young performed an array of new songs from his new concept album. A lot more people showed up than did fans, and it showed.
The Funky Meters and Sound Tribe Sector 9 finished the first day with sets that went into the early morning. The two bands could do no wrong for the obviously drugged audience, and thus, received some of the best crowd reactions of the entire weekend.
On Saturday, Kaki King began the day with a combination of percussion, bass, and an acoustic guitar. King slaps the guitar for both percussive and bass purposes, while finger-picking an often extensive melody. Polyphonic rhythms come together for a series of harmonic interludes, while simple, yet catchy and appropriate, power chord riffs fill in the extra space.
All bands are like families, but the Trachtenburg Family Slideshow Players are indeed an actual family. Led by singer-songwriter Jason Trachtenburg, who shares a remarkable resemblance with Woody Allen (both socially and physically); the slideshow players purchase vintage slideshows and make up songs to explain them. "Religion is killing this world," was an obvious crowd favorite. 9 year old Rachel plays the drums, while mom Tina runs the projector.
The Polyphonic Spree were able to amaze everyone with their music, exuberance, and their ability to fit 23 people onstage. Their cover of David Bowie's, "Five Days, as an encore didn't hurt either.
In the spirit of cartoon-like conductors from out of this world, Wayne Coyne and his fellow "Lips" played a special late night set in one of the smaller tents.
Including a few songs from Pink Floyd's "Dark Side of the Moon," and a charming rendition of "Over the Rainbow," the Flaming Lips played their typical hour and a half set, which included confetti, tons of balloons, fans dressed in animal costumes, and many other wild props. It was sweet, visually entertaining, and new to many fans in attendance.
Sunday finished Bonnaroo with major acts such as Moe, The Dead, and James Brown; all of whom delivered the goods to an overly anxious crowd.
By the time The Dead came on at 8:30, everyone was exhausted. Maybe it was the sun. Or possibly even the lack of hygiene represented. Whatever it was, it did not keep the remaining fans from enjoying every second of their precious "Jam" idols.
Welcome to Bonnaroo; where 100,000 mischievous, yet loyal fans come to enjoy 18 hours of music per day for 3 days. It's hectic, overwhelming, dirty, and 100% not believable. It makes reality a question and a question, reality.
This is the Bonnaroo Music Festival.
June 18, 2003