Entertainment Magazine: Music: Tucson: Gerry Glombecki
(This is a legacy page for Gerry Glombiecki)
Interview with Gerry Glombecki and "49 & Holding"
By Tina Alvarez/EntertainmentMagazine.net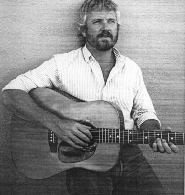 For Gerry Glombecki, his first CD, "49 & Holding," is literally a labor of love, determination and grit.

An accomplished acoustic guitarist, singer/songwriter, poet, actor and business entrepreneur, Gerry financed this venture by way of his bottleneck slide guitar business, "The Original Delta Slider Blues Bottleneck," which is carried nation-wide by such prestigious outlets as B.B. King's Blues Club in Memphis, Tennessee; the Old Town School of Music in Chicago, Illinois; and all three House of Blues located in New Orleans, Louisiana; Los Angeles, California; and Chicago, Illinois.
Gerry said that prior to recording the album, both of his guitars wer stolen. Using lapidary equipment he owned since he was a youngster, he recovered that loss by starting his own bottleneck slide business, scouring restaurant dumpsters and back alleys for wine bottles.
"I took the money from it and put it into a business account," he explained. "When I got close to having enough money saved, I started going into the studio."

Duncan Stitt, a fellow musician, owns The Writer's Room Recording Studio and let Gerry use the facility as needed.

"He produced the album. He would say, 'We should get this person' and I'd say 'How much does that cost?' And then I would sell these bottlenecks and pay the musicians with bottleneck money. It was paid for with approximately 1200 bottlenecks and it was wonderful," described Gerry.

"My dad wanted to help me out at one point, but I wanted to do it myself. I really wanted to pick myself up and enjoy the process of it. I was earning it. I knew when it was done, it would be all mine."

On "49 & Holding," Gerry uses some of Tucson's finest talent -- bassist Steve Grams, blues violinist Heather Hardy, The Molly's Kevin Shram, keyboardist Duncan Stitt, flat picker Mike Hatch, slide guitarists Rick Brennion and Dennis Offret, vocalist Jean Chastain, mandolin player and acoustic guitarist Earl Edmonson, percussionist Ralph Gilmore, and co-writer Travis Edmonson (on "Gopher Blues").

Gerry noted one of the more eclectic recordings was "The Baby Elephant Blues."

"Ralph Gilmore said it was one of the most enjoyable recording sessions he could remember, because he didn't bring his drums," Gerry disclosed. "He brought car parts, hubcaps and all these metal parts. He laid them all over the floor. He just lined them up in a way that he could get to them and experimented so it would sound like this big elephant was walking right through the recording studio. We laughed the whole time. It was one of the most fun things we did."

Gerry said the CD's title has more of a personal significance for him since a number of people wanted to hear his music recorded and he wanted to accomplish this feat before he turned 50.

"I had been dragging around for so long it'd seem every time I'd get close to doing an album, some disaster would come down the street. I began to wonder if it was every going to happen. The last near disaster I was in, was a car accident."

While bicycling one day, Gerry was hit by a truck, which ran over his arm, damaging his radial and ulnar nerves as well as his supinator, the muscle that allows you to look at the palm of your hand. In addition, one leg was also injured. He is currently undergoing physical therapy and is on the mend.

When deciding what the song selection would be, Gerry wanted to pattern it like Steve Goodman's albums, which are "all over the map," or as his friend, community radio station KXCI program director Jim Foley described, "could be a kiss of death."

"He did all kinds of stuff, lots of songs, funny songs. I thought being 49 and holding, I didn't know if I was going to do another album, to tell you the truth. I had such a deficit with my left wrist that I couldn't supinate and I was having such a hard time playing in the studio. It was extremely painful. I didn't think I'd every play the guitar again.

"But I frankly thought there'd never be another album," he continued, "so that's the reason I put everything on it. People have told me, 'We'd like to do an album of your songs, but just one facet.' I can understand what they're saying, but I did it because I thought I'd never do another anying since I couldn't get around very well."

And indeed, the songs do run the spectrum. The lilting "The Waitress From The Silverbell" Gerry began writing in the early 70's and finished in 1996, while the seductive "Nights on a Ferris Wheel" was penned in 1979. "The Ballad of George Hayduke" was inspired by Edward Abbey's novel, "The Monkey Wrench Gang." Gerry received permission from the late author to write this song as well as a collection of others for possible use in a potential motion picture of the same name.

The album flows with an easy ambiance from the soft gentle touch of "Saturday" straight through "At Least I Could Say I Loved You."

With his poetry, acting, and screen-writing credits, Gerry is capable of wearing many hats, but he admitted he feels more at ease when he's working with music.

His acting work include appearing in motion pictures "The Quest" and "Stagecoach," as well as being on television programs such as "The Young Riders," "America's Most Wanted" (as a bank customer) and "Hey Dude."

"I feel most comfortable with music and there's a real joy in songwriting," he reaffirmed. "I think I feel the least comfortable acting, mainly because I spend little time in it. I don't consider myself much of an actor. I think I could develop it. It's just something I do on the side and I don't take myself all that serious about it."

Chuckling, he added, "I haven't discovered that I have that much talent yet."

In fact, music was the thread that connected Gerry to the movie industry. While performing a gig on Mt. Lemmon, he met an assistant cameraman who was working on the movie set of "Alice Doesn't Live Here Anymore." He introduced Gerry to Kris Kristofferson and was subsequently invited to a party.

"We sat around, picked guitar and shared songs," Gerry recounted. "He was a real nice guy and it made a great impression on me. It was very inspirational and then years later I took him up on a promise he gave me. At the time we looked so much alike and I had a beard at that time. I still see those pictures and it's kinda scary.

"I got a chance (in acting) because I held him to his word and I got to be a stand-in and photo-double on 'Stagecoach,'" he continued.

Gerry was living in South Tucson at the time and someone had torched his van in the middle of the night.

"Iwas devastated and so broke, and I begged for that job to get back on my feet," Gerry revealed. "Soon I was getting a couple meals a day. I got some momentum out of it, my confidence picked up."

Fond memories of being with the cast surfaced.

"Every day, after I got permission from the director, I'd bring my guitar and at lunchtime --- we had Johnny Cash, Waylon Jennings, John Schneider, Willie Nelson, David Allen Coe on that set --- they'd pass the guitar around. Then there was Kristofferson, flying out of his bus with a song he'd just written to Sam Peckinpaw."

He keeps his Screen Actors Guild (SAG) membership current, optimistically keeping that door open for any opportunities that may pass his way.

"The 13-hour days will really wear you down," he conceded. "It took the stars out of my eyes. It's a real serious effort to get decent parts, the juicy parts."

With such a diverse background and coming into contact with so many different people, who has been the most memorable person he's worked worth?

"As a musician/performer, the most memorable person would be Travis Edmonson without any doubt in my mind," he asserted. "Travis is just brilliant, he's absolutely professional. That song 'Gopher Blues,' that's mostly Travis. That song took about a half-hour to write."

His association with Edmonson led to a collaborative writing assignment for a children's radio series, "Slug and Humphrey." As a matter of fact, "Gopher Blues" was written for one of the characters, Droopy Gopher.

Not long after the completion of "Slug and Humphrey," Gerry would soon meet an individual who would have more impact on his life as a songwriter than any other person to date.

Upon meeting motion picture producer/director Ed Cullen of Cullen-Kasdan Productions, Gerry was asked to write the lyrics for an animated television special, (artist Bill Keane's) "A Family Circus Easter," that would featurethe voice of the late Dizzy Gillespie.

"He's been truly a mentor to me and encouraged me to hone my talents. He would not take anything but the very best. Between Travis Edmonson and Ed Cullen, that bridge was the greatest learning experience I had as a songwriter."

In the same vein, with his numerous national, regional and local awards for his poetry work, who was the driving force in that area?

"As a poet," he reflected, "I must acknowledge my formal education, Joel Climenhagg who was my creative writing teacher at Culver-Stockton College. He set the wheel in motion. It was he who triggered my on-going love for words."

And yet another striking encounter occurred when he was living in Florida. At Gerry's first public performance in a West Palm Beach coffeehouse, Pete Seeger, who happened to be in town for a benefit concert, stopped in and approached Gerry after he completed a two-song set.

"You can send me a copy of that second song, if you'd like," Pete told Gerry. "And you know, son, I used to do a lot of hitch-hiking too, with a curly-headed fellow named Woody Guthrie."

Gerry remembered, "I was so nervous. He shook my hand and I think that moment is when I became a songwriter. I'll never forget that as long as I live. I can still see him in the audience."

Concerning his bottle neck business, Gerry feels fortunate he kept his lapidary equipment when his initial attempt in prospecting for jade in Wyoming in the early-70's didn't pan out.

"I really feel lucky to have it because a couple times a week I can make a nice chunk of change just by a little bit of persistence," he said. "Blues player Steve James called me from Austin the other day and said he wants me to make a custom slide for him that he can sell to his students and use in his workshops across the country.

"He's a terrific player and a helluva nice guy," he went on. "He played our Blues Festival here. When I go on the road I bring bottlenecks with me and if I sell some to a music sotre, I just paid my gas to get there."

And promoting his albums shoudl provide him with ample opportunities.

Playing the night club/coffeehouse circuit is one way to go, but Gerry is aiming on building his audience by breaking into what he hopes will be more concerts and folk festivals.

And overall, he addmitted it''s hard being a one-man-band, so to speak.

"To be a record company, a musician, a publisher, a writer, an actor --- oh my God --- and run a bottleneck business which equals distributor ... this stuff becomes overwhelming," he stressed. "I don't know the rhyme or reason this business yet and I hope the next time I can tell you I've learned a lot and it's become a breeze."
Entertainment Magazine Home Page

---
©1998-2005 Glombecki/EMOL.org