Tina Alvarez On Music
---
Blessid Union of Souls
By Tina Alvarez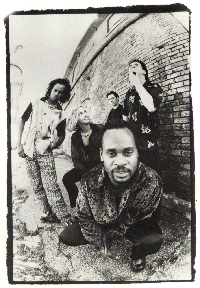 Sometimes, record companies can be more of an obstacle than an aid. Just ask Blessid Union of Souls.
Signed with SBK Records in 1995, they self-promoted a single that became a Top Ten hit, "I Believe." Having achieved that goal, the record company then released their debut, "Home." Their subsequent album on EMI Records yielded the singles "I Wanna Be There" and "Light in Your Eyes." However, EMI folded shortly after the album was released and Blessid Union of Souls landed on Capitol Records.
"When the break came with Capitol, everyone was saying how sorry they were that we were dropped, but actually Capitol had picked up the option for our third album," explained C.P. Roth, who handles keyboards, bass and harmonica.
"The problem was we just didn't feel very aligned with them. But in
Capitol's defense, they didn't sign us, they inherited us when EMI closed --
and that wasn't a good situation either. So we asked for a release and
Capitol's president gave us one and wished us well. There were never any hard feelings."
Still, having to contend with the disruption and uncertainty when the band had focused plans must have been frustrating. And surprisingly, they do not appear bitter or caustic about the bumps in the road they've encountered.
"Perhaps we just wear it better," Roth acknowledged. "It's very easy to become immersed in all the negative stuff that the biz side throws at you. But who really wants to hear all of that whining? Sure, we've seen the ass end of this business more than once, but here we are, back with another hit record and WE ARE NOT GOING AWAY! Kinda stubborn like that!"
Now signed with the independent labels Push/V2, Blessid Union of Souls have recorded "Walking Off the Buzz." Joining Roth on this venture are his other Cincinnati bandmates -- Eliot Sloan (lead vocals, piano), Jeff Pence
(guitars), Eddie Hedges (drums, percussion) and Tony Clark (bass, guitars).
"Walking Off the Buzz" kicks off to a vigorous start with "The Last Day," a lively pop-oriented number. Them album alternates between driving rockers ("Stone Glass Window," "Real Good Friends") and softer, gentler tunes ("South Hampton Avenue," "Walking Off the Buzz").
Roth explained the difference between "Walking Off The Buzz" and their previous two albums is that the band is aiming to capture the essence of their live shows on this collection.
"When we were putting together the songs for the first album ('Home'), we ended up writing and at least partially recording 35 songs," Roth recalled. "It took EMI two years to finally put the thing out and when they did, they only did so because we'd gotten "I Believe" to enough radio stations where it had become a hit. Most of what's on that album aside from the singles is what the execs there hadn't yet turned down. At that point, all they wanted was more 'I Believe's,' so that's why the first two albums are kinda heavy on the ballads.
"The second self-titled album suffered from EMI folding their tents up just three weeks into its release," he continued. "Capitol picked us up, but didn't quite know what to do with us. Again we recorded many more songs than ended up on the album, a lot of them very up-tempo and rocking, but they wanted MORE BALLADS!
"The new record is a conscious attempt by us to get the spirit of our live shows onto a CD. A lot of folks call it a 'new sound' or 'departure' for us, when in fact it's just us FINALLY being allowed to do our thing as a band!"
Guitarist Tony Clark agreed.
"Some people will say that 'Walking Off the Buzz' is a new sound for Blessid Union, but those are the people who have never seen the band live," noted Clark. "We're still the same band we've always been. It's just that if you hadn't seen our show, you might not be aware of it. In the past, people who had just heard our records were always surprised by our energy on stage. With this album, I expect the public to be saying, 'Hey, you guys rock just as hard as your CD.'"
The single off the CD is "Hey Leonardo," a playful ditty with a lot of name-dropping that touches on the joy of being liked for oneself without material trappings influencing the choice. According to Roth, filming the video for "Hey Leonardo" was "painless!!!"
"Which is something rare in video shoots," he added. "Mostly they are a pain to get through no matter how much they try to make you comfortable, and sometimes they get to be like dental surgery - but this one was really a lot of fun!"
One of the album's interesting tidbits is the story behind the ballad "Standing at the End of the Earth." The song evolved when the group was contacted about the possibility of penning a tune for the movie "Armageddon." Before they could submit the demo, they learned that a number by Aerosmith had been chosen. "It was disappointing, especially when our song fit so well and 'Armageddon' turned out to be such an awesome movie," conceded lead singer Eliot Sloan. "But the situation pushed us to write a song that we would never have written, so it worked out anyway."
Another intriguing aspect is their decision to include the Beatles' "Revolution" on "Walking Off The Buzz."
"True story," Roth conceded. "We were actually trying to come up with a guitar tone for another song. We'd been listening to Tonic's album and had come up with something along those lines to record. And in the middle of us getting the thing together, we realized that it was very close to the sound of the guitars on the 'White Album' version of 'Revolution.'
"Emosia and I, being the producers on all three records, had constantly been referencing the 'White Album' during all the sessions just to get that vibe in our heads anyway," he proceeded. "The decision was made pretty quickly to shelve what we were gonna do and cut the real deal instead! Can you believe that we're getting e-mail from some of our younger fans wanting to know 'What that song is?'"
A recurring theme on the CD deals with the ending of relationships. Was there any particular reason for the choice?
"I'm very happily married, thank you very much!," Roth replied. "But a few of us were going through messy divorces or ending relationships that had been going on for the last four to five years, and since we draw on our own experiences for our lyrics, we figured why not tell it on the mountain."
Having a black lead singer has no doubt given way to comparisons to other bands like Hootie and the Blowfish and the Counting Crowes.
"Jeez, we would have LOVED more comparisons to those guys!" Roth exclaimed. "Most of the time, a few 'racially challenged' folk would bring about the Hootie comparisons, which was pretty unfair to both bands, as I don't think (aside from our stuff being played on top 40 radio) the two bands share much in common musically.
"It's pretty annoying when you know somebody's making that connection just because there's some 'nigras'm sanging that rock 'n roll instead of keeping it real doing gangsta rap," he elaborated. "I always wondered if these folks thought that if having a black guy sing rock was such a novelty, what did they make of Chuck Berry or Little Richard?"
Currently Blessid Union of Souls are winding their way around the States on a national tour.
"I know it's show business and I guess we should make it sound more dramatic or romantic," acknowledged guitarist Jeff Pence. "But Blessid Union is just a rootsy, Midwestern band. We know what we want to do. We want to keep playing rock 'n roll and having a good time. We know if we want to continue to do that, we have to work hard - so that's just what we're going to do."
---
Return to Tina's Home Page