Entertainment Magazine: Las Vegas: Entertainment: Cirque du Soleil: Zarkana
Zarkana resident show flying high in Las Vegas at Aria
By Lynn Marie: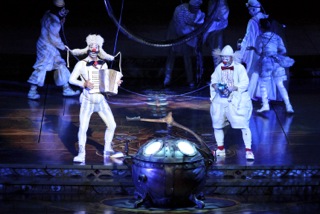 Zarkana by Cirque du Soleil is an acrobatic rock experience that blends circus arts with the surreal to create a world where physical virtuosity rubs shoulders with the strange.
Cirque du Soleil is suppose to be strange and bizarre if it wasn't you're not at a Cirque du Soleil performance.
The story line- well, you wouldn't know there was a story line unless you researched it first online before but I wouldn't recommend that, it takes the fun out of going to a Cirque du Soleil performance. You go see the performers flip through the air and juggle and do things with their bodies that would, if you or I attempted, land ourselves in the hospital.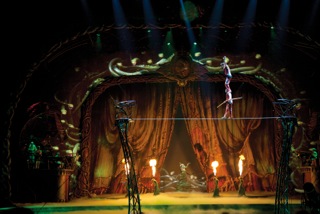 The performances were flawless and awe-inspiring. The imagery is stunningly beautiful. Every setting was like an exquisite Van Gogh or Monet.
The colors and lights flowed from the canvas-stage as naturally as breathing. Zarkana was inspired through Art Nouveau movement from artists like Atoni Gaudi, Gustav Klimit and Rene Lalique. All this can be seen throughout the performances. Specifically within the acrobatic equipments which were highly inspired by Lalique.

Cirque du Soleil may have a monopoly going throughout the Las Vegas Strip, but it's one that not many people are complaining about. Known for its ability to put together a show worthy of the continuous massive audience, a Cirque production is typically top-of-the-line Vegas Material; and while Sin City is bound to mystify its tourists outside of the theater, the Cirque du Soleil troupe can more than match what the city has to offer.
Joining the somewhat long list of Cirque productions in November of 2012 was Zarkana, a rock opera that has toured the world before finding residency at the Aria Hotel and Casino.

Taking place in a abandoned theater, Zark is a magician who has lost his magic, and also his love, Lia. While begging the gods for her return, he encounters a few seducing creatures along the way.
The Pickled Lady - a result of one of the mad scientist's experiments, Mandragora - an incarnation of the ivy growing wild, Kundalini - The snake woman, and Tarantula - The Spider Woman. Zarkana is a fusion of two words meaning bizarre and arcana, which explains the strange aura and atmosphere of the place, and those who live in this world. The language spoken is referred to as "Cirquish," that gibberish is present throughout the show "it's a Cirque thing"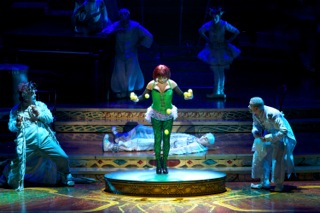 In case you're wondering about the title. You won't find the word Zarkana in the dictionary. According to the press releases it's a fusion of the words "bizarre" and "arcana," arcana meaning "mystery" or "secret."

For those of you who want a story line go see a play, if you want to see some fabulous performers who do some amazing circus acts than Zarkana is the show for you. Cirque du Soleil consistently delivers on its reputation for a show mixed with wonders and amazement, and Zarkana is no exception to the rule. With the praise it received on its world tour, Zarkana's residency in Las Vegas is sure to be a lengthy and successful one.

The centerpiece of CityCenter Las Vegas is ARIA Resort & Casino, a stunning AAA Five Diamond resort on The Strip featuring an unprecedented combination of striking architecture, sustainable design, spectacular amenities, high-end service and premium meeting and convention space.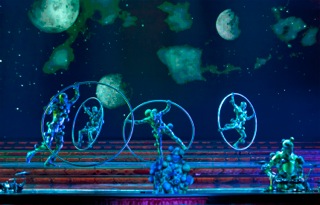 From unique culinary offerings created by the world's most talented chefs, to innovative nightlife, indulgent spa treatments, ARIA embodies the excitement and vitality of Las Vegas. ARIA is home to an incredible collection of stylish and technologically advanced accommodations including Sky Suites, a AAA Five Diamond hotel within a hotel experience.
Combined with CityCenter's unparalleled amenities including luxurious shopping at Crystals and the first-of-its-kind public Fine Art Collection, ARIA introduces a new generation of resort experiences, unlike anything Las Vegas has ever seen. CityCenter is a joint venture between MGM Resorts International (NYSE:MGM) and Infinity World Development Corp, a subsidiary of Dubai World. For more information and reservations, visit arialasvegas.com or call toll free at (866) 359-7757; also find ARIA on Facebook and Twitter.

Zarkana performs Friday through Tuesday at 7:00pm and 9:30pm. There are no performances on Wednesdays or Thursday. Call 877.253.5847 or 702.531.2031 or visit www.cirquedusoleil.com/zarkana or www.arialasvegas.com/zarkana
Or you can visit the Zarkana ticket office at ARIA or any of the MGM Resorts International box offices.
© 2013 EMOL.org Las Vegas Entertainment Magazine. Entertainment Magazine. All rights reserved.
ARIA "Zarkana Tickets 2013"

This anniversary collection celebrates the achievements of the world renowned Cirque du Soleil. The collection includes 11 Cirque du Soleil productions plus a bonus DVD of Midnight Sun, a once-in-a-lifetime special event captured on DVD. The title within this colorful collection are: A Baroque Odyssey, Allegria, Cirque Reinvente, Dralion, Journey of Man, La Magie Continue, Nouvelle Experience, Quidam, Saltimbanco, Varekai, and La Nouba.
Cirque du Soleil's Anniversary Collection 1984-2005 is a 12-disc retrospective of the Canadian troupe's distinctive brand of performance, involving the fantastic feats of acrobatics and athleticism, balance and contortion; the single-ring techno circus; the multicolored lights and costumes; the abstract story lines of fantasy and self-discovery; the music that fuses rock, New Age, and various world influences; and the madcap clowns that prey on their live audiences. The programs included are La Magie Continue (1986); Cirque Reinvente (1989); Nouvelle Experience (1991); Saltimbanco (1994), the 1994 documentary retrospective A Baroque Odyssey; the Amsterdam-set Quidam (1999); Allegria (1999), the live Sydney show; the Chinese-influenced Dralion (2000), in its standard, non-Superbit release; the relatively short IMAX film Journey of Man (2002); Varekai (2002), from Toronto; La Nouba (2003), from Walt Disney World; and Midnight Sun, strikingly staged outdoors at the 2004 Montreal International Jazz Festival.
That's a lot of aerial feats, tricks, and tumbling, but the set is not designed to absorb in one sitting. Rather, viewers can sample both the simpler early shows and the stunning later performances that, with their 5.1 sound and widescreen pictures, are perfectly suited to home theaters. Compiling 12 previously released DVDs in space-saving Thinpaks at an economical price, the Anniversary Collection is nearly all the Cirque du Soleil you could ever want, but completists should note that the set does not include the feature film Allegria: An Enchanting Fable, the bonus disc of Varekai, the reality-TV show Fires Within, and the 13-part variety series Solstrom. --David Horiuchi, Amazon.com