Entertainment Magazine: Nevada: Las Vegas: Hugo's Cellar
Tender Steakhouse at the Luxor in Las Vegas;
Steak too good to be true
By Lynne Marie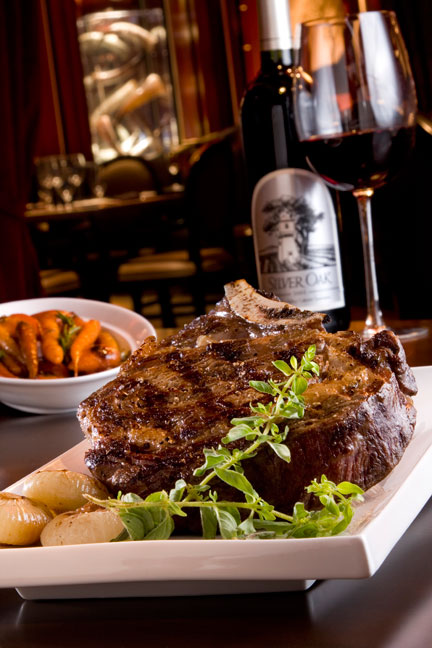 TENDER has done the impossible; it's found customers to fill another steakhouse in a town already over run by steakhouses and all it had to do was to be better than everyone else in every possible way.

TENDER features six different types of beef and fresh seafood flown in daily from Hawaii, California, New York and Alaska, TENDER is one of Vegas' top ratednsteakhouses.
TENDER also features an intimate dining room and an extensive wine list which won the restaurant the 2009 "Wine Spectator Award of Excellence."

Upon being seated to my table, I had a drink in the lounge. The lounge is a splendid place to have a pre-dinner cocktail. The mahogany or Brazilian cherry wood floors and walls are an added touch. The plush padded leather chairs and sofas are amazing.
The dining area had a more elegant and upscale look to it; but all of the décor was sexy, dark and comfortable and very suitable for "Sin City."

The menu is filled with steaks and steaks and more steaks. TENDER does not only offered rib eye steaks, but four different cuts of rib eye steaks from farms in other countries.
If you desire other cuts of meat, TENDER offers a choice of three strip loins, four filet mignons, three porterhouse and T-bone steaks, plus three specialty butcher cuts.

The wait staff was very attentive and very knowledgeable of the entire menu. TENDER has everything the discerning carnivore dreams. TENDER is located inside the Luxor Las Vegas, 3900 Las Vegas Blvd. South, Las Vegas, NV 89119 (702) 262-4778 or visit www.luxor.com