Las Vegas: Attractions: Golf and Golfing Facilities
Stay and Play Golf in Las Vegas
Written by Kyle Shields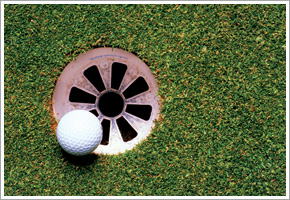 We all know about the 24-hour gaming and one-of-a-kind shows in Las Vegas, but did you know that it's also a mecca for great golf? Whether you're a beginner or a low handicapper, this city has something for you.
So come and play in Las Vegas. You don't even have to worry about packing your clubs — courses are fully prepared for travelers and offer quality rental sets. Here are a few courses you might want to check out:
Tuscany Golf Club — Located just minutes from The Strip, this 6,906-yard course features 68 white-sand bunkers and more than its fair share of water hazards. This is a Ted Robinson design. Rates: from $125
Desert Pines Golf Club — Referred to as the "Pinehurst of Las Vegas," this course gets its name from the thousands of mature pine trees that line the well-groomed fairways. The greens of this Pete Dye-designed course are fashioned after those at Augusta National. Rates: from $135
Black Mountain Golf & Country Club — Comprised of three nine-hole courses featuring slightly undulating fairways, these layouts will challenge players of all skill levels. The Horizon course requires precision, and the Desert layout is a thinking golfer's course. Rates: from $120
Arroyo Golf Club at Red Rock — This Arnold Palmer-designed course offers some of the best golf in Las Vegas. A private club open to public play, this 6,857-yard course is one where shot-making is key. Bunkers are large and dramatically sculpted. Rates: from $159
Bali Hai Golf Club — This is the only championship golf course located on the Las Vegas Strip. A golfer's tropical paradise, this course is highlighted by seven acres of water features, a challenging island green, more than 2,000 towering palms and nearly 100,000 tropical plants. Rates: from $265
Tournament Players Club Las Vegas — Surrounded by mountains and canyons this course is nicknamed "Desert Elegance." Designed by the team of Bobby Weed and Raymond Floyd, TPC Las Vegas has already hosted some Champions Tour events. Rates: from $235
The Falls Golf Club at Lake Las Vegas Resort — With its mix of mountain and desert landscape, this course will dazzle you with elevation changes. Enjoy magnificent scenery and gorgeous views of Lake Las Vegas on this Tom Weiskopf design. Rates: from $275
Royal Links Golf Club — If you can't make it to the British Isles, don't fret. Royal Links Golf Club features replicas of the 18 best holes from the British Open rotation courses. The links-style course recreates holes like The Road Hole and Hell Bunker. Rates: from $175
Rio Secco Golf Club — Cut out of steep canyons, this Reese Jones-designed course was named one of "America's 100 Greatest Public Golf Courses" by Golf Digest. Playing 7,400 yards from the tips, it is a challenging layout for low handicappers. Rates: from $150
Reflection Bay Golf Club at Lake Las Vegas Resort — This Jack Nicklaus design winds through the desert and offers spectacular views of Lake Las Vegas. Swing away on this course, which features finely manicured greens, challenging bunkers and three waterfalls.
For terrific vacation packages to Las Vegas, visit Wyndham Trips. Stay in Las Vegas from $70 a night for 3 days and 2 nights or select a Wyndham vacation package starting at $69.
Kylie Shields is the online copywriter for the eCommerce department of Wyndham Vacation Ownership. Prior to that, I ran my own creative services company called Thinking Cap for seven years. Very right-brained in everything I do, I've been brainstorming and writing for almost 15 years. September 3, 2008