Entertainment Magazine: Nevada: Laughlin
Laughlin, Nevada hotel entertainment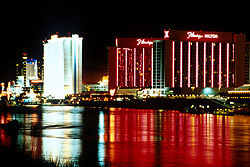 Laughlin, NV has only a few hotels to chose with nightly entertainment.
The main hotels are located on South Casino Drive, along the waterfront. Hotels in Laughlin are located in a close proximity. This makes it convenient to walk between casinos and venues. Laughlin's hotels each have their own in-house casinos, restaurants, entertainment venues and parking areas. Stay at one hotel and easily access the others for gambling, dining and entertainment.
---
---
Laughlin Hotels Entertainment Schedule
These Laughlin hotel entertainment event listings are courtesy of TicketNetwork. Show tickets can be purchased through their web site links.
Laughlin Hotel Deals
Read property descriptions, amenities, find current rates and make reservations for these top selected Laughlin hotels.
PRICELINE: Hotel deals in Laughlin, NV
TRAVELOCITY: Las Vegas hotels and resorts on sale.
Aquarius Casino Resort 1900 South Casino Drive. 3 Star hotel with nightly entertainment.
Avi Resort and Casino 10000 Aha Macav Pkwy. 3 Star
Don Laughlin's Riverside Resort Hotel And Casino
Harrahs Laughlin A 3 Star Laughlin hotel, 2900 S Casino Drive in Laughlin, NV. Located near four golf courses, Harrah's Laughlin Hotel & Casino features a private beach with personal watercraft and water taxi access. The hotel also offers separate smoking and non-smoking gaming areas. Swimming poolFree parkingHigh-speed Internet. Air conditioning. Check Harrah's Laughlin Hotel & Casino deals from Travelocity.
Golden Nugget Laughlin 2300 South Casino Drive. This is a 3 Star hotel with golf, casino, bar, lounge, concierge, 24 hour front desk, pool, restaurant, handicap rooms and facilities. The Golden Nugget Laughlin casino features slot and video poker machines, including progressive-play machines; table games, blackjack, roulette, craps, KENO and complete race and sports books. Golden Nugget Laughlin discount rates from Priceline.
Laughlin River Lodge. A great choice for a stay in Laughlin, Laughlin River Lodge features a casino and puts you just 2.4 mi (3.9 km) from the airport. Guests can indulge in massages, and The Lodge, one of 3 restaurants, serves dinner. An outdoor pool and a fitness center are other highlights, and rooms offer room service and free WiFi. Check Laughlin River Lodge reduced rates from Hotels.com.
Ramada Inn Express Hotel And Casino 2121 South Casino Drive. 2 Star Hotel and Casino. Authentic Steam Locomotive Rides, The Pavillion Theater - National Acts, Train-Shaped Swimming Pool. In & Out Burger and other restaurants. Mulitple amenities.
River Palms Casino Resort 2700 S Casino Drive. 3 Star hotel-casino.
Tropicana Express 2121 South Casino Dr. Nightly 3 Star hotel and casino. Situated in sunny Laughlin about a block from the Colorado River, this 1,495 room resort features a round-the-clock casino, nightly entertainment, and several restaurants, including a steakhouse and buffet. Swimming pool. Free parking. High-speed Internet. Air conditioning. Check Tropicana Laughlin discount deals from Travelocity.

Laughlin Hotel Information
Nevada smoking laws are more relaxed than other states. Smokers can choose smoking rooms in some hotels.
Internet connections and wireless may be offered in rooms and lobby. Check with the hotel's options for rates. Some hotels provie free wireless in their lobby. A small business center may have internet access for free or a small charge. Print out your boarding ticket at the business center or ask concierge for assistance, for a tip.
Room rates are currently running on the low side, because of the economy. Fewer tourists mean more open, unbooked rooms. Most hotel check in times begin at 3:00 p.m. Check out times are usually at 11:00 a.m.