Entertainment Magazine: Phoenix: Real Estate
Phoenix, AZ. homes for sale, rent or trade
The Phoenix, Arizona real estate market keeps growing despite national housing trends. Phoenix, AZ. is still one of the fastest growing real estate markets in the U.S. with vast areas around Phoenix encouraging expansion with new homes for sale.
One of the fastest growing housing areas, south of Phoenix to Casa Grande, is Pinal County. Massive subdivisions aimed at Phoenix commuters are being constructed. But, according to a report by ASU (Arizona State University), Pinal County Resale Housing Market Experiences Similar Decline as Maricopa County.
Upscale homes are available in these areas at prices $100,000 below Phoenix, Arizona homes, especially with current market conditions. The homes are larger, but more closely compacted into distinct neighborhoods.
The drawback is the commute to Phoenix. Recent freeway expanisions south of Phoenix have already anticipated this upcoming explosion of commuters.
Other areas, such as south of Phoenix, are more well established and offer amenities not found in typical housing developments.
Ahwatukee lakeside living - no mirage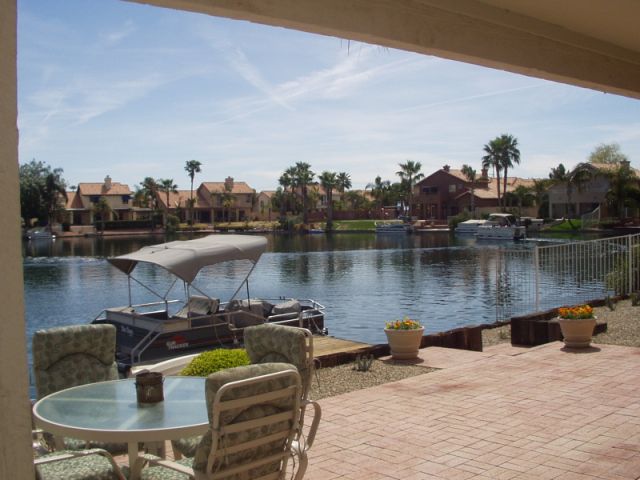 A lake in the Desert? Ahwatukee, Arizona is an upscale community in Phoenix, Arizona that hosts the neighborhood of Lakewood.
The Ahwatukee, AZ area has an excellent selection of upscale dining and shopping with several nearby Arizona resorts.
Here is can own your own backyard private dock with an anchored pontoon boat or row boat at your back door.
Can you imagine waking up with a cup of coffee and fishing from your porch? All of this is a reality at this unique Ahwatukee home for sale on the lake. This Phoenix area home is vacant and available for immediate movie in.Recently upgrades of new carpeting, fresh paint and new lighting fixtures makes the home feel and look new. Convenient access from Pecos Parkway has you in downtown Phoenix or most places in the Valley within 20 minutes. See photos of the lake, patio and rooms. This Phoenix-area home for sale is available for trade consideration for California property. Contact Jay for more information.
Phoenix Real Estate Resources
"Home In 5" First Time Homebuyers Program Offers New Priority Lending Areas, sponsored by the City of Phoenix. First-time homebuyers who are outside the priority lending areas are eligible for a five percent down payment and closing cost assistance grant. They are also eligible for a 6.55 percent, 30-year fixed mortgage rate through a "Home in 5" participating lender.
---
Entertainment Magazine meets all BBBOnLine standards for participation and Better Business Bureau membership and is authorized to display the BBBOnLine trustmark.
---

Dear Monty- Free no-nonsense real estate advice: dearmonty.com
---
Phoenix, AZ Real Estate & Home Resources

Arrange a home exchange- your accommodations are FREE
Home Exchange is the fast growing vacation alternative to experience an area as a local, not a tourist, and save thousands of dollars in the process. The concept is simple, « You stay in my home while I stay in yours » FREE. Learn more...
RealtyTrac

RealtyTrac is a subscription-based, one-stop shop for people looking to find a property. With over 650,000 foreclosure properties and over 1,000,000 total properties updated daily, RealtyTrac is the #1 source for up-to-date pre-foreclosure, bank foreclosures, for sale by owner (FSBO), foreclosed homes via auction, new homes and MLS property listings.