Entertainment Magazine: Support: Press Information
Over 30 years of media coverage
The Entertainment Magazine roots began in 1977. During those decades, the publication has gone through numerous changes- from a tabloid newspaper for any by young people, to a monthly entertainment guide, to a web site that serves tens of thousands of people a day from around the world. Read more about the development of the Entertainment Magazine.
Entertainment Magazine in the news
---
Tucson rodeo has an online chute (Arizona Daily Star, 2/20/1999)
The underground web (Arizona Daily Star, 2/15/99)
Publishers find success on the Internet (Arizona Daily Star, 6/7/96)
Entertainment on WWW (Inside Tucson Business, 2/28-3/3/96)
On-line shopping (Inside Tucson Business, 7/24/-30/95)
Entertainment Magazine press releases
---
---
© 1999-2011 EMOL.org Entertainment Magazine. All rights reserved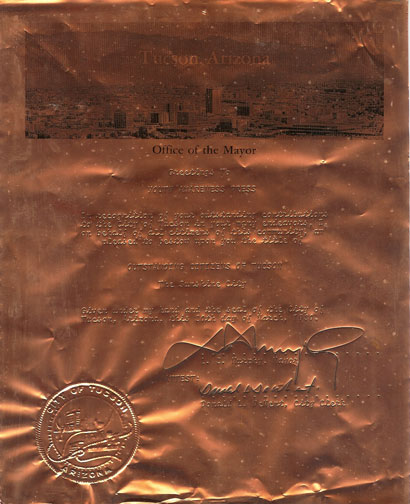 In 1979, the Youth Awareness Press was awarded a Copper Certificate from the Mayor of Tucson for its part in promoting community media in Tucson, Arizona and efforts involved in the 1979 Youth Awareness Conference. Photo below: some of the hundreds of letters of support received over the last 30 years.