Entertainment Magazine: Tucson
Murder at the Magic Show!
New Year's Eve is Full of Magic and Mystery at Westward Look Resort Dinner Theater Show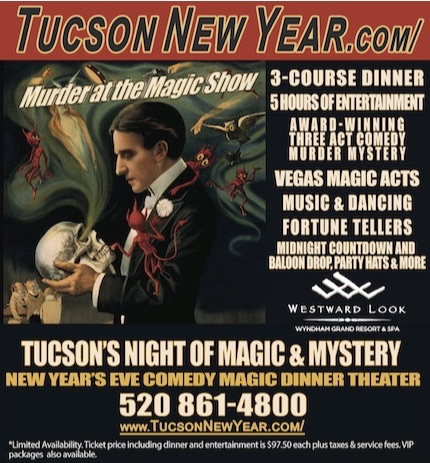 Enjoy New Year's Eve in Tucson with a special holiday Mystery Magic Show and dinner. Last year's event sold out quickly.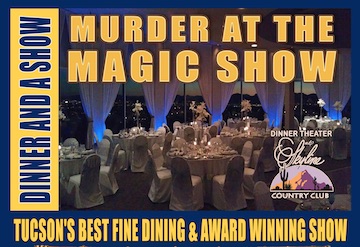 New Mystery Comedy Dinner Theater at Skyline Country Club in Tucson! Enjoy a 3-course table served fine dining experience– combine it with a classic hilarious 3-Act Interactive Comedy Murder Mystery Whodunnit... throw in the setting of an award winning Magic Performance and be prepared for one of the most unique and memorable experiences of a lifetime! Watch an audience volunteer actually be sawn in half. Solve the crime...and possibly win the prize!
Mystery and Magic Dinner Theater is performed on Friday and Saturday nights at Skyline Country Club. Read more about Murder at the Magic Show.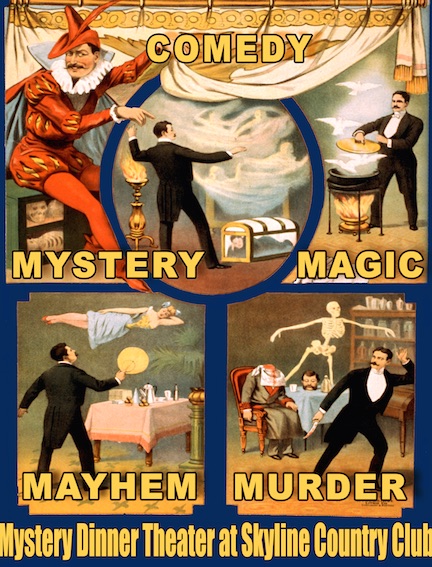 Free birthday or Anniversary song and gift (be sure to mention when reserving your seat). Free souvenir Magic trick for al patrons. Meet and greet the cast after the show, including host Ross the Magician, one of Tucson's most popular magician and performer.
For more information and reservations, call 520-861-4800 or visit www.MysteryDinner.Theater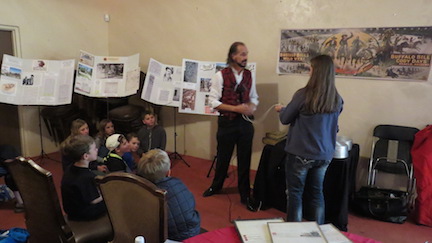 Ross the Magician made an appearance at the 2019 Buffalo Bill Cody Days in Oracle. Watch a video that includes Ross the Magician performing his famous rabbit in a pot trick.
Enjoy New Year's Eve in Tucson with a special holiday Murder Mystery Magic Show and dinner. Last year's event sold out quickly. Call 520-861-4800 or visit www.MysteryDinner.Theater
---
---