Heads Up! Stilt Walkers and High-Flying Skaters Usher in the Summer Season at Six Flags!
Memorial Day Weekend Highlights NEW Performing Street Entertainment and Shows at Six Flags Magic Mountain
VALENCIA, Calif.-- High above the heads of park guests at Six Flags Magic Mountain is the exciting new performing street troupe, "Corps Grand," a collection of stilt walkers who will amaze and entertain the millions of guests who visit the Valencia theme park this year.
The 10-member troupe includes Master Magique, Bella De Ball, twins TaLula and TaLola, Paulo Loco, Yaro Fool and others who are dressed in colorful costumes and walking on stilts to bring a fresh new spirit of celebration to the Park.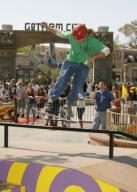 (Photo left) New street entertainment at Six Flags Magic Mountain in Valencia, CA. (PRNewsFoto/Six Flags Magic Mountain) VALENCIA, CA.
"We have brought in an unparalleled collection of street entertainment for our guests to experience and enjoy," stated Del Holland, Six Flags Magic Mountain park president. "Along with our collection of unparalleled coasters, we have a wide array of entertainment for the whole family, including shows and special events, that will make our guests' visit to the Park an unforgettable experience."
In addition to the stilt walkers, Six Flags Magic Mountain is proud to launch the new Ride The Mountain Action Sports Street Team, a group of amateur skateboarders combining street and park riding into cool exciting shows in real Park plazas throughout the theme park. The Ride The Mountain Action Sports Street Team performs daily Memorial Day through Labor Day.
Plus, one Sunday each month throughout the summer, park goers 13-years-old and above, will be able to show their stuff when we open the mini ramp and street course to park guests. Dates of open skating to park guests are June 10, July 8, August 12 and September 2.
Broadening out the Park's summer line-up of shows, events, attractions and all-around fun include:
NEW - Justice League Feast
Kids of all ages can dine with their favorite superhero at Six Flags Magic Mountain's new JUSTICE LEAGUE Feast, the newest dining experience in Southern California. The JUSTICE LEAGUE Feast offers guests a chance to unwind from a great day of fun by enjoying a delicious all-you-can-eat meal and mingling with their superheroes. In addition, one lucky guest will be chosen to ride in the BATMOBILE during the nightly parade. The JUSTICE LEAGUE Feast is available weekends only from 4 - 7 p.m. through Labor Day.
NEW - Radio Disney Concert - June 2
Summer just got hotter with our Radio Disney Concert on Saturday, June 2. Bring the entire crew out for a day of fun and music with performances by Jonas Brothers, T-Squad, Everlife and J. McCoy at the Golden Bear Theatre.
NEW - Novela Day - June 9
Show your love for your favorite telenovela (Spanish-language soap opera) stars at Six Flags Magic Mountain on Saturday, June 9. Join Jaime Camil, Lorena Herrera and Raul Magana for a hot, hot, hot concert at 3 p.m. in Golden Bear Theater.
LA Sparks Day - June 10
Join your home town WNBA team as players, coaches and the SparKids dance team invade Six Flags Magic Mountain on Sunday, June 10 for a day full of clinics, autographs, dance routines and fun! Players will officially open the park in the morning and be the grand marshals in the nighttime parade.
NEW - Newton's Revenge 2
Children aged 7 to 14 are invited to explore the zanier side of science with Mad Science's spectacular live stage show, "Newton's Revenge 2." Renown for its unique brand of educational entertainment, Mad Science has thrilled audiences around the world with its award-winning stage productions.
Appearing Wednesday - Monday, in Magic Moments Theater starting June 28 through September 3 (Labor Day).
NEW - Spontaneous Fun
Watch out! This crazy, colorful, musical car travels around the park shooting confetti, handing out goodies and gets you dancing in the streets! Daily throughout the park.
Six Flags Celebration Parade
A spectacular way to end your day at Six Flags! See your favorite Looney Tunes and JUSTICE LEAGUE stars in this festive parade celebration reaching from GOTHAM CITY Backlot to Six Flags Plaza. This blowout parade concludes with a magnificent fireworks finale over Six Flags Plaza. Friday through Sunday, Memorial Day Weekend through Labor Day.
BATMAN BEGINS STUNT SHOW
Straight from the blockbuster movie, the CAPED CRUSADER returns to GOTHAM CITY to fight crime and corruption in this live action stunt show. Hollywood comes to life in this explosive, stunt-filled live spectacular show as BRUCE WAYNE conquers his fears and becomes the legendary BATMAN. Amazing stunts and special effects, including the BATMOBILE, will leave you breathless and wanting more. This is a must see for all park visitors. Starts Memorial Day weekend and runs through Labor Day.
Plus, exciting new dining opportunities inside the park:

* Brunch With Bugs
* Justice League Feast
* Johnny Rockets
* Papa John's Pizza
* Cold Stone Creamery

At Six Flags Magic Mountain you can now race, spin, dive and fly on many of the world's most electrifying coasters -- like TATSU, the newest "flying" beast to join the Six Flags world-class coaster dynasty; SCREAM!, Southern California's first floorless mega-coaster, X, the world's first four- dimensional coaster where riders race in vehicles that spin independently 360-degrees forwards or backwards on separate axis; Goliath, The Giant Among Coasters and DejaVu, the next generation boomerang coaster.
Get drenched on five wet and wild water rides like Roaring Rapids, Tidal Wave and Log Jammer. Experience an array of exciting family shows, a parade and fireworks extravaganza and unlimited special events like Fright Fest, Hallelujah Jubilee and more.
For the little thrill seekers, Bugs Bunny World is a six-acre interactive wonderland featuring 16 rides and attractions that parents and kids can experience together -- including two traditional Six Flags roller coasters ... only pint-sized!
Six Flags Magic Mountain, is located at 26101 Magic Mountain Parkway, Valencia, north of Los Angeles off Interstate 5 at the Magic Mountain Parkway exit. The Park is open daily. Closing hours vary. For information call (661) 255-4111 or visit us on the Internet at sixflags.com.
Six Flags, Inc. is the world's largest regional theme park company. Founded in 1961, Six Flags celebrated its 45th Anniversary in 2006. It is a publicly-traded corporation (NYSE:SIX) headquartered in New York City.
SIX FLAGS and all related indicia are trademarks of Six Flags Theme Parks Inc. (C) 2007.
LOONEY TUNES, and all related characters and elements are trademarks of and (C) Warner Bros. Entertainment Inc.
BATMAN, SUPERMAN, JUSTICE LEAGUE and all related characters and elements are trademarks of and (C) DC Comics.
Source: Six Flags Magic Mountain
May 24, 2007 /PRNewswire/ --