Entertainment Magazine: Travel: Travelocity
Travelocity International Deals
Travelocity offers some great international travel deals online.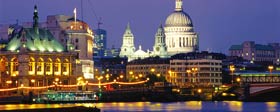 Book a Travelocity international flight and hotel together and save. Also, book a car rental and save even more!
The Travelocity Guarantee is their commitment that everything about your booking will be right, or they'll work with you to make it right, right away.
This guarantee is the only one of its kind. Only Travelocity guarantees your entire travel experience on top of having a low price guarantee.
Approved affiliate for Travelocity.com
International Travelocity Offers
---
U.S. Special Deals for International Travelers
---
Special Note on International Flight and Travel
U.S. travelers to and from the Caribbean, Bermuda, Central and South America, Mexico and Canada must have a valid passport or other secure, accepted document to enter or re-enter the United States
This requirement does not affect travel between the U.S. and its territories. U.S. citizens traveling between the U.S. and Puerto Rico, the U.S. Virgin Islands, Guam, the Northern Mariana Islands, and American Samoa will continue to be able to use established forms of ID.
---
---
© 2007-2011 EMOL.org. Entertainment Magazine. All rights reserved.