THE CLEAN HOUSE SWEEPS INTO ATC
Southwest premiere of Sarah Ruhl's hit Off-broadway comedy
Tucson: Temple of Music and Art from April 5 through April 26, 2008.
Phoenix: Herberger Theater Center from May 1 through May 18, 2008.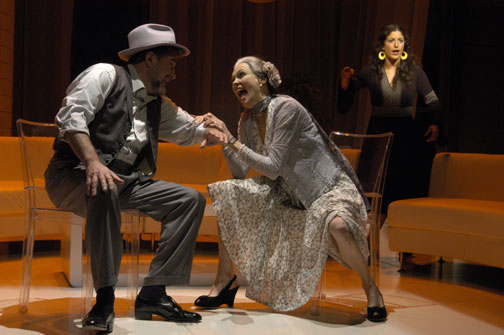 Photo: Bernard Burak Sheredy, Rae C Wright and Alexandra Tavares in Arizona Theatre Company's The Clean House. Courtesy ATC.
THE CLEAN HOUSE is a mischievously comic look at love, laughter and the secrets we sweep under the rug. This contemporary comedy is written by Sarah Ruhl, one of the brightest new playwriting talents on the American stage.
THE CLEAN HOUSE is making its Southwest premiere after acclaimed productions off-Broadway and around the country. The New York Times called it, "One of the finest and funniest new plays you're likely to see this season … a play that keeps revealing surprising insights, whimsical images and layers of rich feeling as it goes along."
THE CLEAN HOUSE plays in Tucson at the Temple of Music and Art from April 5 through April 26, 2008. It continues its run in Phoenix at the Herberger Theater Center from May 1 through May 18. Arizona Theatre Company's season underwriters are I. Michael and Beth Kasser.

The story centers around Matilde, the child of the two funniest people in Brazil. She has gotten a job as a cleaning woman for an American doctor with no sense of humor – which doesn't really matter since all of her jokes are in Portuguese anyway. And even though she's a complete failure at dusting, ironing and vacuuming, she is nevertheless a catalyst for cleaning up the lives of the people around her.
The Clean House was inspired by a real-life incident in which the playwright overheard a doctor at a cocktail party complaining about her cleaning woman and lamenting that "I didn't go to medical school so I could clean my own house." THE CLEAN HOUSE contains mature themes and language.

Director Jon Jory speaks with admiration of the playwright, noting that "Sarah Ruhl has, by general acclamation, been called the most important young playwright to appear in America in the last ten years." In reflecting on her eclectic voice, Jory says, "THE CLEAN HOUSE is a comedy; it's a tragedy; it's got wonderful language; it has terrific wisdom, I think; it has great acting parts. It's very theatrical –Sarah writes for the theatre. What Sarah does in her script is something we couldn't do in film; it's only something that can be done in the theatre. I think that people will be struck by it."

SARAH RUHL (Playwright) is the author of The Clean House (Susan Smith Blackburn Award, 2004; Pulitzer Prize Finalist, 2005; Pen Award); Melancholy Play; Eurydice; Late: A Cowboy Son; Orlando; Demeter in the City (NAACP Image Award nomination); Passion Play, a cycle (Fourth Forum Freedom Award, Kennedy Center) and Dead Man's Cell Phone which is currently playing a sold-out run off-Broadway starring Mary Louise Parker.
Her plays have been performed on Broadway and at Lincoln Center, Second Stage Theatre, Playwrights Horizons, Goodman Theatre, Yale Repertory Theatre, Berkeley Repertory Theatre, and South Coast Repertory Theatre, among other theatres across the country. Her plays have been translated into German, Polish, Korean, Russian and Spanish, and have been produced internationally in London, Canada, Germany, Latvia, and Poland. Ms. Ruhl received her MFA from Brown University. She is the recipient of a Helen Merrill Award, Whiting Writers' Award, and a MacArthur Genius Fellowship. She is a proud member of New Dramatists and 13P.

Arizona favorite JON JORY (Director) returns to ATC where he has directed The Underpants, Twelfth Night and adapted and directed the world premiere of Pride and Prejudice which has since played at theatres across the country. Next season he will direct the world premiere of Jane Martin's new comedy Somebody/Nobody and is currently writing a new musical for ATC with long time collaborator Peter Ekstrom. He was Producing Director at Actors Theatre of Louisville from 1969-2000 where he also founded the Humana Festival of New American Plays.
He has directed on and off-Broadway and at many regional theatres and is currently Professor of Acting and Directing at University of Washington. Mr. Jory has directed internationally in nine countries and is the recipient of numerous awards, including The Drama League's Outstanding Contribution to Theatre Award, American Theatre Association's Award for Distinguished Service to Theatre, the Margo Jones Award twice for the production of new plays and recently the ATA Distinguished Career Award.


Photo: Rae C Wright, Felicity La Fortune, Kate Goehring and Alexandra Tavares in Arizona Theatre Company's The Clean House. Courtesy ATC.
The cast of THE CLEAN HOUSE includes Kate Goehring (Virgina), who returns to ATC where she appeared in How I Learned to Drive and Work Song: Three Views of Frank Lloyd Wright. Ms. Goehring played Harper in the national tour of Angels In America (LA Pride/Carbonel Awards). Off-Broadway, she was seen in Carrie: A Period Piece at P.S. 122 and Laughing Wild at Bailiwick Repertory Theatre (After Dark/Jeff Awards).
Her regional appearances include Intiman Theatre, Arena Stage, McCarter Theatre Center, Goodman Theatre, Huntington Theatre Company, and Actors Theatre of Louisville. Felicity La Fortune (Lane), who recently appeared in Tom Stoppard's three-part Russian epic The Coast of Utopia and Adam Guettel's The Light in the Piazza, both at Lincoln Center Theater. Her Broadway appearances include The Goat, or Who is Sylvia?; Sex and Longing and A Month of Sundays. Off-Broadway, she has been seen in Dinner With Friends, The Exception and the Rule (directed by Jerome Robbins) and All My Sons (directed by Jose Ferrer).
Bernard Burak Sheredy (Charles) appeared Off-Broadway in Dinah Was and Waiting for Lefty (directed by Joanne Woodward). His regional theatre work includes Pericles and Lorenzaccio with Shakespeare Theatre Company, Guthrie Theater, Wilma Theater, Shakespeare Theatre of New Jersey, and Denver Center Theater Company.
His film work includes House of D, Meet the Parents, Outside Providence, The Fish in the Bathtub, Quiz Show and Liebestraum. Alexandra Tavares (Matilde) has appeared in Three Sisters and Heartbreak House at Intiman Theatre and Jason and the Golden Fleece at Seattle Children's Theatre. Other regional theatre work includes The Comedy of Errors and Much Ado About Nothing at Seattle Shakespeare Company, Little Women at Book-It Repertory Theatre and Crumbs Are Also Bread and Swimming in the Shallows at Washington Ensemble Theatre. Rae C Wright* (Anna) is an Obie-winning performer/writer of She's Just Away!, Animal Instincts: Tales of Flesh & Tales of Blood, My Mad Brother, The Moon in Vain and Vicki Weaver & I....
She also shares a Jane Chambers Playwriting Award with Deb Margolin for The Breaks (The Culture Project). She has appeared Off-Broadway as Arkadina in The Seagull. Ms. Wright is a Professor at New York University. (*Please note that there is no period after the "C" in Ms. Wright's name.)

The artistic team for THE CLEAN HOUSE includes Neil Patel (Scenic Designer), who designed Ring Of Fire, Sideman and 'Night Mother on Broadway. Off-Broadway he has designed scenery for Some Girls and The Mercy Seat at MCC Theater; Living Out at Second Stage Theatre; Going to St. Ives at Primary Stages; Between Us and Glimmer, Glimmer & Shine at Manhattan Theatre Club; A Question of Mercy, Bob, Quills, Slavs!, Score and Unmade Bed at New York Theatre Workshop; and Lobster Alice and On The Mountain at Playwrights Horizons, among others.
Other New York theatre designs include McReele at Roundabout Theatre Company and Dirty Tricks and Othello at The Public Theater. Lorraine Venberg (Costume Designer) returns to ATC where she designed last season's Love, Janis. At Actors Theatre of Louisville, she has designed productions of Spunk, The Underpants, Dracula, Hedwig and the Angry Inch, 9 Parts of Desire, Mary's Wedding, The Chosen, Gem of the Ocean, Intimate Apparel, The Crucible, Twelfth Night, Love, Janis (also at Kansas City Repertory Theatre, Cincinnati Playhouse in the Park, and The Cleveland Play House), Fences, Pure Confidence, Memory House, A Christmas Carol, Blues for an Alabama Sky, Ain't Misbehavin', Omnium-Gatherum, The Pavilion and The Importance of Being Earnest. Brian J. Lilienthal (Lighting Designer) is the Resident Lighting Designer at Actors Theatre of Louisville where he designed Hedwig and the Angry Inch, The Underpants, 9 Parts of Desire and Italian American Reconciliation, among many others. His designs have also been seen at Trinity Repertory Company, Arden Theatre Company, Merrimack Repertory Theatre, Cherry Lane Theatre, Capital Repertory Theatre, La Mama Experimental Theatre and the National Playwrights Conference at the Eugene O'Neill Center, where he was Resident Designer. Matt Callahan (Sound Designer) designed sound for many Actors Theatre of Louisville productions including, Hedwig and the Angry Inch, Sherlock Holmes: The Final Adventure, My Fair Lady, The Crucible, Twelfth Night, The Glass Menagerie, A Christmas Carol, and Betrayal. Mr. Callahan has served as Audio Engineer for Chicago's Steppenwolf Theatre Company, Assistant Engineer for The Blue Man Group and was a member of Defiant Theatre. Glenn Bruner is the Production Stage Manager.

THE CLEAN HOUSE is a co-production with Actors Theatre of Louisville, with whom ATC previously co-produced CROWNS in 2005.
Tickets and pricing
Ticket prices range from $26-$50 depending on date and section choice and are available at arizonatheatre.org or by calling the box office at (520) 622-2823. Discounts are available for students, seniors and active military on specific performance days. Half-price student rush tickets are available for balcony seating for all performances one hour prior to curtain at the ATC box office (subject to availability; must show ID).
Ten Dollar Tuesday for THE CLEAN HOUSE is April 8. Balcony seats for this preview performance are available for a suggested $10 donation. (Tickets must be purchased at the ATC Box Office starting at 11 AM on April 8. Seating is first-come, first served and is not guaranteed. Cash only, please. Two tickets per person maximum.) For discounts on groups of eight or more, call (520) 622-2823.

ATC offers an audio-described performance for patrons who have low vision or blindness on April 23 at 2 PM and April 24 at 2 PM. Interested patrons may request a tactile tour one hour prior to curtain. Braille and large-print playbills are available upon request from the house manager. An American Sign Language-interpreted performance is offered on April 24 at 7:30 PM. Patrons who have deafness or hearing impairment will receive a biography of the interpreters, a description of the play and name signs of each character.
An open-captioned performance is offered on April 24 at 2 PM. As the play progresses, those in open-captioned seating will be able to read the play's dialogue in large green letters on an LED. The service is for patrons with mild to severe hearing loss who may not be ASL-literate. Tickets for all performances are available through the ATC box office at (520) 622-2823 or online at arizonatheatre.org. TTY access for the box office is available via Arizona Relay at (800) 367-8939 (TTY/ASCII).