Entertainment Magazine: Tucson: Events: November
Tubac Presidio in November
Tubac Presidio State Historic Park
www.TubacPresidio.org
1 Burruel Street, Tubac, AZ 85646-1296
(520) 398-2252
Saturday, November 14, 2 pm
Don Davidson is going to give a great talk on the Geologic History of Arizona – Join us for an illustrated presentation on the geologic history of the state with focus on the differences between the Basin and Range (southern) and Colorado Plateau (northern) portions. The general nature of the rock sequences in the two provinces will be discussed with special emphasis on the Grand Canyon and the greater Tucson area. Development of regional geologic structures will also be explained by geologic era, as well as coverage of geologic features unique to Arizona such as copper deposits and Kartchner Caverns. There will also be a brief introduction involving rock types, geologic time and plate tectonics. The talk should be of particular interest to local hikers. Refreshments will be served. Call 520-398-2252 to make your reservation today. $7.50 fee includes admission to tour the Park. We just received some new books in the gift shop: several on hiking and one specifically on Arizona geology.
Sunday, November 15 at 2pm
John Langellier's talk, "Surgeons in Blue: Army Medicine in Early Arizona." John is an excellent author and military historian, and he'll give us a fascinating discussion of the bravery, challenges, contributions, and outside pursuits of many of the military doctors who served in Arizona Territory. We will hear about Edgar Mearns who was both a practicing physician and amateur archaeologist as well as the redheaded Irishman Dr. Bernard J.J. Irwin who received the Medal of Honor for his daring efforts in command of a rescue party against Cochise and his warriors in the vicinity of Apache Pass. Langellier comes with great knowledge and enthusiasm. Don't miss this informative and entertaining talk. $7.50 fee includes admission to tour the Park.
Wednesday, November 18, 2015
If you have never taken the Guided Tour of the Barrio de Tubac Archaeological Site, there is going to be one on Wednesday, November 18 and another on Sunday November 29. Both tours run from 11 to roughly 1pm. Phil Halpenny's background as a hydrologist make his insights into the history of our area particularly astute. He and Gwen Griffin will take you through the Spanish colonial archaeological site just south of the Presidio which preserves the remains of the original Tubac town site, including residence foundations, plaza area, refuse area and partial irrigation ditch. Meet at the Park's Visitor Center. Tour involves a walk of about 1-1/4 miles. The Archaeological Conservancy protects this site and participants are asked to sign 'An Acknowledgement of Risk Factors' before entering. Wear walking shoes, sunscreen and hat. $10 fee includes admission to tour the Presidio Park. Tour limited to 15; reservations encouraged, 520-398-2252 or [email protected].
Friday, November 20 from 11am to 2pm
"Chocolate! 1000 Years and Counting." Come discover the rich history of chocolate in the Southwest. Taste a cacao bean, learn how the Mayans and pre-Columbian Native Americans prepared their chocolate, and sample the energy drink that fueled the 1774 and 1775 Anza expeditions from Tubac to Alta California. It's included with park admission $5 adult, $2 youth, children free.
Saturday, November 21st at 2pm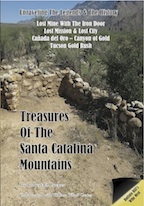 "Treasures of the Santa Catalinas." Book Event with slide show, music, and two collaborative authors. This is Legends & Treasures of the Santa Catalinas by Robert Zucker and collaborator William Carter, and describes the legends of lost mines, treasure, and even a lost mission in the Santa Catalina Mountains. These stories have been passed down by word of mouth for generations, and there's a degree of historical truth to some of these legendary tales. The most famous legend of the Santa Catalina Mountains, the Iron Door Mine, helped launch an early American hunt for gold in the 1860s. Adventure seekers combed the mountains looking for lost Spanish treasures and digging for minerals. One obstacle stood in the way of these aspiring prospectors– the Apache Indians who guarded and defended the mountains for hundreds of years. You won't want to miss the authors' fascinating talk about the characters and legendary places right in our own back yard. Refreshments will be served. $7.50 fee includes admission to the park.
Sunday, November 22 at 2 pm
Our Teodoro 'Ted' Ramirez Artist-in-Residence Concert Series presents Canciones Mexicanas - A Southwest Celebration – on Music is the heart and soul of Mexico. Artist-in-residence Teodoro "Ted" Ramirez has assembled an amazing group of talent for this celebration of Mexican song in all its variety. We'll hear Boleros, Corridas, Huapangos and more. Guitarists and vocalists Bobby Benton and Ed Cordova as well as Ray "Chino" Lizarraga, Sergio Armendariz, and Jose Zuniga, the Trio Los Galanes will make the 1885 schoolhouse ring with joy. Don't miss this wonderful concert on the Sunday before Thanksgiving. Tickets are $20 adults, free for children 14 and younger. Seating is limited, please call now for reservations, 520-398-2252.
---
---
New Tucson Historical Books
Treasures of the Santa Catalina Mountains
Discover the legends and rich history of the Santa Catalina Mountains. Learn about the Iron Door Mine, Spanish Jesuit treasures, Buffalo Bill's mines, gold mining in Oracle when pioneers arrived to prospect the Catalina Mountains. Visit the "Treasures of the Santa Catalinas" and read stories forgotten in time. Available at a discount on Amazon.
Read about the local Tucson entertainment scene from the 1950s through the 1990s. Over 700 pages of pages of musician interviews, original photographs and stories. If you played in a band or went to a nightclub during those years, you'll be familiar with many of these people and places. Published by Entertainment Magazine. Read sample pages Entertaining Tucson Across the Decades. Find your name or photo! Now available, at a discount, on Amazon.com.
---
© 1995-2016 EMOL.org.Entertainment Magazine. All rights reserved. Robert E. Zucker, publisher.