Entertainment Magazine: Arizona: Tucson
Mount Lemmon & Summerhaven road now open after Bighorn Fire
Enjoy a day on Mt. Lemmon again! The Catalina Highway to Mount Lemmon and Summerhaven is now open to the public after repairs from the Bullhorn Fire.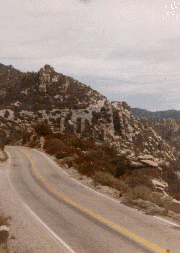 While the main road to the top of Mount Lemmon, Ski Valley and Summerhaven village is open, some of the hiking trails and campgrounds still remain closed.
The closed areas of the Santa Catalina Mountains and Coronado National Forest include the General Hitchcock, Gordon Hirabayashi, Rose Canyon and Spencer Canyon campgrounds.
Sabino Canyon Recreation Area, Sabino Canyon Trail #23, and the Control Road #38 Scenic Drive remain closed, at least, until November 1st.
Flash flooding at the base of the Catalinas, including Oracle, Oro Valley and the Catalina Foothills may experience "life threatening" flooding, according to the US Weather Service.
The recent Bullhorn Fire burned nearly 120,000 acres.
---
Visiting Mount Lemmon & Summerhaven
Ski Valley | Summerhaven | Map
---
Road closures when weather is bad
Weather conditions can change quickly. When it is raining in the Tucson basin, there is a good chance that the Catalina Mountains are getting soaked. Check today's Mt. Lemmon weather and road conditions.
What is happening on Mt. Lemmon?
The Mt. Lemmon events calendar has events and entertainment activities. See what's happening in the Mt. Lemmon and Summerhaven Calendar.
Post Mt. Lemmon/Summerhaven events free. Send event listings to [email protected]
---
The Santa Catalina Mountains
The Legends & History
The Lost City & Mission
Tucson Gold Rush of the 1880s
Books about Mt. Lemmon and the Catalina Mountains
Legends of lost mines, lost cities and a lost mission have been passed down by word of mouth for generations. The most famous legend, the Iron Door Mine, helped launch the early American hunt for gold in the 1850s. Download free PDF sample and read more about the legends and history behind them in a new local book on the Treasures in the Santa Catalinas.
From Amazon.com: Squeezing the Lemmon II... More Juice Than Ever: A Rock Climber's Guide to the Mt. Lemmon Highway, Tucson, Arizona
Climb Mt. Lemmon with one of the more popular hiking books about the Catalina Mountains. Includes maps, photos, route topos and descriptions, and general area information most climbers find handy. 324 pages. Eric Fazio-Rhicard, Author
---
© 1995-2023 EMOL.org Mount Lemmon Entertainment Magazine.