The Old Tucson Studios has been a major film and television shooting location for decades. Visitors are welcome throughout the year to tour the facilities and watch daily Wild West entertainment. Old Tucson Studios also a great place for corporate and private functions and holiday parties.
The Story of Old Tucson
Old Tucson Studios, the Hollywood in the Desert, was built in 1939 Western movie heroes like John Wayne, many Hollywood's legends and current box-office stars have been in the setting for hundreds of major motion pictures.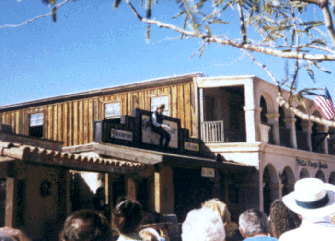 Retrace the bootsteps of your favorite stars and spend a day in the life of an 1880's Western town. Take a trail ride along scenic desert mountain trails.
General Admission to Old Tucson Studios during regular daytime operating hours includes select rides, shows, and tours. This ticket is not valid for Nightfall or Special Events. FInd out more about ticket prices and hours.
Directions to Old Tucson from 1-10 freeway atthe Speedway exist has changed. Find the new directions to drive to Old Tucson from the freeway.
Nightfall is Old Tucson's major event. Held through the month of October, Nightfall has day and evening events, haunted houses, Western shows and special events. Find out more about Nightfall 2007.