Mi Madre / Mi Tierra
(My Mother / My Earth)
by Gonzalo Espinosa
Raices Taller 222 Art Gallery & Workshop presents Mi Madre / Mi Tierra - a celebration of Mothers and Mother Earth. Please join us at our opening reception on Saturday May 24th from 7 to 10 PM and meet our member artists and guest artists.
Exhibiting artists include: Sonia Barr, Juan Enriquez, Gonzalo Espinosa, Ceci Garcia, Jeff Litvak, Guillermo Munro, Martin Quintanilla, Joe Rebholz, John Salgado, and Mary Lou Williams.
Mi Madre / Mi Tierra continues through Saturday June 21st. Regular gallery hours are 1 - 5 pm Fridays and Saturdays or any other time by calling 881-5335 for an appointment.
Raices Taller Art Gallery & Workshop is located at 222 E. 6th. St., Tucson, AZ 85705. (1 block east of 6th street & 6th avenue)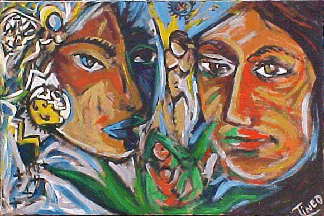 by David Tineo

Raices Taller 222 Art Gallery & Workshop is the only Latino based nonprofit cooperative contemporary art gallery located in the downtown Tucson Arts District