Entertainment Magazine: Tucson: Real Estate
Tucson home office, rental property, for sale near the UA

FOR SALE BY OWNER
Above photo of the front of the house on Park Avenue, parcel 113-08-0480.
This Tucson, Arizona home in mid-town Tucson, Arizona is for sale by owner. The location is close the University of Arizona and PIma Community College campuses and can be used as a home-office, rental income property or student housing.
There are only a few buildings near the University of Arizona (UA) area that are suitable for a home office or multi-student housing.
This ideal location is on a corner lot, north of the University of Arizona. This is a perfect home/office for an accountant, real estate agent or web designer who wants to work in the comfort of their home.
If used as a rental, this income property can generate about $1,100 a month in rent.
The building is conveniently located near schools, the UofA and shopping north of Grant Road and First Avenue, off of Glenn Street and Park Avenue. This is one of the largest buildings in the neighborhood.
An new Walmart Marketplace is being built within walking distance of this property.
More information on this home for sale in Tucson
The back patio is a covered porch that can accommodate two cars. On the other side of the fence is a large empty lot, part of the home for sale, that can easily park a half dozen or more cars. The entire lot is 8,230 square feet large. The Sun Tran bus stop is to the right (not pictured).
The back area is suitable for living with a separate bedroom (above) laundry closet, newly remodeled bath, 2 large open rooms, remodeled kitchen and extended dining room.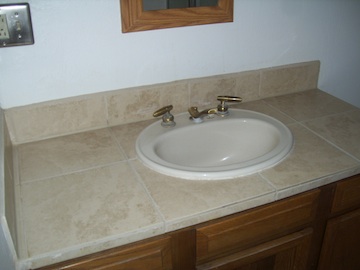 This north University-area property is suitable for a home-office, rental, student housing or family. The large, multi-use building is conveniently located near the U of A campus, schools and shopping.
North of the University of Arizona 1-1/2 miles
2 bedrooms; 2 large rooms; 2 small rooms, remodeled kitchen and dining room and 1 remodeled bathroom
1,479 square feet building
8,230 square foot lot size, corner lot
Ample parking in front and back large open lot
RV parking with sewer hookup
Large outdoor shed
Newly installed water heater
Security bars on all windows and doors
Security alarm with motion sensor
AC central heating installed
Cox cable connections, telephone, satellite dish.
Plenty of room to build
The front of the house is suitable for a home-office, with a lobby area and large room, 2 side rooms and a bedroom or main office.
The back of the house is separated for additional living space (with another living room, 2 bedrooms, remodeled kitchen and bath).
This floor plan is deal for a Tucson home-office, student or family rental or an affordable family home. The building can also be converted into a duplex.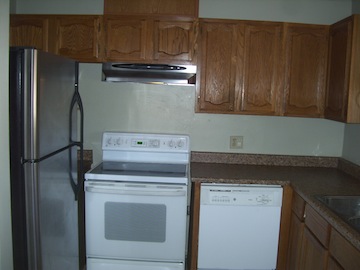 The kitchen has been remodeled with new floor tile, kitchen cabinets, new laminate counter tops and appliances.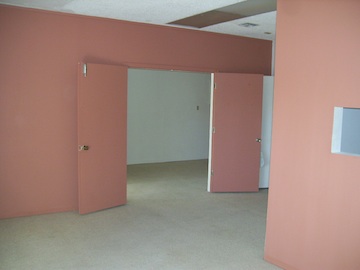 Inside the main front room is a large area that can be used as a lobby or for an office. In this picture, behind the terra cota colored wall is a smaller office space with a window to watch into the main area. As a home, this is a living room space with a side office or library space.
Plenty of parking on corner lot;
Suitable for another unit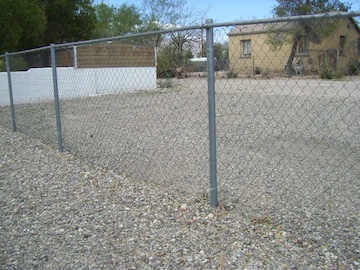 The back of the house has a lage open lot. There is plenty of parking (over 10 vehicles) in the front and the back with gravel parking in the front and back of the house. The back yard is spacious with a place for an RV (sewer hookup outside with access to electric outlets).
Large Lot: This Tucson house for sale lot size is 8230 sq. ft. R-3 zoning (extra land to add a rental unit, make unit into a duplex or add on for a tri-plex or larger home).
Wireless and Wired Home Security: Windows and doors in house are also protected with a wired and wireless security system with motion sensors. Service is provided from Security Services.
Versatile Floor Plan Use
This building that is for sale has served many uses of the decades and has been designed for multiple uses. Here are some suggestions:
Front area home/offices (4 rooms) including one large L-shaped room and conference room.
Residence in back (3 rooms, kitchen and bathroom). Kitchen has dishwasher, electric oven and disposal. Pantry.
Family home or rental unit with master bedroom, two rooms, with two smaller side rooms, a living room, large entertainment/den room. Laundry closet.
Divide into two rental units or add on for a third unit. Add a bath and kitchen for a second unit. Only 1-1/2 miles from the UA Main Gate and next door to the bus stop.
Build a second home in the lot next to the building or remodel as a tri-plex.
The back yard is a large empty lot that can be used for pool, a second building or additional parking.
Part of the yard is fenced and gated. The fenced side area is available for a garden or additional backyard.
The rear carport can park two cars and has a partial overhang. Retaining walls surround the cement carport.
The attic has a multitude of electrical outlets. A new AC/heating unit was installed in 2000. All electric utilities. Gas outlets, but not used. Two ceiling fans in the main rooms
Map of Tucson Home for Sale
Close to schools, shopping
This home is conveniently located between Campbell and First Avenue, near schools, the UA, major shopping centers and dozens of restaurants.
A new Walmart Marketplace is being built within walking distance 1/2 mile north near Park Avenue and Ft. Lowell.
The house is within biking and walking distance to Amphitheater district schools and the University of Arizona campus and biking distance from the downtown campus of Pima Community College.
A five minute drive to the UA campus University Street entrance. The Park Avenue campus entrance is 1 1/2 miles directly south.
The Tucson Sun Tran bus line stops at the corner and goes straight to the University of Arizona campus and downtown or east.
Several shopping centers are within a half mile. Area shopping includes a Fry's Supermarket and Albertson's within a mile.
A newly opened Ross, Five Guys Hamburger, and Staples opened nearby. Close to Campbell Avenue restaurant row with dozens of dining choices from fast food to Chinese, Japanese, Mexican, Italian restaurants and more.
---
© 2016 EMOL.org Entertainment Magazine. All rights reserved.