Entertainment Magazine: Tucson
Steampunk Convention
The Wild Wild West Steampunk Convention 4 was the largest Steampunk Convention held at Old Tucson Studios March 6-8, 2015.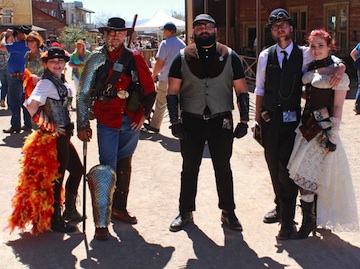 ---
---
The WIld Wild West Steampunk Convention (WWWC) is the first and only Steampunk Convention that is held in a western-themed amusement park. The weekend long event hosts concerts, street performers, special events, 80 panels and workshops, rides, games and more– all in a Steampunk atmosphere with over 60 vendors.
The concerts featured Abney Park, Steam Powered Giraffe, Frenchy and the Punk and The Cog is Dead.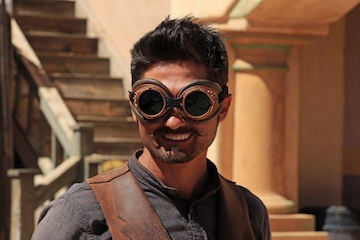 Photo of Loop Rawlings by Carl Sparfeld.
Some panels included Exploring The Dark Side Of Steam. From monsters to super villains, the darker aspects of Steampunk and it's integration into some already dark subcultures. There were discussions on Steampunk origins, Dieselpunk, Cyberpunk, and new niche areas like Nerfpunk, Rococopunk.
Other topics included Basics Of Thermoplastics, Metal Finishes On Plastic, Steampunk Weapons Demos, and Costume Distressing Techniques.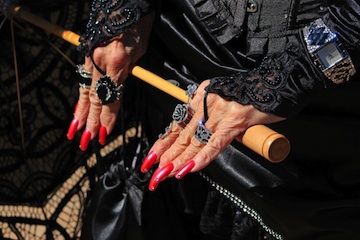 What is Steampunk?
In three short words, steampunk is Victorian science fiction. "Victorian" is not meant to indicate a specific culture, but rather references a time period and an aesthetic: the industrialized 19th century. Historically, this period saw the development of many key aspects of the modern world (mechanized manufacturing, extensive urbanization, telecommunications, office life and mass-transit), and steampunk uses this existing technology and structure to imagine an even more advanced 19th century, often complete with Victorian-inspired wonders like steam-powered aircraft and mechanical computers.
Steampunk's steam references more than simply the technology itself, although steam engines are a vital aspect of life in a steampunk world. Steam more generally signifies a world in which steam technology is both dominant and prolific.
For more information on the upcoming 2016 Steampunk events visit the WWW Steampunk Convention web site.
Steampunk photos by Carl Sparfeld.
---
---