Entertainment Magazine: Tucson: Events: TCC
Tucson's community hub - the Tucson Convention Center
The Tucson Convention Center (TCC) is located in Downtown Tucson, AZ. This venue features a variety of performances, concerts, and special events in the Arena, Music Hall, Leo Rich Theater, Exhibition Halls and Meeting Rooms. The Tucson Convention Center Music Hall holds most of the intimate live music concerts.
Although there has been a gap between major TCC concerts and other big show events, new acts are being booked. The TCC Arena is suitable for large events with seating near 10,000. Tucson music events are expected to continue.
The TCC hosts a variety of events including concerts, sports, the annual Tucson Gem & Mineral Show, WWE wrestling, the Ringling Brothers and Barnum and Bailey Circus, theater, shows, and other events. Plans for the addition of a new arena that will support 12,500 seats and other proposals to expand the TCC will eventually make it more suitable for large scale concerts, theater productions and other events that bypassed Tucson's small facility size.
Tucson Convention Center and Tucson Arena Contact Info:
Tucson Convention Center
260 South Church, Tucson, Arizona 85701

TCC Ticket Info: 520/791-4266 (Tucson)
520/287-2025 (Nogales)
Call for Tucson Convention Center ticket sales

Ticket Credit Card Charge Line: 520/791-4836

TCC Catering: 520/882-9820

Tucson Convention Center Main Office:
P.O. Box 3053 Tucson, Arizona 85702
Phone: 520/791-4101
FAX: 520/791-5572
TCC Performance Venues:
TCC Music Hall: seats 2,289 seats- used for concert performances, including opera.

Leo Rich Theater: 511 seats- for small scale and more intimate performances.

TCC Arena: 4,988 permanent seats, 2,724 bleacher seats, and floor capacity for 888.
---
TicketNetwork TCC Arena Tickets
TicketNetwork TCC Music Hall Tickets
---
Parking at the TCC: parking is available for all events. Monthly parking passes for downtown workers available. Private bus and limousine parking available. For current rates, call 791-5572.
Transportation to the TCC: Sun Tran stops at the TCC.
The Tucson Convention Center (TCC) was built in 1971. The facility includes a 9,275-seat indoor arena, two performing arts venues, and 205,000 square feet of meeting space.
The TCC was originally called the Tucson Community Center when first opened, but the name was later changed from Tucson Community Center to the Tucson Convention Center to reflect the marketing towards conventions and larger meeting events. Now, the term Tucson Arena refers to the main facility.
If you typed Tuscon Convention Center or Tuscon Community Center, you have a spelling error, but found the correct spelling.
Map of Downtown Tucson and the TCC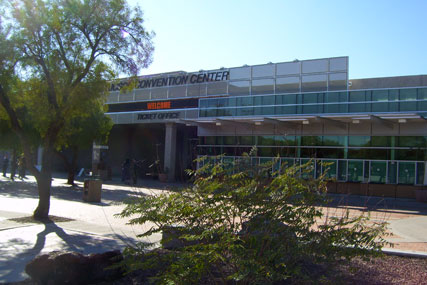 Photo of the Tucson Convention Center east entrance to the Tucson Arena and meeting halls. The TCC was originally called the Tucson Community Center.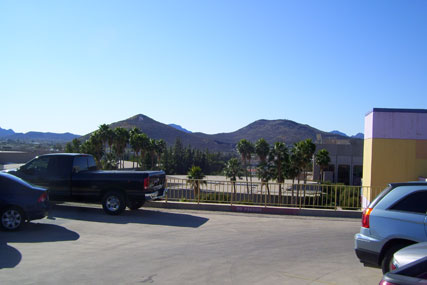 The parking garage east of the TCC makes it convenient to park and walk across the street. © 2008 EMOL.org
© 1995-2015. EMOL.org. Tucson Entertainment Magazine All rights reserved.

The TCC does not have e-mail through this site. This page is not affiliated or sponsored by Tucson Convention Center (TCC) and is only a public service of EMOL.org.