Entertainment Magazine: Tucson: Restaurants
Tucson Restaurant Coupons
The Tucson economy has really impacted local restaurants. As people cut back on expenses, dining out at a local restaurant becomes one of the options often on the chopping block.
To compete against other Tucson fast food restaurants, local restaurant owners are matching promotions with lowered prices, reduced portions and special daily offers.
There are two main ways to get discount coupons for top Tucson restaurants. Both options offer discounted coupons: Entertainment Book and Restaurant.com.
Tucson Entertainment Book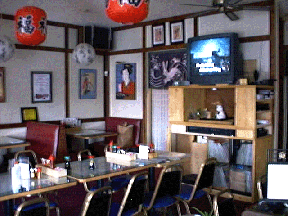 The most popular source of coupons is the Entertainment Book for Tucson. This annual coupon book has hundreds of discount for half off and two-for-one (2-for-1) deals. The Tucson Entertainment Book is published in November. After the first of the year, the cost of the $35 Tucson coupon book can drop to less than half. Find out more about this month's Tucson Entertainment Book.
Restaurant.com
Discount coupons for dozens of Tucson restaurants are available from Restaurant.com. This online coupon service lets you buy $25 worth of gift certificates for $10 or less. Some week's promotions reduce that cost to $6 or even $4 for each $25 coupon. Find out this week's deal from Tucson Restaurant.com.
Tucson Restaurants
El Charro 100 Fastest Growing in U.S.
Tucson's own El Charro Café has made the July/August 2009 Hispanic Business Magazine's list of 100 fastest growing businesses, ranking #62 out of 100 listed.
El Charro Café recently opened their newest location in Oro Valley, AZ and has plans on adding new locations in 2010. El Charro can also be found at the University of Arizona Football Stadium. Continue reading about El Charro restaurant.
In-N-Out to quadruple in Tucson
In-N-Out, the popular Irvine, CA based family company known for its excellent but simple hamburgers, fries and shakes, has several new restaurant locations throughout Tucson.
Two locations are already open on the northside in Marana and mid-town at El Con Mall.
A new third 50,000 square foot In-N-Out Burger opened Tucson's southside where Interstate 10 meets Kino Parkway and Ajo Way, on the northwest corner of Ajo and Kino next to the Chevron station. It is across the street from Carls Jr. Green Burrito restaurant.
The fourth In-N-Out hamburger franchise is on East Broadway and Kolb Road at 81 N. Kolb Rd, in the former El Minuto Café space. The cafe was torn down and new building constructed.
Another location to the west of Tucson Mall on N. Oracle Rd. recently opened.
IN-N-OUT Burger opened the first Tucson location on August 2007 in front of El Con Mall in a new building at 3711 E. Broadway. The 3,200 square foot building has indoor eating facilities for up to 70 diners and 50 employees. There is a late night drive through. The restaurant is open from 10:30 a.m. to 1:00 a.m. Sunday through Thursday. It stays open until 1:30 a.m. on Fridays and Saturdays.
The second In-N-Out location, opened in November 2007, on Tucson's far northside in Marana, AZ.