Planet Earth Photo Gallery

(Photo above: A golden snub-nosed monkey from the Mountain's episode ofg PLANET EARTH. Photo by X. Zhi Nong, Discovery Channel/BBC/X. Zhi Nong. 2006)
Created by the team behind the award-winning natural history series BLUE PLANET, more than 70 camera operators spent over 2,000 days in the field to document nature's greatest spectacles for PLANET EARTH. Filmmakers lived for weeks or months at a time in remote locations both awe-inspiring and brutally difficult to reach, let alone live in.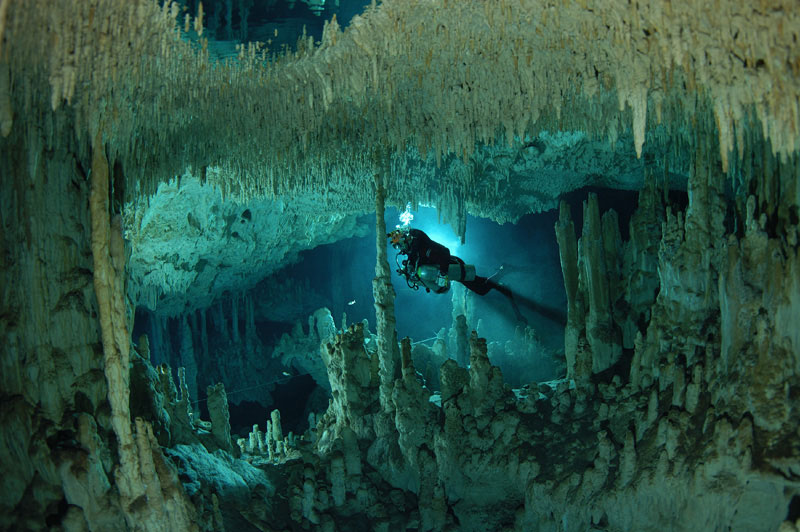 (Photo above: A cameraman filming in flooded caves in the Yucatan, Mexico. Photo by Gavin Newman. Discovery Channel)
For Mexico's Cave of Swallows, the crew descended 1,300 feet on a single rope no thicker than a finger, taking more than 30 minutes just to reach the bottom. More than 300 hours of film were logged before capturing the never-before-filmed 90-second Blue Bird of Paradise mating ritual, and an American cameraman spent frustrating hours crawling around Tibetan soil looking for foxes never before caught on film. Weeks into their Himalayan shoot, a crew filmed the first-ever up-close images of the elusive snow leopard -- and were stunned to witness not only a harrowing vertical hunt of a mountain goat, but quiet, intimate images of a mother and her cub.
Filmed in more than 200 locations, each of PLANET EARTH's eleven episodes focuses on a specific habitat, illustrating life in the highest mountains and the darkest caves; the shallowest water and the deepest oceans; ice-covered lands and great plains; untamed jungles and giant forests; fresh water and the harshest deserts. PLANET EARTH's premiere episode, "Pole to Pole," ties the series together with a fresh understanding of how these habitats are interconnected.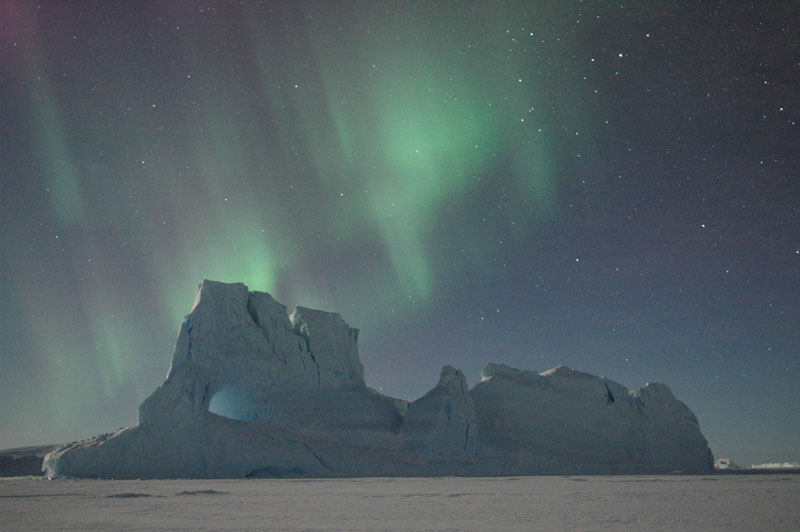 (Photo above: An iceberg with aurora southern lights. From Episode 6: Frozen. Photo by Fred Oliver. Discovery Channel)
Following each episode, three minutes of exclusive behind-the-scenes footage will show viewers exactly how PLANET EARTH filmmakers secured the series' most memorable images. Additional behind the scenes stories and video, and in-depth information about our planet and its animals and habitats, will be available in the PLANET EARTH website on Discovery.com.
The site will also include a news feed, photo gallery, and informative games and puzzles.
PLANET EARTH is produced for Discovery Channel by the BBC. Alastair Fothergill is the series producer for the BBC. Maureen Lemire is the executive producer for Discovery Channel. Discovery Channel and the BBC also created the award-winning natural history series BLUE PLANET. Bank of America is the presenting sponsor of the PLANET EARTH series.
Discovery Communications, Inc., is the leading global real-world media company. Discovery has grown from its core property, the Discovery Channel, first launched in the United States in 1985, to current global operations in 170 countries and territories with nearly 1.4 billion cumulative subscribers.
DCI's over 100 networks of distinctive programming represent 27 network entertainment brands including TLC, Animal Planet, Travel Channel, Discovery Health Channel, Discovery Kids, Discovery Times Channel, The Science Channel, Military Channel, Discovery Home Channel, Discovery en Español, Discovery Kids en Español, Discovery HD Theater, FitTV, Discovery Travel & Living (Viajar y Vivir), Discovery Home & Health and Discovery Real Time. DCI's other properties consist of Discovery Education and Discovery Commerce, which operates more than 100 Discovery Channel Stores in the U.S. DCI also distributes BBC
America in the United States. DCI's ownership consists of four shareholders: Discovery Holding Company (NASDAQ: DISCA, DISCB), Cox Communications, Inc., Advance/Newhouse Communications and John S. Hendricks, the Company's Founder and Chairman.
More photos...
2007 TV Entertainment Magazine. All rights reserved.
TV Entertainment Magazine
Planet Earth -
The Complete BBC Series (2007)
Starring: Sigourney Weaver
DVD Features:
Other:110 minutes of behind the scenes footage - one 10-minute behind the scenes program for each episode (SD release only)
Documentary:Planet Earth - The Future: This 3-part, 2 1/2 hour series looks at what the future may hold for endangered animals, habitats and -- ultimately -- ourselves. Following the environmental issues raised by Planet Earth, it asks why so many species are threatened and how they can be protected in future. (SD release only)
• Number of discs: 5
• Rating
• Studio: BBC Warner
• DVD Release Date: April 24, 2007
• Average Customer Review: based on 3 reviews. (Write a review.)
• DVD Features:
• Available Subtitles: English, Spanish, French
• The 11-part series shot entirely in high-definition: From Pole to Pole, Mountains, Fresh Water, Caves, Deserts, Ice Worlds, Great Plains, Jungles, Shallow Seas, Seasonal Forests, Ocean Deep
• Original U.K. broadcast version, including 90 minutes not shown on the Discovery Channel
• 110 minutes of behind-the-scenes footage (included on standard-definition DVD release only)
• Planet Earth: The Future: 150-minute companion series (included on standard-definition DVD release only)