Kabbalah: Twilight of Consciousness
Mastering Astral Projection Techniques
---
"Twilight of Consciousness," by publisher and author Robert E. Zucker, examines the dream state and how to achieve astral projection using simple, easy to follow, techniques.
---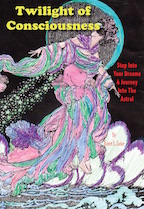 As we dream, we all experience an Astral Projection– we're just not aware of it.
The ability to change an ordinary dream into a conscious experience is what distinguishes the typical dream from an Astral Projection.
This is the first step into the Astral World when the sights and sounds of your dream seem more than just uncontrollable situations. The dream state, which started as a flow of elusive imagery and sensations form into a lucid, almost life-like environment. Consciousness enters the dream.
Awareness during the dream enables the dreamer to separate from the hassles and conflicts of the dream and gain some control over the surroundings.
The longer you can retain your alertness during your dream, the more control you gain over your experience.
Then, you can continue to interact with the dream environment or disperse those illusionary remnants and ascend to higher levels of consciousness.
Learn several astral projection technques in the upcoming chapters.
Purchase: on Amazon.com
---
---
Kabbalah Manuscripts
Robert Zucker has also published a book on the legends, history, and techniques of the Kabbalah called "Kabbalah's Secret Circles." The book includes instructions to create a Kabbalah Wheel to spin the 231 Holy Gates.
Purchase "Kabbalah's Secret Circles" by PayPal/Credit Card and get personalized autographed copy from the author.
Now Available on Amazon.com and internationally
---
---
© 2019-2021 Copyright by Robert Zucker. Entertainment Magazine.EMOL.org. No part may be copied, reproduced, republished or digitally stored without permission from author.