Our Journey to America
The story of the Vasilé Hair Salon in Tucson
By Stan Vasilé
In the 1980s, after winning a lot of hairstyling awards and working for a lot of celebrities in Europe, I was feeling that was on top of the world. But, after many Americans came to visit Europe and saw how good I work and may my two beautiful children, they suggested, it's better the move to the USA for your kids future and education.
And that was it. They pressed my buttons and my mind was already in the USA.
Photo of (from left) Lydia, Maria and Stan Vasile.
It's everyone's dream to go to the USA – the most beautiful and powerful country in the world. This is the only country that spends a lot of time and money for global warming and peace.
After one year, in February 1981, my wife Lydia and I arrived in Tucson, Arizona with our two children, Maria and Chip. From the airport Tucson looked like a farm town – so flat. We went to the apartment and found out its a beautiful town. It was so hot when woke up the next morning, because European weather is very cold. For us, it was like summer.
The next day at 9 in the morning, we went swimming since it was so hot for us. We were jumping and laughing in making a lot of noise – the neighbors came out and thought we were crazy.
We learned English very quickly, especially in Spanish since it is close to Italian. We met a lot of friends in the apartment complex where another year hairdresser lived. He decided to help Lydia and me get our cosmetology license. Because we did at a lot of celebrity hairstyling already, they gave Lydia and be a test and we got our license.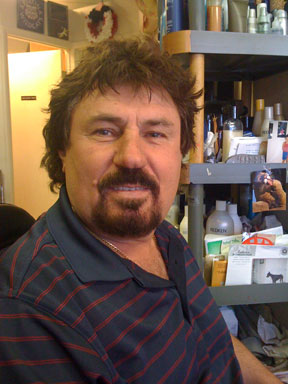 Photo: Stan Vasile
After a few weeks, we decided to trim the children's hair. The apartment manager asked them, "Who cut your hair so beautiful?" They said Mom and Dad who are professional hairdressers from Europe. After twenty minutes, the managers, Jack and Janet, came to my apartment with their three children. They said, "I've never seen such beautiful hair."
After another half-hour, there were five to six people at our apartment door. "I heard you are very good hairdressers." But, I told them – I am not allowed to cut hair in my apartment, so I asked the management. They put up a poster in the laundry room to promote the best European hairdressers in apartment No. 124.
I had a blue parrot back then who used to stay on my shoulder. All of the kids would come to watch the parrot play on my ear while they got their hair cut.
After I got my license, a lot of salons were looking for someone like me. I got a job right away to work for Hair Casa Salon. Eventually, customers would say, "you should open your own salon."
Someone came in from a store in Park Mall and they talked me into moving to their salon at the Broadway store. I built up a lot of customers. Many customers who came from Los Angeles suggested that we move to California. After a move to the top beauty salon in Tucson, I decided to go Los Angeles.
I first went to José Ebear, but he didn't like my hat, a signature of mine. Then I went to Santa Monica Boulevard and got a better job working for Humberto. There was an earthquake in 1989 and we decided to move back to Tucson. And, I opened the Vasilé Hair Salon.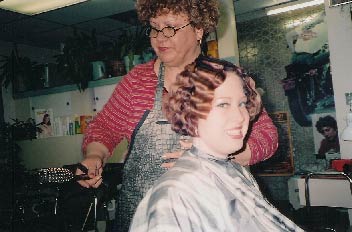 Photo: Lydia Vasile with a customer.
We won lots of awards – the award winning hair salon artist of the Southwest US. We build up a lot of distinguished customers and raised our children in Tucson. We discovered my daughter, Maria, was very intelligent. When she finished in high school, her counselor Sahuaro high school called her into her office, and said, "Your grades are 4.1. Do you want to go to Harvard or Virginia Military Institute?"
Maria was thinking that she wants to be like her Dad, so she decided to go to VMI – making history as one of the first woman to attend VMI. I'm proud of her that she could serve our country. She then became an intelligent scientist in chemistry.
We love the USA and will be ready any time to help our country. Also, one of the best pleasures of our lives was that our son, Nicholas, was born in the US.
Read more about the Vasile's Journey to America.