HAIR AWARE
Vasile European Hair Salon provides customers
with useful knowledge as well as great haircuts
By Erin Stobie
Arizona Gourmet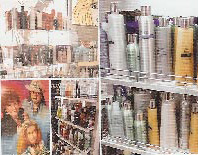 Baby-fine hair may be one of the biggest beauty challenges today, but Stan Vasile—who prefers the title, "Master of fluffy, fancy, fine hair"— claims a magic touch that can transform ho-hum hair.
"[My wife and I] met so manyintelligent, wealthy people who were suffering with their fine hair," he says,"but we have this gift from God to know how to manipulate, massage, style, and frame the face to keep the fluffy look."
There are, undoubtedly, many out there who would rejoice to know that their hair doesn't have to be kaput all daylong. If you are such a person, Vasile can give your hair the vitality and pizzazz you want.
Vasile's "gift from God" is,he says, at the root of his business' success.The combination of his technique, his products, and his European touch transforms baby-fine hair at its worst into a glamorous, sophisticated hairstyle.
"It's not like a regular haircut," explains Vasile. "First, you frame the face and then you do the detail very gently— not to lose the length, because if you lose the length, you don't see the hair anymore. So it's a very, very careful haircut."
Vasile cites the Graham Webb brand as the perfect products for babyfine hair. You won't find Graham Webb just anywhere, though—the company only sells to the top hair salons.
"You have to know how to use it," says Vasile of the product. "They give a lot of moisture and volume, and it's not heavy. Graham Webb products are very scientifically made for people who want to have volume and more body."
Also assisting in Vasile's approach is a computer that regulates the perm process, giving baby-fine hair the body it lacks. "We have a special computer to give you the right wave, "he explains. "It keeps hair healthy—not dry and not fried."
Even such a common ailment as stress can cause hair to lose some of its softness, movement and lift, according to Vasile. At his salon, massage is incorporated into the hairstyling process to reduce stress.
If you come to see the master of baby-fine hair at work, you may notice him using a copper contraption to massage the guest's head. The device looks like a large copper wire spider and causes a relaxing, cool, tingly sensation all over the head.According to Vasile, it will take away migraines, reduce stress and leave the person feeling much more relaxed.
The Vasiles' daughter Maria, a student at the Virginia Military Institute, discovered this stress-reliever. She noticed that her roommate was never tired even though they both had rigorous schedules and,after trying it herself, Maria was fresh for military school the following day.
"Three weeks later, she called me and she said, 'My hair looks so healthy and has so much body with this copper spider massage,' " notes Vasile.
Aside from decreasing the stress that can negatively impact a hairstyle, several other elements are vital for healthy, beautiful hair, one of which is color. Since highlights create the new look that people are going for, Vasile will match hair color with the person's skin color and eye color.
"It's not like it used to be,like red and black,"Vasile comments. "Now, all the celebrities go with brown and light brown and highlights. It's not brassy red or green-brown or blue-black."
Vasile has brought European finesse and charm to Tucson in a unique way. He testifies that people from large cities like L.A.and Chicago come in to have their hair done and ask him how he is able to stay in business in a place like Tucson.
But Tucson is growing, and newcomers are often delighted to run across Vasile's European influence— especially as many of them were used to going to this type of hair salon in the larger cities where they are from.
"People who come from big cities,they had a lot of European hairdressers there—the top percentage go to the big cities." As the third generation of hair stylists in his family, Vasile maintains a tradition of not only sophisticated haircuts but also making the process fun. He is known to dance and flip his tools at the European hair shows where he judges and performs.
"Every year, we go to hair shows in Italy,"he says. "I'm the judge, and we do a lot of demos.When I do a hair show, I dance, I fling my scissors, I fling my mousse—I do a lot of jokes so everybody enjoys it. I dance salsa."
Vasile knew even when he was growing up in Italy that he wanted to continue in his family's chosen career. "My family and all my friends, they were hairdressers," he explains. "It was easy for me to do this job because I learned early—by the time I grew up, it was very easy for me."
His grandfather was a great inspiration to him and, amazingly, was still styling hair at the age of 95.
"His hands were shaking, but he knew how to follow the fingers and didn't have to look," Vasile reminisces. "People still liked his haircuts."
His grandfather's old barber chair— a piece of Vasile's childhood experience—can still be seen in the salon. "I keep that in our family," he says. Given the enthusiasm that perhaps runs in his blood and a role model like his grandfather, it wouldn't be surprising to find Vasile himself still styling hair at age 95... and loving every moment of it.
Reprinted by permission.