Vasile returns from Europe
with new styles
---
Stan Vasile recently returned from his European training this summer and has new styles ideas to share. He went to Europe to study new training techniques. During his stay, he met with one of the best known stylists in Europe, Ilie Costel (above), who is well educated in hair products. Stan and Ilie used to do fashion model hair styles several years ago and they also taught Sasoon style.
Stan (right) and Ilie Costo (left) with one of Ilie's customers in Italy.
Aimee from Scottsdale, Arizona (above) goes more than 150 miles to Tucson for Stan's styling touch. From flat hair, he gave highlights like Renee Zellweger. Even after three months, she still receives compliments.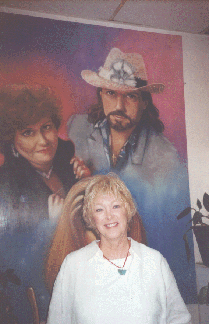 (Left) The "Sharon Stone" look with image and volume. FIat, fine hair with highlights by STan Vasile.
---
---
European Style by Vasile
6923 E. Broadway, Tucson, Arizona 85710
Appointments: 520/298-HAIR (4247)
---
©1998-2006 Vasile/EMOL.org. All rights reserved.