Entertainment Magazine: Virtual Mall: Flowers Online Delivery
Martha Stewart Living Omnimedia and 1-800-FLOWERS.COM Launch Their Beautiful New Arrangement
ProgramNamed "Martha Stewart for 1-800-FLOWERS.COM"
The world's leading florist 1-800-FLOWERS.COM(R) (NASDAQ:FLWS) and the media and merchandising company Martha Stewart Living Omnimedia, Inc. (NYSE:MSO) teamed up to create an exclusive new co-branded floral, plant and gift basket program, Martha Stewart for 1-800-FLOWERS.COM, which will launch in Spring 2008.
MSLO's existing flower business, marthastewartflowers.com, is currently expected to continue providing consumers flowers direct from growers' farms through the Valentine's selling period.
MSLO's lifestyle experts led by Martha Stewart will create new floral and plant gifts, and sumptuous gift baskets to be available exclusively at 1-800-FLOWERS.COM. MSLO will also design the product packaging and the look and feel for the Martha Stewart-branded boutique on 1-800-FLOWERS.COM that will launch Spring 2008. Martha Stewart for 1-800-FLOWERS.COM will offer same-day and any-day delivery.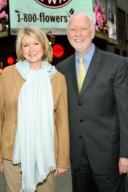 The new program leverages the best of both brands -- Martha Stewart's unparalleled design talent with 1-800-FLOWERS.COM's long history of helping people express and connect to the important people in their lives.
"The addition of Martha Stewart for 1-800-FLOWERS.COM to our family of brands will truly marry our commitment to offering our customers beautiful and distinctive gifts while also taking advantage of our more than 30 years of floral expertise. We remain committed to continually growing the category and partnering with key local florists across the country," explains Jim McCann, CEO and Founder of 1-800-FLOWERS.COM.
Martha Stewart has been arranging flowers since her childhood, winning her first blue ribbon for flower arranging at the tender age of ten. Simple or sophisticated, her designs showcase flowers in all their exquisite glory. Martha Stewart and MSLO have been building expertise in the flower business since introducing their direct-to-consumer flower portal in 1999.
Martha Stewart, MSLO Founder, stated: "I have been cultivating flowers and creating beautiful arrangements all my life. Fresh flowers and gift baskets enhance the beauty of any home and make every occasion special. I am delighted that we will collaborate with 1-800-FLOWERS.COM next year to provide consumers with memorable floral gifts, plants and gift baskets that will be greatly appreciated by every recipient."
"1-800-FLOWERS.COM is thrilled to join forces with Martha Stewart Living Omnimedia, Inc. for its pioneering spirit and innovation in the world of flowers," said Monica Woo, President of 1-800-FLOWERS.COM's Consumer Floral Brand. "1-800-FLOWERS.COM offers stylish, fresh, and heartfelt gifts that help our customers connect thoughtfully and tastefully. Martha's creative vision and artistic sensibility will make her designs a beautiful addition to our brand and will surely excite and delight consumers."
"For nearly two decades, consumers have turned to our magazines, books, websites, and television shows -- for inspiration on how to create the most beautiful, tasteful flower arrangements. Working with 1-800-FLOWERS.COM, an industry leader, will give us the perfect platform to develop an expanded floral gift business next spring," Robin Marino, President of MSLO's Merchandising business, said.
About 1-800-FLOWERS.COM (R)
For more than 30 years, 1-800-FLOWERS.COM Inc. -- "Your Florist of Choice(R)" -- has been providing customers around the world with the freshest flowers and finest selection of plants, gift baskets, gourmet foods, confections and plush stuffed animals perfect for every occasion.
The 1-800-FLOWERS.COM collection of brands also includes home decor and children's gifts from Plow & Hearth(R) (1-800-627-1712 or www.plowandhearth.com), Problem Solvers(R) (www.problemsolvers.com), Wind & Weather(R) (www.windandweather.com), Madison Place(R) (www.madisonplace.com), HearthSong(R) (www.hearthsong.com) and Magic Cabin(R) (www.magiccabin.com); gourmet gifts including popcorn and specialty treats from The Popcorn Factory (R) (1-800-541-2676 or www.thepopcornfactory.com); exceptional cookies and baked gifts from Cheryl&Co.(R) (1-800-443-8124 or www.cherylandco.com); premium chocolates and confections from Fannie May Confections Brands(R) (www.fanniemay.com and www.harrylondon.com); gourmet foods from GreatFood.com(R) (www.greatfood.com); wine gifts from Ambrosia.com (www.ambrosia.com); gift baskets from 1-800-BASKETS.COM(R) (www.1800baskets.com) and the BloomNet(R) international floral wire service, which provides quality products and diverse services to a select network of florists. 1-800-FLOWERS.COM, Inc. stock is traded on the NASDAQ market under ticker symbol FLWS.
About Martha Stewart Living Omnimedia, Inc.
Martha Stewart Living Omnimedia, Inc. (NYSE:MSO) is a diversified media and merchandising company, inspiring and engaging consumers with unique content and distinctive products. The Publishing segment encompasses five magazines, including the company's flagship publication, Martha Stewart Living, periodic special issues and books.
The marthastewart.com website provides consumers with instant access to MSLO's multimedia library, search and find capabilities, and more. The Broadcasting division produces the Emmy- winning daily, national syndicated program, "The Martha Stewart Show" and Martha Stewart Living Radio, channel 112 on SIRIUS Satellite Radio.
In addition to its media properties, MSLO offers beautiful, practical and superior quality Martha Stewart products through licensing agreements with carefully selected companies.
Source: 1-800-FLOWERS.COM(R)
CARLE PLACE, N.Y. and NEW YORK, Sept. 20, 2007 /PRNewswire-FirstCall/ --