Bratz Dolls, Games and Toys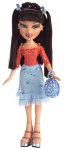 If you have been trying to search for Bratz, find your favorite Bratz doll or other products through our affiliate links for the best competative prices.
We can offer the most popular Bratz merchandise. When you select a link, you can further browse for more selections.
This Bratz section of Virtual Mall has become so popular, we have expanded more products. So, if you've bought through here before, you'll find more great Bratz collectibles.
Bratz Games

The popular dolls with a "passion for fashion" are here in their very own, totally hot dress-up 'n' dance game for the PC. Just pick your favorite Bratz girl and get ready to go. This game also comes with an exclusive pair of boots--colors vary.

Bratz Music

Blending music and super-cool fashion, the Bratz Electric Funk Stylin' CD Player is especially made for Bratz fans. The pearlized finish is studded with rhinestones, and the unit features an LCD display, programmable memory, Mega Bass Boost and 1 set of behind-the-ear headphones. Three headphone jacks allow listeners to share the music and the fun. Imported.

The purple and pink Bratz Beauty Boom Box is accented with rhinestone details on its CD player, and has exciting, unexpected features. Highlighting a CD player/AM-FM tuner, Mega Bass Boost, a 45-second anti-skip feature and 2 headphone jacks, the CD player flips to reveal a vanity mirror that lights up. Ideal for a girl's room, this fun and funky music machine is portable, too. Imported. 11Hx13Lx7-1/2D"

Bratz Dolls

Bratz Exclusive Collector's Edition Doll - Tokyo A Go Go - May Lin

Bratz Slumber Party Sleeping Bag

Our recommended age: 6 - 9 years


Box Size (in inches):
16.3 x 12.4 x 10.6

Zoothbrush Manual Toothbrush, Lil' Bratz

Lil' Bratz Toothbrush is a 3-D sculpted toothbrush featuring the popular Lil' Bratz girls in full design. Colors and styles may vary. 1 Count