Entertainment Magazine: Collectibles: Toys: Disney Shopping Online: Alice in Wonderland movie
Alice in Wonderland dazzles in 3-D
Tim Burton's March 2010 release of "Alice in Wonderland" in 3D returns to the whimsical world that Alice first encountered as a young girl. The film reunites her with childhood friends: the White Rabbit, Tweedledee and Tweedledum, the Dormouse, the Caterpillar, the Cheshire Cat, and of course, the Mad Hatter.
All of Underland has been awaiting Alice's return since she first visited as a child, but when she does come back, nobody—including Alice—believes she's the right Alice, the confident and feisty Alice they once knew. Eventually, the wise caterpillar tells her she's Almost Alice.
Alice at the Disney Store

The Disney Store is the official online superstore for all Alice in Wonderland and Disney products. See some of the most popular Alice in Wonderland products:

Alice in Wonderland DVDs and Music:

Alice in Wonderland: Special Un-Anniversary Edition 2-Disc DVD
Pre-Order Tim Burton's Alice in Wonderland Soundtrack CD

Alice in Wonderland Video Games

Alice in Wonderland Accessories

Alice in Wonderland Film Index

Photo above: "ALICE IN WONDERLAND" Film Frame Mia Wasikowska © Disney Enterprises, Inc. All Rights Reserved.
---
ALICE IN WONDERLAND" Film Frame of Johnny Depp. ©Disney Enterprises, Inc. All Rights Reserved.
"Alice in Wonderland" has sparked two music CDs, including the motion-picture soundtrack, featuring an extraordinary score by composer Danny Elfman, and "Almost Alice," a 16-song companion compilation featuring the film's end credit track "Alice," written and performed by Avril Lavigne, plus songs from artists who were inspired by the film, including All American Rejects, 3OH!3, The Cure's Robert Smith, Franz Ferdinand and Shinedown.
Watch the movie trailer, read movie production notes of the new 3D "Alice in Wonderland."
Alice in Wonderland" was originally produced in 1903 and remade in 1950 and 1951. Watch and download for free the original 1903 version of "Alice in Wonderland."
In this Alice In Wonderland: Special Un-Anniversary Edition, which includes never-before-seen bonus features, celebrate a very merry un-anniversary in the whimsical, fun-filled world of Walt Disney's masterwork of animation, music and fantasy.
Reflections on Alice: In this featurette, learn about how an exceptional group of talented individuals conquered the difficulties of translating Lewis Carroll's beloved tale into a classic animated movie. Deleted scene: Pig And Pepper.
In the twenty years it was in development at the Walt Disney Studios, Alice In Wonderland went through many changes. This rare glimpse at a scene that was once considered for a 1939 version of Alice In Wonderland is narrated by the directors of The Princess And The Frog, and offers their informed perspective on how scenes come and go during the development of an animated movie. Plus bonus features from the 2004 release. Running Time: 75 minutes. US and Canada only. Available since March 30, 2010.
The DisneyStore has all favorite Disney brand toys, electronics, DVDs, collectibles, and apparel. Disney characters such as Mickey & Friends, Princesses, Toy Story and Fairies have become a regular part of modern culture. From Mickey Mouse to Buzz Lightyear, all the great gear with your favorite Disney characters are at the DisneyStore.com character shop.
As an affiliate for the Disney Store.com, Entertainment Magazine links to select Disney Store online promotions, promo codes and other specials for Disney merchandise. Visit the DisneyStore.com web site.
---
© 2005-2012 EMOL.org Entertainment Magazine. All rights reserved.

Alice in Wonderland Costumes
See the amazing costumes from Tim Burton's 2010 hit movie, Alice in Wonderland Costumes from the hit 3D movie "Alice in Wonderland." The Deluxe Alice Adult Costume pictured here includes the dress with petticoat and glovettes. The costume does not include shoes. This is an officially licensed Disney product from Tim Burton's Alice in Wonderland. See all Alice in Wonderland Costumes
.
Alice in the Wonderland DVDs

Alice in Wonderland Games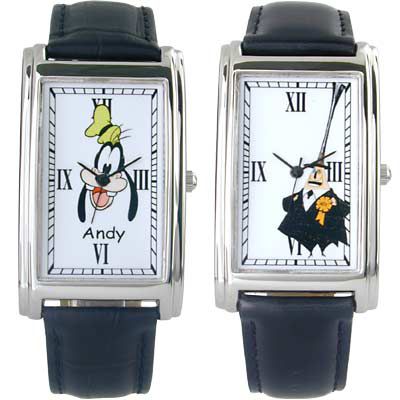 Create-Your-Own Alice in Wonderland
Large Watch for Adults
| Teen Watch