Entertainment Magazine: Hanukkah: Kosher: Gift Baskets: Hannukah
Hanukkah Gift Baskets for any holiday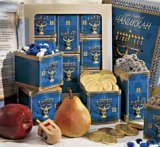 Gift baskets are a popular way to bundle unique selections of Jewish and Hanukkah related products that can be enjoyed by children or adults.
The 2012-2013 holiday season has been long projected to be a weak shopping period because of the economy. Many retailers have lowered their prices to help spur more sales and move inventory before the end of the year.
Certified Kosher gift baskets
Look for gift baskets that are certified as Kosher. This certification assures that the products are truely under approved Kosher supervision to eat. Gourmet gift baskets produced by the popular Kosherline.com are certified Kosher.
Many of these Kosher gift baskets can be mailed internationally. Check to see if there are any postal restriction in the UK or Canada.
Kosherline.com giftbaskets can be mailed anywhere in the U.S. South Africa, the United Kingdom and Israel. Kosherline has a full selection of Kosher gift baskets and gourmet gift baskets for all occasions and special events. Brosw the inventory of Kosher Gift Baskets from Kosherline
Send this delectable Kosher-certified Hanukkah gift basket filled with variety of gourmet goodies including "Happy Hanukkah" Candy Sticks, Hanukkah Fruit Slices, Winter Spice Gourmet Coffee, Hazelnut Cream Filled Wafers imported From Israel, & more!
• Send warm greetings this Hanukkah with this totally kosher gourmet gift basket
• Features a nice assortment of kosher chocolate, coffee, cookies, crackers, snacks and more including a bag of chocolate Hanukkah coins
• They'll enjoy these delicious kosher foods for days
• Dim: 16"L x 12"W x 10"H
• Only $9.99 for UPS Ground Shipping!
Ingredients Includes: Thompson Hanukkah Coins, Ghirardelli Milk Chocolate Caramel Premium Square, de Geneve Vanilla Peanut Butter Snowflakes, Asher's Dark Chocolate Smothered Pretzel, Brent & Sam's White Chocolate Macadamia Cookies, Buckley's Orange Walnut Thimble Cookies, Bellagio French Vanilla Gourmet Cocoa, Fairwind's Winter Spice Gourmet Coffee, Portlock Smoked Salmon, Elsa's Story Garlic Crisp Baked Crackers, Madhouse Munchies All American Sea Salted Chips & MORE! All products are KOSHER.
---
---
© 2005-2012 EMOL.org Entertainment Magazine