Entertainment Magazine: Kabbalah String Bracelets
How to Make Your Own Kabbalah Red String Bracelet
By Robert Zucker, publisher
There are a few traditional steps that are followed when assembling your own Kabbalah string bracelet. Instructions on making the bracelet can be made more personal by adding your own ideas, colors, patterns and materials.
These are the steps to consider when making your own personal Kabbalah bracelet:
It's more personal, and cheaper, to make your own red string Kabbalah bracelets yourself instead of buying a more expensive one. The power of the string depends on your own energy. The medium used (red string, blue string, etc.) is influenced by your own internal powers.
While posessing a Kabbalah (also spelled as Kabalah, Qabalah or Cabala, among other spellings), string bracelet, the owner will be able to channel those energies- whether for protection, good or evil. Learn more about the practices of Kabbalah.
Some people may want a hand made bracelet instead of creating their own. See a wide selection of recommended Kabbalah Red String Kits, bindles and accessories from Amazon com.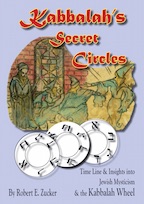 Learn more about the principles of the Kabbalah, and how to construct your own Kabbalah Wheel. Download a free PDF sample from the book "Kabbalah's Secret Circles," by Robert Zucker.
Interested in astral projection books? Read about techniques and dreaming from the book "Twightligh of Consciousness."
---
KABBALAH BRACELETS FROM AMAZON


---
Kabbalah Bracelet Index
Learn more information about the process to bring vitality and maintain a Kabbalah red string bracelet.These are some more techniques to utilize once your red string bracelet is created.
To hand-make your own (DIY: do it yourself) basic, authentic Kabbalah bracelet, almost any red string, chord or yarn will do. Some people prefer a pre-made bracelet, or a kit to assemble one.
Most thick, yarn-like, strings or fabric will work for a Kabbalah bracelet, some people prefer material from Israel to help empower their jewelry. Strings obtained from deeply religious sources such as Rachel's tomb, or blessed in other ways, can have more significance. Learn more about Kabbalah red string kits.
The process of acquiring the string is part of the ritual to generate its "power." The mental energy you infuse into the bracelet will be contained and stored. The Kabbalah string absorbs the wearer's sins and crumbles and falls off when it's absorbed too much negative energy. The key to make the Kabbalah work– using your Kabalah bracelet is to transfer part of your own energy to the red string. For more information on the meaning of the red string and how to energize your bracelet see the page on energizing a Kabbalah bracelet.
The ancient study of Kabbalah (spelled several ways: Qabalah, Kabalah, Kaballah, Cabalah, etc.) is the mystical Jewish-rooted theory and practice of the Universe and its creative powers. Knowledge of the secrets of the Kabbalah is the key to understanding the one's own inner power. Find out more about wearing a Kabbalah string bracelet.
How to turn your red string into a Qabalistic bracelet
A red string bracelet can be as simple as a red yarn strand, or as elaborate as a decorated red string bracelet adorned with jewelry. By personalizing string bracelets with decorations, symbols and jewelry, the Kabbalah bracelet energy become more focused.
The string is cut it into a length long enough to wrap around the wrist with a small tie at the end. The string is usually worn on the left wrist. The left hand is considered by Kabbalah to be the receiving side for the body and soul.
Woven string bracelets, also known as bendel bracelets, can be made into elaborate pieces of jewelry. You can adorn them with silver, gold pieces, rare stones, Star of David or any little that helps you draw power.
Make sure the string is tied or secured tightly around your wrist so it does not fall off. If it becomes loose and hits the ground, you should re-energize it with prayer or with positive thoughts.
---
---
How to use a red string bracelet kit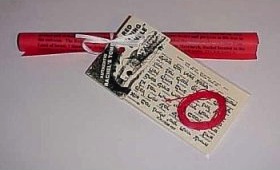 Kabbalah red string kits are sold online to help create your own personal red string bracelet with some additional energy tossed in.
The advantage is that the products are more superior in quality and often have special incentives- such a meditations, history scrolls and are often blessed or made in Israel. Some red strings are reportedly from Rachel's tomb. See a selection from Amazon of red strings using yarn woven from the tomb of Rachel.
The Red String kits lets you make numerous strings or 'bendels' as they are called in Hebrew. Add a dangling stone (sapphire, ruby, etc.) or tie a Jewish Mogen David Star or cross to the bendel. See a selection of Kabbalah Red String Kits.
Jazz up your own creative design or change the color to blue string
A personally designed bracelet enhances the jewelry's energy or power.
If you have a favorite or meaningful small object, attached it to the bracelet. Even string a silver or gold ring through the yarn. If the ring has an inscription engraved on it, will have more meaning to the wearer.
Individualize your bracelet with zodiac, or Kabbalah symbols. Add beads, woven strings.
The color red is often preferred, but some find other colors will draw different energies. A blue, purple or bright yellow bracelet will feel different because of its color values and its absorption affect on the body. Read more about using different string colors.
---
---
Where to buy Kabbalah Red String Kits
One of the best places to purchase quality Kabbalah string bracelets and red string bindles, is on Amazon.com. This is from a selection of the best bracelets, kits and books.
Lucky String Kabbalah Bangle Bracelet Kit
This bracelet kit contains five handmade Red String Bracelets for Success and Good Luck. "One Bracelet Fits All" with an adjustable size design to make five handmade Red String Kabbalah Bracelets. Add jewelry or other items to the bracelet to personalize it for the wearer.
Red String Original Kabbalah Bracelet Kit From Rachel's Tomb in Israel
This is an Original Red String Kabbalah Bracelet From Rachel's Tomb in Israel. The package includes string from Rachel's Tomb in Israel with enough string to make approximately 6-7 average size bracelets. Inside package are wearing instructions and the Ben Porat Yosef prayer. Sealed package directly from Kabbalah Center and sold by Most Original Gifts & Jewelry.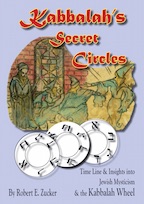 Learn more about the principles of the Kabbalah, and how to construct your own Kabbalah Wheel. Download a free PDF sample from the book "Kabbalah's Secret Circles," by Robert Zucker.
---
---
© 2010-2017. QBL Entertainment Magazine / EMOL.org. All rights reserved by Robert E. Zucker.