Magnetic therapy is based on the theory that magnetic fields can change actions in the body is supported by many who have used magnets as a way to relieve pain, historical use in Eastern medicine and scientific research.
Studies have demonstrated that magnets may be an effective therapy for the relief of pain. Additionally, it is believed that magnetic fields applied to an injured area improve blood flow and oxygen exchange to enhance the body's natural healing process.
The health device industry has created dozens of products that incorporate magnetic therapy using magnets in a variety of healing ways.
Neck magnet massagers and magnetic bracelets provice relief to specific spots. There are arm, back and knee wraps with embedded magnets that don't get lost like the Bandages.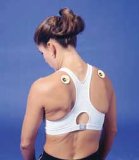 Japanese people use magnet therapy to heal aching shoulders. They prefer the tiny elekiban (erekiban, erikiban) magnets adhered to round, Band-aid-like patches. More on Magnetic Therapy.
Scientific experimental studies have concludes that "An externally applied, low-power, static magnetic field increases the rate of secondary healing. Review of the literature reveals conflicting evidence regarding the use of magnetic energy to aid the healing of bone, tendon, and skin," according to a report on "The Effect of Magnetic Fields on Wound Healing Experimental Study and Review of the Literature," by Steven L Henry, MD, Matthew J Concannon, MD, and Gloria J Yee, MD and published at the US National Library of Medicine, National Institutes of Health.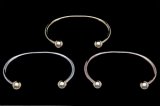 One of a kind, with a solid copper band and position two natural magnets at the ends, it perfect for opening up your energy highways. 1800 gauss. 2 magnets, Regular Strength. See more Amazon Magnetic Bracelets.
Magnetic Arm/Ankle Wrap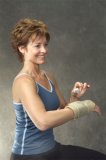 Ankle wrap, great for your ankle and heel, combine this with an insole and you are ready to go! 2450 gauss. 8 magnets embedded in piece and 3 mini block 3950 gauss) for extra healing. See more Amazon Magnetic Wraps
.
Books on Magnetic Healing
Learn more about using magnets to help relieve pain by reading books available about the practice. Study charts to find out where you need to place the magnets for the best results.