Robert Zucker, EM Publisher
Robert Zucker has been publishing and editing newspapers, web sites and manuscripts for decades.
Launched in 1978, The Youth Awareness Press, was the first local publication created for young people in the Tucson, Arizona community. When Internet publishing was the new frontier, Robert pioneered the Entertainment Magazine On Line web site at EMOL.org in January 1995, well before many other newspapers and businesses were online.
---
Entertainment Magazine
Publisher
---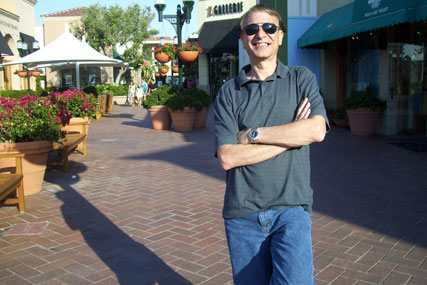 The YAP teen newspaper evolved into the Tucson Teen in the early 1980s and then into the Entertainment Magazine in the mid-1980s.
"My life long experience from junior high school editor to newspaper publisher has made it possible to now enjoy the best of both worlds- publishing without paper."
Before started in newspaper publishing in 1977, Zucker joined the staff of the Mountain Newsreal, one of the first alternative newspapers in Arizona. When Jonathan L decided to close the publication in 1985, he allowed content from Newsreal to be featured in Newsreal Classics.
Robert Zucker has spent nearly 15 years teaching journalism and newspaper publishing courses at the University of Arizona School of Journalism and five years at Pima Community College as the advisor of the student newspaper and instructor at The Aztec Press. Zucker received the PCC Adjunct Faculty Achievement Award in 2001.
Being on the Internet-cusp in the early 1990s, Robert Zucker launched and managed both journalism departments web sites. Zucker was a freelance reporter for the Tucson Citizen's Tucson Business Edge and consultant for other publishers and companies in Tucson and Phoenix, Arizona.
In January 1995

, Entertainment Magazine morphed into Entertainment Magazine On Line (EMOL.org). EMOL.org was one of the first newspapers in Arizona to go online.
Now, over 15,000 visitors a day from around the world visit the EMOL.org web site to read about entertainment news, interviews and features, and to watch and download free movies. Every day, hundreds of national and international music, arts and events are posted.
The Tucson Teen newspaper continues online as Teen On Line. Read more about the beginnings of youth media in Tucson in the 1970's and 1980s.
In 2006, BZB Publishing, Inc. was formed to manage Zucker's media properties in print and online. The web properties include:
Bob Zucker Author
Visit Robert E. Zucker's author's page on Amazon.com. These are some of the books published by Robert:
When not busy publishing, Bob Zucker enjoys sushi, enka, Qabalah, hiking, poetry, reading, Arizona history and swimming.
Robert Zucker is developing several manuscripts to be published as ebooks and in print. The working titles include "Arizona Gold Rush," "Traveling Show," "Twilight of Dreams," and "Hugget's Western Photos."
If your name is Bob Zucker (Robert Zucker, Rob Zucker), you're already a member! Join in the Bob Zucker Club!
---
---
© 1995-2016 EMOL.org Entertainment Magazine. All rights reserved.