ARIZONA STATE PARKS
About Kartchner Caverns State Park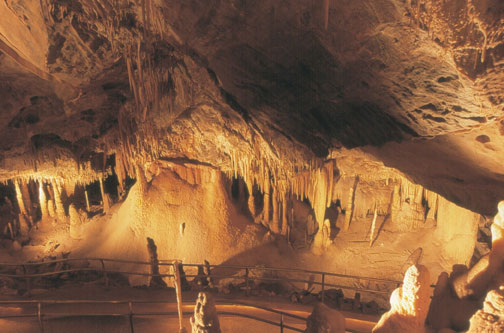 (Photo left: Big Room at Kartchner Caverns State Park. Courtesy of Arizona State Parks)
Managing and conserving Arizona's natural, cultural and recreational resources for the benefit of the people, both in our Parks and through our Partnerships.
Kartchner Caverns State Park™ FACT SHEET (FAQ)
Big Room Unique formations:
Flowstone consisting of calcium carbonate, gypsum and other mineral matter accumulated on the floors and walls of the cave where water flows over the rock and forms a huge tower.
Turnip shields. Look like turnips hanging from the ceiling. The ones in the Big room were first-ever discovery of this type of speleothem.
Large fried egg stalagmite.
Brushite moonmilk – The world's most extensive formation of brushite moonmilk is found in the Big Room. Name comes from the Swiss moonmilch "elf's milk." It is a common cave mineral, this flowing, moonmilk-form of it is unusual. It is usually found as a calcite. This pasty cave mineral is caused by a reaction between the bat guano and the underlying limestone.
General Info about Kartchner Caverns:
Park Visitation since November 1999 to January 2007 approximately 1,500,000
Approximately $22 million generated to date:
Cost to develop entire park, buildings, infrastructure and cave trail $34.2 M
Monies used for this park: Mostly Park user fees,
Heritage Fund $5,700,000
Enhancement Fund $22.400,000
General Fund $3.500,00
ADOT $2,400,000
Park Location: 8 miles south of Benson, Cochise County,
Federal Recreational Trails 400,000
Entrance elevation: 4,665 ft. above msl.
Caverns mapped Length: 2.40 miles.
Highest Point: 43 feet above entrance. Lowest Point: 76 feet below entrance.
Total vertical extent: 119 feet.
Depth below ground surface varies from approximately 10 feet to approximately 260 feet.
Mapped by: Randy Tufts, Gary Tenen, Orion and Jan Knox, and Kartchner Family, supplemented by pre-development mapping by Arizona Conservation Projects, Inc.
In general, the cave is characterized by large rooms. It is largely active with well-developed calcite speleothems. Some areas of the cave flood intermittently.
History of Kartchner Caverns:
Discovered in 1974 by Randy Tufts and Gary Tenen.
Purchased by state in 1988.
Pre-development studies by Arizona Conservation Projects, Inc. ¾ 1989-1991.
Shaft Entrance installed May 1994.
Portal Tunnel construction begins August 1995.
Portal Tunnel breakthrough to cave: Rotunda, October 1996; Throne, December 1996; and Cul De Sac, February/April 1997.
Tarantula Tunnel construction begins July 1995.
Tarantula Tunnel Breakthrough to cave: October 1996.
Rotunda-Throne Room Complex opened for tours ¾ November 1999.
Big Room Complex to open for tours by November 11, 2003.
Geology and Hydrology of Kartchner Caverns:
Kartchner Caverns is developed in the Escabrosa Limestone (Mississippian). The cave developed in a down-dropped block (Kartchner Block) between the Whetstone Mountain and San Pedro Valley. Numerous faults cut block and cave and influence cave development.
Cave developed is mainly along single horizontal level at about 4,625 ft. Identified recharge from infiltration of water from Guindani and Saddle Washes and from direct infiltration from area above cave. No surface discharge. One of the ten most mineralogically interesting caves in the world. (Hill and Forti, 1997; Hill, 1999).
General Cave Formation Timeline (Hill, 1999)
320,000,000 years ago – Deposition of Escabrosa Limestone.
15,000,000 - 5,000,000 year ago – Basin and Range faulting.
200,000 years ago – Dissolution of cave at water-table.
194,000 years ago – Oldest identified speleothem in cave.
120,000 - 70,000 years ago – Major period of speleothem growth.
80,000 years ago – Sloth enters or washes into cave.
50,000 - 40,000 years ago – Cave myotis use of Rotunda and Throne Room.
70,000 - 10,000 years ago – Speleothem growth declines.
10,000 years ago - Present – Increasing aridity, continued decreasing speleothem growth.
Cave Mineralogy:
One of the ten most mineralogically interesting caves in the world (Hill and Forti, 1997; Hill, 1999).
Abundant and diverse cave formations (speleothems) of calcite including stalactites, soda straws, stalagmites (including totems and fried eggs), columns, draperies, shields (including parachute, welt, and turnip), flowstone, popcorn, helectites, and boxwork.
First identification of birdsnest quartz, rectorite and nontronite (types of clay) from a cave.
First modern description of nitrocalcite.
Extensive brushite moonmilk flowstone.
21 foot 2 inch long soda straw in Throne Room is world's second longest soda straw (the longest is in a cave in Mexico).
Cave Meteorology:
Cave Air Temperature: varies throughout the cave between 64°F and 71.7°F (1991-2001) with a mean pre-development temperature for the entire cave of 67.6°F (1989-1991).
Cave temperature higher than mean annual surface temperature of 62.4°F (possibly due to geothermal heating).
Mean relative humidity throughout cave 99.4% (1989-1991).
Average evaporation throughout cave 9.4 mL/m2/day (1989-1991).
Natural cave entrance generally inhales October through May, exhales June through September.
Radon levels average 90 pCi/L and radon daughters average 0.77 WL in main part of cave. Radon varies seasonally (highest in Summer).
CO2 varies seasonally (high in Summer) and has reached about 6000 ppm at times.
Rotunda-Throne Area Facts and Figures: (.5 acres)
Rotunda Room dimensions approximately 230 feet long by 120 feet wide.
Throne Room dimensions approximately 170 feet long by 145 feet wide.
960 feet of tourist trail.
Opened for tours November 1999.
25 Tours per day with up to 20 people on each tour (500 visitors per day).
Each tour has two guides. Lead and tail for safety.
Big Room Area Facts and Figures:
1.7 acres complex
Big Room dimensions approximately 400 feet long by 240 feet wide.
Cul De Sac dimension approximately 160 feet long by 85 feet wide.
Strawberry Room

dimensions approximately 100 feet long by 75 feet wide.
1,220 feet of tourist trail.
7.1 acres for the whole cave
Biology:
Myotis velifer maternity colony in Big Room, approximately 1000 adults, in Big Room from about mid-April through end of September.
38 species of invertebrates have been identified from the cave, including 4 obligate cave dwellers (troglobites), 19 facultative cave dwellers (troglophiles), 1 animal that shelters in the cave but feeds outside (camel cricket) (trogloxene), and 12 animals that occur in the cave only sporadically (accidentals).
The obligate cave dwellers include two species of mite, one terrestrial isopod, and one bristletail.
Up to eight of the cave dwelling invertebrates (including several mites, an isopod, and a bristletail) may be species new to science.
Cave bat (Myotis velifer) guano acts as basal food source for a diverse terrestrial cave community.
Cave community dominated by mites, with a variety of other arachnids, springtails, and other insects present.
Mexican long-tongued bat (Choeronycteris mexicana) and Townsend's Big-eared bat (Corynorhinus townsendi) occur in entrance area transiently.
Paleontology:
A substantially complete Shasta ground sloth (Nothrotheriops shastensis) was recovered from Echo Passage. The bones have been dated to 86,000 ± 5000 years.
Dirt and rubble from an ancient entrance in the Tarantula Room contains animal bone and land snail shells. The entrance was open around 36,000 years ago. Three extinct animals: a horse (Equus sp.), a pronghorn (Stockoceros sp.), and Conkling's roadrunner (Geococcyx californianus conklingi), have been found in the former entrance fill. A variety of animals that are not extinct are also found in the fill; these include frogs, lizards, snakes, birds, and mammals.
Two extinct animals: a javalina (Platygonus sp.) and a rabbit (Aztlanolagus sp.) were found in an area off the Big Room.
A 100 year old coyote (Canis latrans) skeleton was found near the middle of the Big Room.
Bat guano and skeletal material in Rotunda and Throne Rooms dates from 40,000 to 50,000 years old. The material represents ancient roosts of cave bats (Myotis velifer).
Davis (1999) studied pollen and microfossils from speleothems between 194,000 and 76,000 years old. He found modern analogs on Colorado Plateau (about 10°C cooler than modern), but pollen concentrations were too low for strong conclusions.
Archaeology:
The cave has no known archaeological significance.
On-going Monitoring Program:
Since 1991, Arizona State Parks has been monitoring cave microclimate, CO2, radon, and extensometers for ceiling blocks in some areas. We also monitor several wells (water level and quality) and surface weather.
Examine lighted areas and foreign materials for algal and fungal growth and treat with a dilute sodium hypochlorite solution as needed. We are examining other treatment options as well. We also modify lights as necessary to reduce growth.
Currently developing and implementing plans to automate much of the monitoring and increase temporal resolution on the data. We are developing a mix of stand-alone and centrally wired systems to supplement data gathered by rangers.
Use a variety of temperature data loggers including both Thermochron buttons (Dallas Semiconductor) and HOBO dataloggers (Onset Computer Corp.) for long and short term monitoring.
University of Arizona Radiation Control Office is overseeing our Radon Monitoring program.
During construction additional specific monitoring occurs.
Notable Management Issues.
Arizona State Parks is committed to maintaining the cave in as close to a natural state as possible, while providing access for public education.
ASP is concerned with the potential for adverse changes to cave microclimate (as are other parties).
ASP is concerned with potential development near the park that could have an adverse impact on the cave or cave resources.
Maintenance of a healthy bat population is vital to the cave ecosystem.
Developing a long-term cave management plan.
Developing a long-term research plan and program for the cave.
Developing a scientific advisory team with the University of Arizona to evaluate research and research proposals and to assist with management issues.
Published scientific and management papers.
Facilities Overview
Kartchner Caverns State Park is a 550-acre master planned facility with a variety of uses. These include
five miles of trails for hiking a
a handicap accessible loop trail,
63 spaces in the campgrounds,
on-site interpretive programs,
and a 15,000 square foot "Discovery Center.
Also on site are visitor and staff parking, staff dormitories and housing, maintenance facilities, rest rooms and shower buildings for the staff, and a Visitors Contact Station. There is also a bookstore and gift shop, shaded dining area, picnic area, vending area and children's play area as well.
The exhibits featured in the Discovery Center cover cave exploration, types of cave features, the cave tour experience, features of a wet cave, the cave mammals, stewardship, biology of the cave, the formations and special features. In the theatre, a documentary video is played along with other interactive exhibits. The Discovery Center also holds a 167- seat outdoor amphitheatre for specialty interpretive programs.
ADA ACCESSIBLILITY
The tunnel and trails in the Throne and Rotunda Room are paved with a slope that ranges from 6% to 10%, the Big Room Trail slopes at about 10-13%. Crutches and walkers are not allowed in the caverns, however, we have wheelchairs available for the public to use. We also have accommodations for people with hearing and vision difficulties.