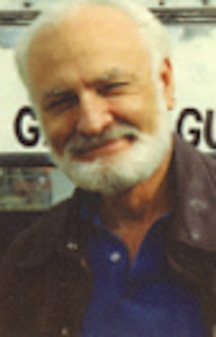 Ronald Quinn passed away on August 30, 2016 in Tucson, Arizona. He was 83.
Ron Quinn has been a prolific writer of treasure hunting and paranormal stories over the past fifty years or more.
This book is a compilation of treasure hunting stories, some published and some unpublished. It has a special focus on Southern Arizona and his favorite town of Arivaca.

Southern Arizona Trails or Southern Arizona Trails International, as it was called for a short time when it included stories in Spanish, is the source for the majority of these stories. Arizona Trails was published in Tubac, Arizona from 1986 to 1991 by George McGill. Ron's stories were greatly enjoyed by the local residents and from time to time sparked controversy.

Several of Ron's stories also appeared in national magazines as well, including: Southern Arizona Trails, Treasure, Treasure Search, Fate and Arizona Highways. Credit is noted where those articles have been published.

In transcribing and editing Ron's stories for this book, especially the stories that appeared in Southern Arizona Trails, many typos, transposed sentences and paragraphs plus some unusual punctuation occurred. For the ease of the reader, and hopefully more pleasurable reading, many have been corrected.
However, the content of the stories has been left intact. These stories are over 50-years-old, so some changes are to be expected. Tumacácori National Monument has been redesignated as Tumacácori National Historical Park. Other similar changes will be noted from time to time throughout the book.

A few editorial notes have been added for clarification or to bring an article up to date. Spanish accents have been used when appropriate.
As an example, Tumacácori is used when referring to the old Spanish mission. However, Tumacacori without the accent is used when referring to the mountain range or mine. Spanish words like vaquero, carreta, and arrastras are italicized as appropriate.

Ron's great sense of humor is reflected in his stories and especially his cartoons.

Treasure hunting with Ron, his brother Chuck, and their good friends and partners, Roy Purdie and Walt Fisher is a fun read as well as a great book for novice or seasoned treasure hunters.

By the way, Ron assigned pseudonyms to himself, partners and some friends to protect their identity in several of the early articles. Their real names have been included in most cases.
Mary Bingham, Editor
Robert E. Zucker, Design