Entertainment Magazine: Tucson: Pest Extermination
Tucson, Arizona Arrest-A-Pest
Termite, Pest & Wood Management
Call 1-888-577-0121 or
520-206-0121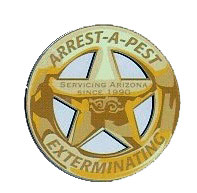 Arrest-A-Pest, a local Tucson, AZ. family owned business, has provided Tucson, Arizona weed control, extermination of termites and other pests since 1990. Warranty termite control, pre-treatments, termite baiting and fumigation services are also available.
The Arrest-A-Pest team, led by owner Jim Gransie, and his son Niccholas, provides all types of exterminaton, control and prevention of insects, weeds, rodents and other annoying pests in the dusty Tucson desert.
Bee and scorpion removal in Tucson is a popular need. Arrest A Pest provides removal and proofing, as well as rodent prevention and bird control.