Entertainment Magazine: Books: America's Little Italy
America's Little Italy's Recipes and traditions from coast to coast
A dream book for any cook
By Lynn Marie
America's Little Italy's is the only book available that covers the Italian American immigration experience, the creation of Italian neighborhoods in the United States and ninety coveted family recipes of favorite dishes and desserts from some of the best Italian restaurants and specialty shops in America.
It's a trip down memory lane for any Italian family. It gives you a glance at some places you probably haven't been to. It's part history part cookbook. It's a wonderful story in words and photographs.
Little Italy New York City
The most famous and perhaps original Little Italy in America is a Shadow of its former self.
Occupying little more than a few blocks of Mulberry Street in lower Manhattan, New York's Little Italy has been nearly absorbed by Chinatown, continuing the tradition of successive waves of immigrants. However reduced, the neighborhood is still what most people think of as "Little Italy" and is often used as the backdrop in movies and television.
New York's Little Italy is home to the famous San Gennaro Festival every September and extends the neighborhood (temporarily) several blocks all the way to Houston Street. New York's other Little Italy is in the Bronx along Arthur Avenue and is home a still active Italian community.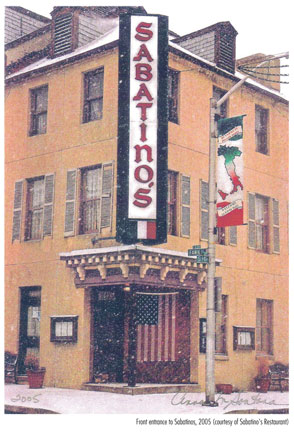 Little Italy in the Bronx is home to several festivals in the summer including the Feast of Saint Anthony in June and the Feast of Mt. Carmel in July 2011.
The book covers many restaurants in one of the most well known "Little Italy's" of America.
Some of my favorite recipes from the book are as follows:
IL CORTILE NEW YORK CITY; Shellfish Stock;
UMBERTO'S CLAM HOUSE, NEW YORK CITY; Umberto's Clam House Linguini and White Clam Sauce;
SABATINO'S RESTAURANT, BALTIMORE, Veal Francese a la Sabatino;
FRANK PEPE PIZZERIA; NEW HAVEN, White Clam Pizza
So begin your Italian adventure today and go out and get your copy of America's Little Italy's and make a special dish for that special someone in your life tonight!
---
From amazon.com:
From Publishers Weekly: Bellman's (America's Great Delis) bittersweet celebration of Italian-American communities in the U.S. charts the roots and endurance of Italian-American traditions. With the starry-eyed enthusiasm of an outsider, Bellman surveys the immigrant experience during distinct waves in the 19th and early 20th centuries; spotlights Italian-Americans in industry, politics, and entertainment; and notes regional differences and the ways they influenced settlement. In chapters devoted to 15 Italian-American enclaves--including Manhattan's Little Italy, Boston's North End, San Francisco's North Beach, and Cleveland's Murray Hill--Bellman profiles family-owned restaurants, cafes, markets, and bakeries that have survived integration with more recent immigrants and urban renewal. Bellman provides archival photographs of streets, storefronts, company logos, advertisements, postcards, and menus. Anchoring Bellman's identification of the Italian-American experience with food are signature recipes from such famed establishments as Umberto's Clam House in New York (lobster fra diavolo), Caffé Vittoria in Boston (espresso martini), Frank Pepe Pizzeria in New Haven, Conn. (white clam pizza), Antoine's Restaurant in New Orleans (caramel custard), and Tony Nitti's Bar-B-Que in Chicago (wedding soup with tiny meatballs). Although the fate of America's Little Italys is insecure, this trove preserves their legacies. (Nov.) (c) Copyright PWxyz, LLC. All rights reserved.
No limit! Use the exclusive promotional code "EMOL" at checkout.
Every week, Restaurant.com discounts each $25 gift certificate when you use the dining promotional code "EMOL" at check-out. Print dining coupons out immediately.
Restaurant.com is an Internet-based restaurant coupon service. They have a national database of more than 14,000 restaurants across the US from Los Angeles to New York. Print dining coupons online and dine out the same day. Every week, Restaurant.com has a special promotional code that further discounts each gift card. More restaurant RSS coupon offers from Restaurant.com.