Dirty Japanese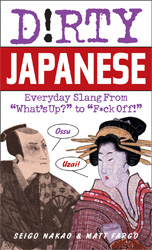 Dirty Japanese
Everyday Slang from "What's Up?" to "F*ck Off!"
Matt Fargo
Invaluable for those traveling to Japan, this guide features useful sidebars featuring English expressions commonly used in Japan.
Pronunciation guides, a reference dictionary, sample dialogues, and an offensiveness-rating system from "use at will" to "use at your own risk" also help readers learn to communicate effectively.
ISBN-10: 1-56975-565-5
ISBN-13: 978-1-56975-565-5
$10.00
128pp, 4 1/4 x 7
FOREIGN LANGUAGE STUDY / Japanese
Ulysses Press
This handy book is a quick reference guide to all that is Japan today. Nothing is censored in this book. It is up to date with the latest phrases and expressions especially used by today's young Japanese.
While "Dirty Japanese" is a great book to get a few laughs, it is also a book that reflects the culture of today's youth. Not all of the phrases (in both English, Japanese and Romanji pronounciation) are insulting. They cover the range from greetings to emotional expressions to social interaction and sex.
Learn about Japanese culture and stereotypes and the way the Japanese express it in their conversations.
"Dirty Japanese" is about slangish words, super-casual phrases and sexy sayings. It covers everyday slang from "What's Up" to "F*%# Off!"
Matt Fargo has worked in Japan as a writer, translator and musucian. He earned his Master's degree in Japanese Literature at UC Berkeley and currently lives in New York. Visit his web site at http://matthewfargo.com.