BZB In the News:
Entertainment Magazine acquired by BZB Publishing, Inc. (3/1/06)
Overview of EMOL.org
Links to EMOL
Awards & Recognitions
Press Releases/NewsClips
Publisher's students win awards 5/02
Publisher receives teaching award 4/01
Go WAYBACK to 1999.
See the 1999 edition of Entertainment Magazine
indexed by the Wayback Machine.
Books by BZB Publishing
---
Entertaining Tucson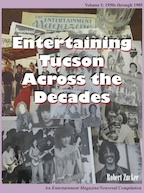 By Robert E. Zucker
Thousands of entertainers and hundreds of bands have been through the local entertainment scene in Tucson, Arizona between the 1950s into the 2000s. "Entertaining Tucson Across the Decades" revives that period of Tucson local music with articles, interviews and stories about the entertainers who performed in Tucson nightclubs and theatres across 50 years.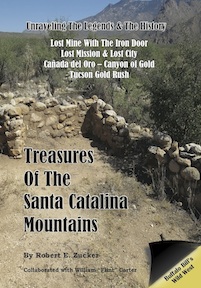 Legends of lost mines, lost cities and a lost mission have been passed down by word of mouth for generations. The most famous legend, the Iron Door Mine, helped launch the early American hunt for gold in the 1850s. "Treasures of the Santa Catalina Mountains" explores in detail the lost legends and historical events that shaped the Catalinas. Read more about the legends and history of the Santa Catalinas.
Searching for Arizona's Buried Treasures

Two Year Odessey - Found 82 lbs. of Gold!
Authored by Mr. Ron Quinn. Treasure hunting in Southern Arizona with Ron Quinn, brother Chuck, and good friends and partners, Roy Purdie and Walt Fisher is a fun read and a great book for novice or seasoned treasure hunters. The four freinds finally unearthed a medium-size treasure south of Tucson, Arizona, which consisted of 82 pounds of Spanish gold bullion. Read sample pages from Ron Quinn's new book, "Searching for Arizona's Buried Treasures."
Mysterious Disappearances
By Ron Quinn
Stories about odd and unusual occurances, disappearing circumstances and mysterious phenonmenon. Read portions of Ron Quinn's book Mysterious Disappearances
.
Traveling Show
Published by Robert E. Zucker
The Traveling Show is a collection of poems and artwork that ravels together a storyline of the lives of the people who pass through one's life. Everyone has his or her own Traveling Show. As we interact with the people we meet, their influences on our lives shape the way we grow and how we perform. Some of those entertainers are just fancy dancers and those in search of rainbows. But, they may have the most profound effect on our lives. Read more about The Traveling Show
---
Entertainment Magazine meets all BBBOnLine participation and Better Business Bureau membership standards and is authorized to display the BBBOnLine trustmark.