MORE GUESTS ADDED TO TUCSON COMIC-CON 2022!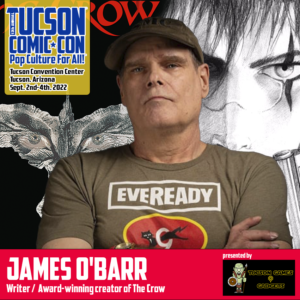 James O'Barr is the award-winning creator of The Crow, and writer of two hit series currently from IDW Publishing, entitled Curare and Skinning the Wolves.
He likes to lament that he was born in a trailer in Detroit just in time to see Marilyn Monroe and John Kennedy die, but claims no responsibility for either. He spent his first seven years in an orphanage and foster care where he spent most of his time drawing. When he was adopted he brought along his crayons and has been using them ever since.
While stationed in Berlin, in the late 70's he created The Crow as an attempt to deal with the death of his fiancé at the hands of a drunk driver. It took nearly ten years to finish and no publisher was interested in it ("too gloomy, too confusing..") until, on a whim, Caliber published the first issue in 1989. It is currently the best-selling independent black-and-white graphic novel of all time at over one million copies sold.
In 1993 his book was adapted into the cult film of the same name starring Brandon Lee. He would like you to know that nearly all of the money made from the film was donated to children's charities and he had nothing to do with the subsequent 3 sequels or TV show, but he is currently a consultant on the new Crow movie that went into production in 2014.
He has worked for every major publisher. In Italy,1995, he won the Academy Award of Comics, the Yellow Kid award for best storyteller.
Recently returned from a record-breaking signing tour for the Italian Edition of The Crow, his most recent book is a the new sketchbook from Eva Ink Publishing James O'Barr: Uncoffined.
Creator of "The Crow," James O'Barr's newest book, The Crow: Curare, is one of the most well reviewed new books of 2013, along with his writing on The Crow: Skinning the Wolves, from IDW. The recent release of the original "Crow" graphic novel in Italy this year, broke sales records for the publisher during his country-spanning Italian tour with capacity only crowds in Sicily, Naples, Rome, Bologna and Milan.
While in the US, new generations of Crow fans ensure that the graphic novel is still one of the best-selling graphic novels of all time, and has never gone out of print. O'Barr won the Yellow Kid Award (pretty much the Academy Award in comics) in 1995 for Best Storyteller.
James is also, much to the relief of fans, the consultant on the upcoming "The Crow" movie to start filming in 2014, starring Luke Evans in the title role. His new (and first ever) sketchbook "James O'Barr: Uncoffined" is jumping off the shelves and may only be available soon at his convention signings. Q and A's with James are sought after world-wide, most recently in the Middle East, Chile, Peru, and venues all over the United States.
Henry Barajas is a Latinx author based in Los Angeles, CA. He is best known for his graphic memoir about his great-grandfather Ramon Jaurigue titled La Voz De M.A.Y.O. Tata Rambo—and latinx fantasy Helm Greycastle.
Recently, Barajas wrote the Marvel & SOMOS Healthcare AVENGERS #1 issue aimed to inspire the people of New York City to get vaccinated; particularly, the Latinx community that was disproportionately impacted by COVID.
Chiara Bautista is an Illustrator and Graphic Designer based in the Southwest. Her work is recognizable for her characters and narrative content. Chiara pulls from a vast array of imagery references, from religious iconography and Lucha Libre masks (a nod to her Mexican heritage), to music references.
Website: www.chiarabautista.com
Perhaps best known for his ongoing work on Lady Death and Hellwitch (Coffin Comics), Diego first took the world by storm over ten years ago with an 18-issue run on Top Cow's flagship title Witchblade.
He then quickly followed that up with three years at Valiant Comics, where he helped shape such popular core characters as X-O Manowar and Ninjak, among others!
Shortly thereafter, Diego also had a short stint on X-Men: Gold for Marvel prior to joining Coffin Comics as an exclusive artist in 2018.
Natalie writes Sci-Fi & Fantasy novels and short stories, including the award-winning series, H.A.L.F. She's also co-host of the popular nerdy podcast, Tipsy Nerds Book Club—like "Drunk History" but for Sci-Fi & Fantasy nerds! Natalie frequently appears on author panels at SFF cons, comic cons, and book festivals throughout the western US, including the Nebula Conference. When not writing, reading, or editing, Natalie can be found with a Kentucky bourbon in one hand and a game controller in the other. Website: www.NatalieWrightAuthor.com
Rosie Johnson is a space artist who creates cosmic art through various mediums including videography, photography, fashion and digital art. At night she is an astronomer, hosting nightly star parties sharing the universe with the public. Over the last 5 years she has played multiple roles in the space and science community as a science communicator and S.T.E.A.M. advocate. Inspired by the cosmos, her goal is to inspire others to express the universe inside themselves, and to Look Up!" Website: www.exophilia.com
10 NEW FEATURED GUESTS ADDED TO TUCSON COMIC-CON 2022!
Feast your eyes on the latest featured guests for TCC 2022!
FEATURED GUEST!
Michael Connell Biehn
Actor
The Terminator / Aliens / Tombstone / The Mandalorian
Michael Connell Biehn was born on July 31, 1956 in Anniston, Alabama, to Marcia (Connell) and Don Biehn, a lawyer. He grew up in Lincoln, Nebraska, and at age 14 moved with his family to Lake Havasu, Arizona, where he won a drama scholarship to the University of Arizona. He left prematurely two years later to pursue an acting career in Hollywood.
His first big role was as a psychotic fan stalking Lauren Bacall in The Fan (1981) and later appeared in The Lords of Discipline (1983).
He hit the big-time when he was cast as Kyle Reese, the man sent back through time to stop Arnold Schwarzenegger in James Cameron's The Terminator (1984). This established a good working relationship with Cameron, a relationship that should have catapulted Biehn to international stardom.
He starred in Cameron's subsequent films, Aliens (1986) and The Abyss (1989), the latter a standout performance as unstable Navy SEAL officer Lt. Hiram Coffey. In the 1990s he starred in films like Navy Seals (1990), K2 (1991) and was particularly memorable as Johnny Ringo in Tombstone (1993). Biehn is married and the father of five sons.
FEATURED GUEST!
Jennifer Blanc-Biehn
Actress
Dark Angel / The Victim
Jennifer Blanc, also known as Jennifer Blanc-Biehn, was born and raised in New York City, by her mom, Jenise Blanc. At the tender age of 10, Jennifer was on Broadway in Neil Simon's "Brighton Beach Memoirs", working alongside Jonathan Silverman, Fisher Stevens and Robert Sean Leonard.
Jennifer's career blossomed bringing her to sunny Los Angeles to be in Kenny Ortega's series, Hull High (1990), for Disney and NBC.
Since then, she has been grateful to be continually working in the business that she loves. She also starred in the TV series, The Mommies (1993), for NBC and Paramount. Her projects include: Friends 'Til the End (1997), opposite Shannen Doherty, Party of Five (1994), opposite Scott Wolf and Matthew Fox, Cool and the Crazy (1994) with Jared Leto, and James Cameron's Dark Angel (2000), with Jessica Alba. Jennifer has also guest-starred on television shows, such as CSI: Crime Scene Investigation (2000), Grace Under Fire (1993) and It's Always Sunny in Philadelphia (2005) with Danny DeVito.
In addition, she has been involved in many projects with her partner and fellow actor, Michael Biehn. The two joined forces on a movie Michael directed in China called, The Blood Bond (2011). Their other projects include Puncture (2011), alongside Chris Evans, and The Ride (1997).
Most recently, Jennifer made an appearance in The Divide (2011), with partner Michael Biehn, and is producing a film called The Victim (2011). It is her first leap into the producing world and she is loving it. Her performance in The Victim (2011) comes on the heels of other movies she has just recently completed, including The Jack of Spades (2010), with Jennifer Coolidge, Prank (2008) with friend and colleague Danielle Harris (her co-star in The Victim (2011)), which Jennifer produces and starred in with her writer-director partner, Michael Biehn.
Michael and Jennifer have many more productions, now under their "Blanc Biehn Prod" shingle. Collaborations with Xavier gens to come as well as Treachery (2013) and, in pre-production, Hidden in the Woods (2014). As an actress, Jennifer will appear in 2013 in Wrong Cops (2013) and Black Butterflies and there many more productions and film and TV projects in the works.
FEATURED GUEST!
Shannon Eric Denton
Writer, Director, Producer
Shannon Eric Denton has worked as a director and writer for virtually every animation studio in Hollywood on both Oscar and Emmy appreciated material.  He was a producer on SyFy's live-action series Con Man with Alan Tudyk, Nathan Fillion & his mentor Stan Lee among others. He is the co-founder of Monster Forge Productions.
Monster Forge, founded by Steve Niles & Shannon Eric Denton, focuses on a spectrum of horror properties, ranging from light monster fare for children to full-blown adult scares. Monster Forge enters the entertainment space with a multi-platform production division bringing their monstrous library of titles and creator relationships to film, television, interactive entertainment, gaming, and merchandising.
shannondenton.com
FEATURED GUEST!
Brian Pulido
Comic Creator
Brian Pulido is the founder and publisher of Coffin Comics, the independent comics studio that publishes the "Coffinverse" line of graphic novels including: Lady Death, La Muerta, Hellwitch, Lady Satanus and other heavy metal inspired supernatural comic books and merchandise.
In the 90's, Pulido was the publisher of Chaos! Comics where he created and wrote the Chaos! Universe, including: Evil Ernie, Purgatori and others. Additionally, he has published or written comics based on A Nightmare on Elm St., Chucky, Friday The 13th, Halloween, Texas Chainsaw Massacre, Megadeth, Insane Clown Posse, WWE and many more.
He is on The Hero Initiative's fundraising board, has received the Comic Book Legal Defense Fund's Defender of Liberty Award and Comic Con International's Inkpot Award for contributions to the comic arts.
Pulido has read Marvel's Captain America monthly without fail since July 1974.
www.CoffinComics.com
FEATURED GUEST!
Cara Nicole
Az Powergirl / Cosplay
Powergirl is a stellar cosplay sensation online and on the convention circuit. Cara has brought her unique brand of sassy cosplay stylings to the world with her successful book crowdfunding campaigns, calendars, comic books, and convention appearances. She also enjoys celebrity as the model for Magic: The Gathering, has earned great notoriety for her political contributions, and for her support of upcoming cosplayers in her informative panels on cosplay as a career. Music and stand-up comedy add to her showcase. Cara has graced the pages of Heavy Metal Magazine, Kotaku, Forbes, Bleeding Cool, and so many more
azpowergirl.com
FEATURED GUEST!
Jay Fotos
Multi-award-winning comics veteran
JAY FOTOS, a multi-award-winning comics veteran who is currently working professionally in comics industry for over two decades on hundreds of projects. To name a few, from Spawn, GODZILLA, Transformers, Teenage Mutant Ninja Turtles, Mars Attacks, 30 Days of Night, V-Wars (Netflix TV series now streaming) to the #1 New York Times Best Seller series Locke & Key (Netflix series now streaming) Co-creating the ongoing Image Comics zombie Vietnam series '68, Frank Frazetta's Death Dealer (#1 Image Comics selling series) and also spearheading the Frazetta Comics line through Image Comics. Fotos is currently working on comic series Wynonna Earp (SYFY Channel TV series) PANDEMICA, Dungeons & Dragons, Batman: The Animated Series, and TMNT Adventures with IDW Publishing and IDW Games.
Creature concept designs with ROBERT KURTZMAN MUFX for the hit Netflix series, "THE HAUNTING OF HILL HOUSE" and feature "BLACK FRIDAY" starting Bruce Campbell.
Also working in other realms of creative media, ranging from animation, video/board games, album art, TV, motion pictures, and toy design.
Fotos also teaches courses at Phoenix College in their Comic Arts Degree Program.
Now also available the much-anticipated creator-owned RISING REBELS and GORGON horror series exclusively at www.jayfotos.com
FEATURED GUEST!
Jeffrey J. Mariotte
Award-winning author
Jeffrey J. Mariotte has written more than fifty books, including historical Western epic Blood and Gold: The Legend of Joaquin Murrieta (with Peter Murrieta), the Cody Cavanaugh traditional Western series, supernatural thrillers River Runs Red, Missing White Girl, and Cold Black Hearts, horror epic The Slab, and the teen horror quartet Year of the Wicked. Other works include the acclaimed thrillers Empty Rooms and The Devil's Bait, and—with his wife and writing partner Marsheila (Marcy) Rockwell—the science fiction thriller 7 SYKOS and Mafia III: Plain of Jars, the authorized prequel to the hit video game, as well as shorter works. He has also written novels set in the worlds of Deadlands, Star Trek, CSI, NCIS, Narcos, 30 Days of Night, Spider-Man, Conan, Buffy the Vampire Slayer and Angel, and more. Three of his novels have won Scribe Awards for Best Original Novel, presented by the International Association of Media Tie-In Writers. He's also won the Inkpot Award from the San Diego Comic-Con, is a co-winner of the Raven Award from the Mystery Writers of America, and has been a finalist for the Spur Award from the Western Writers of America, the Peacemaker Award from the Western Fictioneers, the Bram Stoker Award from the Horror Writers Association, the International Horror Guild Award, and for his comics writing, the Harvey Award and the Glyph Award.
He is also the author of many comic books and graphic novels, including the original Western series Desperadoes, the horror series Fade to Black, action-adventure series Garrison, and the original graphic novel Zombie Cop.
He has worked in virtually every aspect of the book business, as a bookstore manager and owner, VP of Marketing for Image Comics/WildStorm, Senior Editor for DC Comics/WildStorm, and Editor-in-Chief for IDW Publishing and a publishing consultant for various companies. When he's not writing, reading, or editing something, he's probably out enjoying the desert landscape around the Arizona home he shares with his family and dog and cats. Find him online at www.jeffmariotte.com, www.facebook.com/JeffreyJMariotte, and @JeffMariotte.
FEATURED GUEST!
John Layman
Creator, Writer, Letterer
John Layman is the creator, writer and letterer of CHEW, the New York Times best-selling, Harvey Award and multi-Eisner Award winning cannibal cop comedy series from Image Comics. Layman was an editor for WildStorm Productions and has written or lettered for every major publisher in comics for the last decade and a half. He's written Detective Comics, Batman Eternal, Bermuda, Catwoman, Chu, Cyclops, Eleanor & The Egret, Godzilla, Judge Dredd Vs. Aliens Vs. Predator, Thundercats, Gambit, Scarface, Red Sonja, Mars Attacks, Marvel Zombies Vs. Army of Darkness, House of M: Fantastic Four, the Marvel Identity Wars Annuals, Stephen Colbert's Tek Jansen, Charlie's Angels, Xena… and a whole lotta other stuff.
https://imagecomics.com/creators/john-layman
FEATURED GUEST!
Mike DeBalfo
Comic Creator
A Phoenix, Arizona based artist – this New Jersey native has made a name for himself in the industry by signing on with Zenescope Comics in 2009 where he became the company's first signed solo artist. He would go on to do work for titles such as Grimm Fairy Tales , The "Wonderland" series and Myths & Legends. Inspired by early Jim Lee work and stories featuring the Teenage Mutant Ninja Turtles – Debalfo utilized these imaginative industry staples while he acquired a skill set and good girl art style acquired from the Joe Kubert School of Art where he graduated in 2003. Though originally a cover artist, Debalfo's skill and reputation have matured over the past few years which has arguably led to his being picked up at Aspen Productions where he has being doing full art by issue for Soulfire.
https://mikedebalfo.storenvy.com/
FEATURED GUEST!
Steve Niles
Writer
Writer Steve Niles is best known for 30 Days of Night, Criminal Macabre, October Faction, Simon Dark, Mystery Society, Frankenstein Alive Alive, Monster & Madman, Winnebago Graveyard, Batman: Gotham County Line and recently A Town Called Terror from Image. Publishers include Storm King, Dark Horse, IDW, Marvel & DC.
Steve's comic series, The October Faction, which was made into a Netflix show in 2020. His comic, 30 Days of Night, was released in 2007 as a major motion picture. Other comics by Niles, including Remains, Aleister Arcane and Freaks of the Heartland have been optioned for film.
https://www.steveniles.com/
Stay tuned for more guest announcements!!!
See All the Guests!
Only $35 for the whole weekend!
Don't miss the savings!
ORDER NOW! – Ends Friday July 8!
UPCOMING RINCON EVENTS!
Saturday, June 25
Free RPG Day at Isle of Games
10:00 am – 10:00 pm
Isle Of Games, 7835 E Broadway Blvd, Tucson, AZ 85710, USA
Come play some RPGs with us at Isle of Games, and pick up your free RPG swag! We'll have tables running throughout the day, as well as RinCon raffles.
Sunday, June 26
Boardgames at Snakes & Lattes
2:00 pm – 6:00 pm
Snakes & Lattes Tucson, 988 E University Blvd, Tucson, AZ 85719, USA
Grab a friend or two and your favorite boardgame, and come enjoy something delicious from Snakes & Latte's scratch kitchen and coffee/spirits bar while you play!
About Tucson Comic-Con
Tucson Comic Con, founded in 2008, began as a single day event attended by 500 fans. Since then, attendance has steadily grown to over 17,000 fans.
TCC is dedicated to being an epic, community-based pop cultural experience for all that reflects today's fandom and the unique nature of Tucson, Arizona and the American Southwest. Our motto is "Pop Culture For All!"
The 13th annual Tucson Comic Con will take place at the Tucson Convention Center on September 2-4, 2022.
Hits: 0